"Vision is the art of seeing things invisible."
– Jonathan Swift, writer

Surreal Art: HERE        Cubism: HERE
"You seemed so far away," Miss Honey whispered, awestruck.
"Oh, I was. I was flying past the stars on silver wings," Matilda said. "It was wonderful." – Roald Dahl, Matilda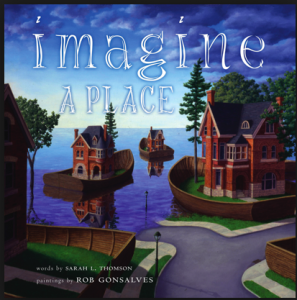 Picture books for artists: HERE
"I saw the angel in the marble and carved until I set him free." – Michelangelo

Biographies: HERE
"Everything you can imagine is real." – Pablo Picasso, artist
Poetry: HERE     Surreal Poetry: HERE
"It is … through the world of the imagination which takes us beyond the restrictions of provable fact, that we touch the hem of truth." – Madeleine L'Engle, A Circle of Quiet
…
Lewis, J. Patrick and Jane Yolen. Self-Portrait with Seven Fingers: The Life of Marc Chagall in Verse. Mankato, MN: Creative Paperbacks, 2013.
MacLachlan, Patricia. Word After Word After Word. New York: Katherine Tegen Books, 2010.
Shulevitz, Uri. How I Learned Geography. New York: Farrar Straus Giroux, 2008.
Thomson, Sarah L. Imagine a Place. New York: Atheneum Books for Young Readers, 2008.