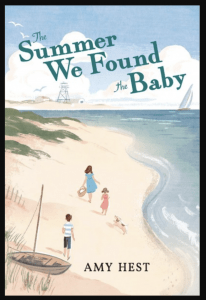 Hest, Amy. The Summer We Found the Baby. Somerville, Massachussets: Candlewick Press, 2020.
Eleven-year-old Julie and her six-year-old sister Martha find a baby on the steps of the local library. Twelve-year-old Bruno, running away from home, sees them take the baby and wonders: Are they kidnapping it? Where are they going? He follows and so starts this quiet heart-warming story set in a beachside community in New York State during WW2. Told in three voices, this poignant novel – in an easy-to-read font with widely spaced lines and short chapters – will appeal to reflective readers 9 to 12 years old. 
By the way, all stories by Amy Hest are worth reading, especially for readers up to 12 years of age. All books by Candlewick are worth picking up.
More stories told in alternating voices 
More stories set in New York State