"By teaching us how to read, they had taught us how to get away."  – Robert C. O'Brien
Picture Books
Arsenault, Isabelle. Albert's Quiet Quest. Toronto: Tundra Books, 2019.
Albert wants a place where he can read in quiet. But no matter where he goes, his friends arrive and rambunctiously  interrupt him. Finally, he blows up. What will happen now? This mostly wordless summer story will be appreciated by young readers looking for some peace and quiet of their own. [Books and reading; Solitude; Summer]
Beck, Bonny. A Library Book for Bear. Somerville, Mass.: Candlewick Press, 2014.
"Bear does not want to go to the library. He is quite sure he already has all the books he will ever need. Yet the relentlessly cheery Mouse, small and gray and bright-eyed, thinks different. When Bear reluctantly agrees to go with his friend to the big library, neither rocket ships nor wooden canoes are enough for Bear's picky tastes. How will Mouse ever find the perfect book for Bear? Children will giggle themselves silly as Bear's arguments give way to his inevitable curiosity, leading up to a satisfying story hour and a humorously just-right library book." – CIP. An entertaining read-aloud for grades K to 3.
Blatt, Jane. Books Always Everywhere. New York: Random House, 2013.
A cheerful story in rhyme for 3 to 6-year-old children. 
Bonilla, Rocio. The Highest Mountain of Books in the World. White Plains, New York: Peter Pauper Press, Inc., 2016.
Young Lucas is convinced that he was born to fly. Every birthday, every Christmas, all he wants is to be able to fly. Then his mother teaches him how to read and his imagination begins to soar. This softly illustrated picture book would be wonderful to share with someone learning to read. Or give to a child who already loves reading. First published in 2015 in Spain by Edicions Bromera under the title: La muntanya de llibres més alta del món, and translated by Mara Lethem. [Books and reading; Flight; Imagination]
Borden, Louise. The Day Eddie Met the Author. New York: Margaret K. McElderry Books, 2001.
Third-grader Eddie is excited when an author comes to visit his school and he is ready with an important question:  "How do you write books that have parts meant for me?"  A recommended read-aloud for grades 2 -4. 
Bottner, Barbara. Miss Brooks' Story Nook. New York: Alfred A. Knopf, 2014.
"A school librarian encourages her students to make up stories, and teaches a lesson about bullying in the process." – CIP. A humorous picture book illustrated by Michael Emberley. [Bullies; Librarians; Storytelling]
Brown, Don. A Wizard from the Start : the Incredible Boyhood & Amazing Inventions of Thomas Edison. New York: Houghton Mifflin Books for Children, 2010.
"From his humble boyhood as a farmer's son, selling newspapers on trains, reading through public libraries shelf by shelf, and dreaming of new inventions, Thomas Edison went on to create the light bulb, the phonograph, and the motion picture camera." – CIP.
Brown, Monica. Waiting for the Biblioburro. Tricycle Press, 2011.
Ana is so excited when books arrive in her small, remote village that she writes her own story about waiting for the travelling library – two burros loaded with books – to come again. Includes a note about travelling libraries in other remote areas of the world. [Columbia; Books and reading; Libraries].
Bruss, Deborah. Book! Book! Book! Arthur A. Levine Books, 2001.
The farm animals are lonely when all the children go back to school, so they decide to talk a walk to town where they visit the library and come home with books to read. Full of alliteration, plays on words and repetition, this picture book is a light-hearted read-aloud especially suitable for grades two and three.  [Libraries; Humorous stories; Books and reading; Animal sounds; Farms; Style, Literary (Study and teaching); Domestic animals] 
Buzzeo, Toni. Inside the Books: Readers and Libraries Around the World. Madison, Wis.: Upstart Books, 2012. 
A gently cheerful picture book for children up to eight years of age. Useful as an introduction to a book sharing session.  [Books and reading; Stories in rhyme]
Falatko, Julie and Gabriel Alborozo. Yours In Books. Petaluma, CA: Cameron Kids, an imprint of Cameron + Company, 2021.
Owl is tired of all the visitors disturbing the peace and quiet of his life in the forest. So he writes a letter to Squirrel, the owner of a bookstore, to request a book on how to soundproof his home. Squirrel replies. Unfortunately, that book is out of stock. How about a different book? And so begins a correspondence, a friendship, and a slow realization that perhaps guests aren't so awful, after all. Perhaps a party, even, could be fun. An absolutely brilliant picture book. Highly recommended for anyone of any age who would like to enjoy some light-hearted humour right now! 
P.S. The book titles in the story hilariously summarize the relationship between Owl and Squirrel. After reading the book, you might like to summarize your own relationships with friends by making up imaginary book titles.
Falcone, Lucy. The Librarian's Stories. Brooklyn, New York: POW!, 2020.
The National Library of Sarajevo was bombed in 1992 during the Bosnian War. Steven Galloway wrote about this tragedy in The Cellist of Sarajevo, a novel for adults. And now Lucy Falcone, a former children's television writer, has written a picture book inspired by that novel. Every day, a librarian sits on a bench outside the burned-out library and reads a book aloud to give people hope and courage. Illustrated by Anna Wilson, this story about the power of stories is recommended for readers 7 to 11 years old. 
Farmer, Bonnie. ABC Letters in the Library. Lobster Press, 2004.
Alliterative sentences march through the alphabet telling the joys of libraries in this picture book for grades two to four. [Alphabet books; Books and reading; Libraries; Style (Literary) — Study and teaching]
Florence, Melanie. Stolen Words. Toronto: Second Story Press, 2017.
What did you call your grandfather when you were very young? Grandpa? Opa? Papi? Baba? How does hearing the words of your early childhood affect your memories? Your emotions?
A little girl asks her grandfather what to call him in Cree. He doesn't know. He was sent to residential school when he was young and his language was taken away. So she goes to her school library and comes home with a book: Introduction to Cree. Together, they learn the language of their culture. This gently powerful picture book – illustrated by Gabrielle Grimard – is highly recommended for readers of all ages. 
Giovanni, Nikki. A Library. New York: Versify, an imprint of HarperCollins Publishers, 2022.
A young girl helps her grandmother with washing the dishes and doing the laundry before setting off for the public library. Later, back home again, she helps fold the laundry and prepare a meal, before settling down on the back porch with her new books. The beautifully bold yet gentle illustrations by Erin K. Robinson combined with the brief text in a large font have created a wonderful story – by an award-winning poet – to read aloud to a group of primary-school-age children. Perfect as an introduction to talking about the joy of libraries. Perfect as an introduction to talking about the value of reflecting on life. Highly recommended for teachers, teacher-librarians, and readers 5 to 8 years old.
Goldsaito, Katrina. The Sound of Silence. New York: Little, Brown and Company, 2016.
"Yoshio delights in the everyday sounds of Tokyo, but when a musician tells him that her favorite sound is ma, the Japanese word for silence, Yoshio sets out to hear this sound for himself among the hustle and bustle of the city. Includes information on the Japanese concept of ma." – CIP. [Books and reading; Japan; Silence; Sound]
Griswell, Kim T. Rufus Goes to School. New York : Sterling Children's Books, 2013.
Rufus, a little pig, struggles to convince the principal that he belongs in school. A humorous read-aloud that will lead to discussions, perfect for the beginning of the school year.  Recommended for kindergarten to grade 3.
Hall, Michael. Frankencrayon. New York: Greenwillow Books, 2016. 
The crayons have to stop the scribble from destroying the story in this imaginative picture book for children up to eight years of age. A humorous way to show that there is more than one way to view a problem. 
Harper, Charise Mericle. A Big Surprise for Little Card. Somerville, Mass.: Candlewick Press, 2016.
A useful picture book for reading aloud to children 5 to 7 years old before their first visit to the library.
Henson, Heather. That Book Woman. Atheneum Books for Young Readers, 2008.
Cal decides he might like to learn how to read after all in this drawling, dreamy book about the Pack Horse Librarians of the Appalachians during the early 1900s. [Books and reading; Librarians — Fiction; Kentucky — Fiction; Appalachian Mountains — Fiction; Historical fiction; Country life — Fiction] 
Hest, Amy. Mr. George Baker. Cambridge, MA.: Candlewick Press, 2004.
"Harry sits on the porch with Mr. George Baker, an African American who is one hundred years old but can still dance and play the drums, waiting for the school bus that will take them both to the class where they are learning to read." – CIP. An elegant font and illustrations by Jon J. Muth combine to tell this touching story for readers of all ages. 
Jackson, Richard and Kevin Hawkes. Have a Look, Says Book. Atheneum Books for Young Readers, 2016.
"Through illustrations and simple, rhyming text, a book invites its reader to explore fluffy, furry, or squishy objects and creatures, both real and imaginary, that are found within its pages." – CIP. [Books and reading; Stories in rhyme] 
Jeffers, Oliver. A Child of Books. Somerville, Mass.: Candlewick Press, 2016. 
If Jeffers writes a story, it is a good story. If Candlewick publishes a picture book, it is a beautiful picture book. So you can be sure this book will be worthwhile. But illustrator Sam Winston, a world-renowned artist, brings a brilliance to this story that will astonish readers of all ages. Highly recommended. Don't just borrow this book from a library. Buy it!  [Books and reading; Imagination]
Kohara, Kazuno. The Midnight Library. New York: Roaring Brook Press, 2014. 
Wild events occur as animals invade a library. Useful as a read-aloud for young children on their first visit to a library. 
Kunkel, Angela Burke. Digging for Words: José Alberto Gutíerrez and the Library He Built. New York: Schwartz & Wade Books, 2020.
A night-time garbage collector, Señor José collects books from the trash of wealthy homes. Then, every Saturday, he opens the doors and welcomes eager children into his neighbourhood library. Set in  Bogotá, Columbia and based on a true story, this inspiring picture book – illustrated by Paola Escobar and accompanied by a detailed author's note – will appeal to readers 7 to 12 years old who already know the joys of using imagination to enter new worlds. 
Lasky, Kathryn. The Librarian Who Measured the Earth. Boston: Joy Street Books, 1994.
"Describes the life and work of Eratosthenes, the Greek geographer and astronomer who accurately measured the circumference of the Earth." – CIP. Illustrated by Kevin Hawkes. 
Lê, Minh. Let Me Finish! Los Angeles, California: Disney-Hyperion, 2016. 
A rambunctious picture book, illustrated by Isabel Roxas, recommended for 4 to 7-year-olds.
Marcotte, Danielle. Mom, Dad, Our Books, and Me. Toronto: Owlkids Books, 2016.
A well-designed, cheerfully illustrated picture book in praise of the power of reading. Recommended as a read-aloud for children 5 to 8 years old. 
Markel, Michelle. Balderdash! John Newbery and the Boisterous Birth of Children's Books. San Francisco: Chronicle Books, 2017.
Wow! What a quietly rambunctious biography! Created by two award winners – author Michelle Markel and illustrator Nancy Carpenter – this picture book tells the story of an English farm boy who grew up to create the first magazines and novels especially for children. Readers of graphic novels will enjoy the details in the illustrations. Avid readers will find the story fascinating. Additional information and a bibliography are provided at the end. Highly recommended!
Marshall, Rita. I Still Hate to Read. Mankato, MN: Creative Editions, 2007.
"Now in fourth grade, Victor, the daydreamer with a reputation as a bad student who hates to read, secretly reads all the time." – CIP.
OHora, Zachariah. New York: Dial Books for Young Readers, 2016. 
"Oskar and and his bear Theodore must save the day when an angry monster barges into the library…and thinks it's an all-you-can-eat buffet!"– Provided by publisher. A humorous story for active children up to eight years of age. [Bears; Books and reading; Monsters; Libraries]
Yolen, Jane and Mark Teague. How Do Dinosaurs Learn to Read? New York: The Blue Sky Press, an imprint of Scholastic Inc., 2018.
Cheerful, zany, full of huge colourful imaginary dinosaurs, this is the twelfth book in the "How Do Dinosaurs…" series. Beautifully designed and illustrated – with large full-page illustrations and a large font – this story told in rhyme is recommended for parents and teacher-librarians of children 3 to 6 years old.
Pearson, Susan. How to Teach a Slug to Read. Marshall Cavendish Children's, 2011.
Raczka, Bob. Artful Reading. Minneapolis, Minn.: Millbrook Press, 2008.
Twenty-three famous paintings depicting books are portrayed in the extraordinary picture book for all ages. Artists include Cezanne, Degas, Durer, Hopper, Picasso, Renoir, and Van Gogh.

Reid, Barbara. Read Me A Book. North Winds Press, 2003.
Rockwell. Anne. Library Day. New York: Aladdin, 2016.
"A young boy finds joy during his first visit to the library, a trip filled with books, puppet shows, movies, chess, and crafts." – CIP. A highly recommended story for reading aloud to young children visiting a library for the first time. 
Roth, Susan L. and Karen Leggett Abouraya. Hands Around the Library: Protecting Egypt's Treasured Books. Dial Books for Young Readers, 2012.
During the protests and unrest in Egypt, thousands of people joined hands to surround and protect the great library of Alexandria. [Egypt — History; Libraries]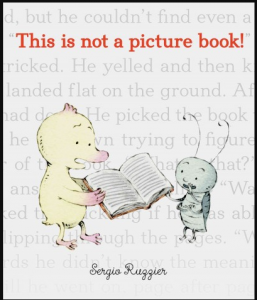 Ruzzier, Sergio. This Is Not a Picture Book! San Francisco, Calif.: Chronicle Books, 2016. 
In this simply illustrated picture book, a duck finds a book without pictures. How can that be?  Duck discovers the words in the book are so powerful on their own that they fill his imagination and emotions forever. Amusingly, the entire story is retold with more details and no pictures, inside the back cover the book.  And it is also told, with the letters of the words all mixed up, inside the front cover the book.  Recommended for children 4 to 8 years old.
Schoenherr, Ian. Read It, Don't Eat It! Greenwillow Books, 2009.
A rhyming picture book about taking care of library books best suited for five to seven-year-olds. [Stories in rhyme; Books and reading] 
Sierra, Judy. Imagine That! How Dr. Seuss Wrote The Cat in the Hat. New York: Random House, 2017.
Imagine this assignment: write a story that makes reading fun and that uses only 50 different words! That was the inimitable Theodore Geisel's task in 1954: write something fun for children in the first grade.  Of course, he did it. In fact, he created 47 books in all. This nonfiction picture book illustrated by Kevin Henkes will fascinate readers young and old. And maybe even inspire some budding writers and artists.
Sierra, Judy and G. Brian Karas. Make Way for Readers. New York: Simon & Schuster Books for Young Readers, 2016.
A rhyming rhythmic picture book to read aloud. Recommended for children 3 to 7 years old. [Books and reading; Stories in rhyme]
Slater, David Michael. The Boy & the Book (a Wordless Story). Watertown, Mass.: Charlesbridge, 2015.
"In this story without words a young boy carelessly mishandles a library book, while the other books try to rescue their friend." – CIP.
Smith, Lane. It's a Book. Roaring Book Press, 2010.
A hilarious short story about a jackass who is astounded to find a book can be as interesting as an electronic device. The repeated words, the facial expressions on the characters and the punch line at the end all help to make this story fun for readers seven-to-seventy years old. [Books and reading; Humorous stories; Electronic mail systems — Fiction]
Spanyol, Jessica. Carlo Likes Reading. Candlewick Press, 2001.
In this picture book perfect for small group kindergarten to grade two story sessions, Carlo the giraffe goes about find words everywhere, reading everywhere. [Books and reading; Giraffes; Vocabulary] 
Stinson, Kathy. The Lady with the Books: A Story Inspired by the Remarkable Work of Jella Lepman. Toronto: Kids Can Press, 2020.
Set in Germany, just after WW2, this extraordinary picture book tells a story about the founder of IBBY, the International Board on Books for Young People. Anneliese and her younger brother Peter discover a book exhibit while wandering the damaged city of Munich. Their imagination is is wakened and their hearts take courage after seeing stories from around the world. Accompanied by an extensive illustrated history at the end of the story, this book will be greatly appreciated by all readers interested in history. Highly recommended. 
Ungar, Richard. Rachel's Library. Toronto: Tundra Books, 2004.
A delightfully colourful story inspired by 'Chelm's School' by Samuel Tenenbaum, useful as a read-aloud as a precursor to an art lesson. [Books and reading; Humorous stories; Jews; Libraries; Poland; Village life]

Winter, Jeanette. Biblioburro: A True Story from Columbia. Beach Lane Books, 2010.
Luis travels through the villages of rural Columbia, bringing books for children for children to read. [Books and reading; Columbia; Donkeys; Teachers]
Winter, Jeanette. The Librarian of Basra: A True Story from Iraq. Harcourt Children's Books, 2005. 
Yaccarino, Dan. I Am a Story. New York: Harper, 2016.
Stories have existed from the beginning of time. From earliest cave drawings to collections in libraries to tales told around a campfire. This simply illustrated quiet picture book is highly recommended for anyone who needs a reminder of the power and persistence of stories.
 Yates, Louise. Dog Loves Books. Alfred A. Knopf, 2010.
Another joyous picture book celebrating the joys of reading. (Dogs; Bookstores; Imagination; Reading)

Novels
Greenwald, Tommy. Charlie Joe Jackson's Guide to Not Reading. New York: Roaring Brook Press, 2011.
"Middle schooler Charlie Joe is proud of his success at avoiding reading, but eventually his schemes go too far." – CIP. A humorous easy-to-read novel for readers 10 to 14 years old.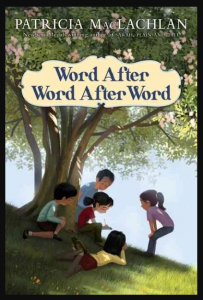 MacLachlan, Patricia. Word After Word After Word. New York: Katherine Tegen Books, 2010.
A visiting author teaches the power of writing in this inspiring novel recommended for readers 8 years old and up who love the power of words.
Nielsen, Jennifer A. Words on Fire. New York: Scholastic Press, 2019.
"In 1893 twelve-year-old Audra lives on a farm in Lithuania, and tries to avoid the Cossack soldiers who enforce the Russian decrees that ban Lithuanian books, religion, culture, and even the language; but when the soldiers invade the farm Audra is the only one who escapes and, unsure of what has happened to her parents, she embarks on a dangerous journey, carrying the smuggled Lithuanian books that fuel the growing resistance movement, unsure of who to trust, but risking her life and freedom for her country." – CIP. A 322-page historical novel highly recommended for readers 11 years old and up.
O'Brien, Robert C. Mrs. Frisby and the Rats of NIMH. New York: Aladdin Paperbacks, 1986, c1971.
"Having no one to help her with her problems, a widowed mouse visits the rats whose former imprisonment in a laboratory made them wise and long lived." – CIP.  Winner of the 1972 Newbery Medal, this science fiction novel written by a National Geographic staff writer will long be remembered for this famous line: "By teaching us how to read, they had taught us how to get away." 
Paulsen, Gary.  Fishbone's Song. New York: Simon & Schuster Books for Young Readers, 2016.
There is a deep ache in all of Paulsen's stories. But there is also expansive love. They kind of love that recognizes we are all part of each other.  Even when we think we are alone, we are not truly alone.  We are part of all life on earth. This Side of Life, an autobiographical account of some of the author's relationships with animals, expands on this theme.
Fishbone's Song, however, is his most lyrically profound novel. A young boy, a foundling, grows up deep in the woods, raised by an an old man, a veteran of the Korean war, who teaches him much more than how to survive. He teaches him how to live with wisdom and honour.  And he teaches him the power of memories and stories. And that is the power of Gary Paulsen. He shows us that your story and my story are connected. And that we will only truly have lived when we see that we are all part of a larger story. (By the way, there is a librarian in this novel who introduces the main character to the joy of reading books. And to Shakespeare.) [Country life; Foundlings; Hunting; Nature stories; Old age; Self-reliance; Storytelling]
Peck, Richard. Here Lies the Librarian. New York: Dial Books, 2006.
"Fourteen-year-old Eleanor "Peewee" McGrath, a tomboy and automobile enthusiast, discovers new possibilities for her future after the 1914 arrival in her small Indiana town of four young librarian." – CIP. Recommended for competent readers 11-years-old and up.

Philbrick, Rodman. The Last Book in the Universe. New York: Blue Sky Press, 2000.
Spaz has heard about a world with books, but he has never seen one.  In his world, people use mindprobes, needles which shoot pictures straight into your mind and let you escape the grey misery of life. But then he meets an old man, Ryter, and learns the power of stories.  For readers who liked The Hunger Games or Fahrenheit 451, this thoughtful but easy-to-read novel. [Science fiction; Fathers and sons; Adventure and adventurers; Epilepsy; Books and reading]
Schmatz, Pat. Bluefish. Candlewick Press, 2011.
Thirteen-year-old Travis moves to a new town with his grandfather. He doesn't like his new home and he doesn't like school. He especially doesn't like reading. But then he meets Velveeta, a vivacious girl, and Mr McQueen, a teacher with a secret for teaching him how to read. [Moving, Household; Grandfathers; Schools; Books and reading; Secrets; Friendship; Teachers; Poverty; Orphans; Wisconsin]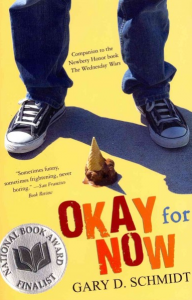 Schmidt, Gary D. Okay for Now. Clarion Books, 2011.
Fourteen-year-old Doug has just moved to a small town in New York State. He has a mean older brother and an abusive father. He can't read and he has no friends. But slowly he makes friends with a classmate, with his teachers and with a librarian who teaches him how to draw. And after his oldest brother comes back from Vietnam, life starts to change at home, too.   [Family life; Fathers and sons; New York (State); Schools; Friendship; Drawing; Violence; Child abuse; Audubon, John James; Theater; Brothers; Vietnam conflict, 1961-1975; Moving, Household; Dating (Social customs)] 
Biographies
"We should not be ashamed to acknowledge truth from whatever source it comes to us,even if it is brought to us by former generations and foreign peoples. For him who seeks the truth there is nothing of higher value than truth itself." – al-Kindi, 9th century philosopher "
Heide, Florence Parry and Judith Heide Gilliland. The House of Wisdom. New York: DK Ink, 1999.
Long ago, during the Dark Ages in Europe, knowledge flourished in the Arabic-speaking world. Baghdad became the centre of a great civilization that made lasting discoveries in cartography, geography, mathematics, chemistry, medicine, and philosophy. Scholars gathered to study together and translate foreign documents in what was the largest library in the world.
Ishaq, the main character in this picture book biography, travels to far-away lands and returns with thousands of books and manuscripts  He later goes on to translate all the works of Aristotle into Arabic. Later still, those Arabic translations would help inspire the European Renaissance.
Softly coloured illustrations by Mary GrandPré, additional historical information, a timeline, and a map enhance this quietly adventurous biography for readers 9 years old and up. [Iraq; Silk Road]
"We are what we repeatedly do. Excellence, then, is not an act but a habit." – Aristotle, ancient Greek philosopher
Kamkwamba, William and Bryan Mealer. The Boy Who Harnessed the Wind. New York: Dial Books for Young Readers, 2012.
In 2001, William Kamkwamba's village suffered from a drought. His starving family could not afford to send him to school but he did not give up learning. In the local library, he read a book about windmills. He decided to build his own windmill. Amazingly, he was successful!  He found a way to bring electricity to his village, and a way to use that electricity to provide irrigation to water crops for his village. This picture book, beautifully illustrated by Elizabeth Zunon,  is highly recommended for readers 8 years old and up.  (Africa; Electricity; Ingenuity; Inventors; Irrigation; Malawi; Mechanical engineers; Poverty; Windmills) 
Kamkwamba, William and Bryan Mealer. The Boy Who Harnessed the Wind. New York: Puffin Books, 2015.
Young William was born in 1987 to a farming family in Malawi. Too poor to pay school fees, he had to stay home rather than continuing his education. But he did not stop learning. He found books in a small library and figured out how to build a device that created electricity. This 293-page autobiography – a longer version of the picture book shown above – of an intrepid and determined boy will inspire readers 11-years-old and up. Highly recommended. 
Miller, William. Richard Wright and the Library Card. New York: Lee & Low Books, 1997.
Seventeen-year-old Richard, an African-American born in the 1920s, wants to learn how to read at a time when black people are not allowed to borrow books from libraries. [Books and reading; Libraries; Racism; Determination]