For thousands of years, people and animals have moved across the earth. Here are some books that describe the causes, processes, and effects of human and animal migration.  The links to lessons are in red.
HUMAN MIGRATION 
"The story of humanity is essentially the story of human movement. In the near future, people will move even more, particularly if, as some predict, climate change sparks mass migration on an unprecedented scale. The sooner we recognize the inevitability of this movement, the sooner we can try to manage it." – Patrick Kingsley, journalist
Challon, Paul. Migration in the 21st Century : How Will Globalization and Climate Change Affect Migration and Settlement? New York: Crabtree Pub., 2010. 
Full of facts, this 48-page resource will appeal to competent readers 12 years old and up. A glossary, index, and list of web links help to make it useful for students doing research as well as seeking to expand their general knowledge of current events in the world. 
Leung, Julie. Paper Son : the Inspiring Story of Tyrus Wong, Immigrant and Artist. New York: Schwartz & Wade Books, 2019.
In 1919, a nine-year-old boy left his home in China to move to America with his father. Every night on the long voyage across the ocean, he memorized the answers he would need to correctly answer the questions sure to be asked by immigration officials. Years later, after studying art in California, he became one of the animators who helped create Disney's famous film, Bambi. This beautiful picture book – accompanied by photographs and historical information – is highly recommended for readers 8 years old and up.
McCarney, Rosemary. Where Will I Live? Toronto: Second Story Press, 2017.
Large poignant photographs – in full colour – from the library of the UN High Commission for Refugees – highlight the plight of people forced from their homes by conflict. The text – written from the point of view of a child – starts with this sentence: "Sometimes scary things happen to good people." Twenty-four pages later, the book ends simply: "I hope someone smiles and say 'Welcome home.' I hope that someone is you." The tender faces of the children and the quiet hopes expressed in this picture book will touch the hearts of readers of all ages. (The author is Canada's Ambassador and Permanent Representative to the UN and the Conference on Disarmament. She has written numerous other children's books including Every Day is Malala Day.)
Morgan, Sally. Changing Planet: What is the Environmental Impact of Human Migration and Settlement? New York: Crabtree Pub., 2010.
Another fact-filled book in a series recommended for readers 12 years old and up. 
O'Brien, Anne Sibley. I'm New Here. Watertown, Mass.: Charlesbridge, 2015.
Maria, Jim, and Fatimah arrive at their new school. Back home, they could read and write and talk with their classmates. But here, they feel all alone. Slowly, though, they learn to speak English and they make new friends. This lovely gentle picture book – told from the perspective of  newcomers from Guatemala, Korea, and Somalia – is recommended for readers 6 to 9 years old.
Rodger, Ellen. A Refugee's Journey from Ukraine. New York: Crabtree, 2018.
Shulevitz, Uri. Chance: Escape from the Holocaust. New York: Farrar Straus Giroux Books for Young Readers, 2020.
Uri Shulevitz is a master storyteller and artist. Anything he writes is worth reading. Anything he draws is worth viewing. In Chance, we discover the story of his childhood from the age of four – when bombs started dropping on Warsaw – to fourteen – when he and his parents emigrated to Israel. In between, they endured internment in a Soviet settlement, poverty in the southern republic of Turkestan, and ostracism in France. Nowhere was safe. Black-and-white illustrations help tell the story of a human spirit surviving in the face of persecution. Despite the large print and wide margins, though, this 329-page book is not recommended for readers in early grades. Some of the details are too heartbreaking. Instead, Chance is highly recommended for readers 11 years old and up. Even adults.
Snyder, Elaine. Anna & Solomon. New York: Farrar Straus Giroux, 2014.
"Based on the story of the author's grandparents' migration to the United States from late-nineteenth-century Russia, shares how Solomon moved to the U.S. first, where he worked to save money for Anna to join him." – CIP. A picture book recommended for readers eight year old and up.  
Walker, Robert. Pushes & Pulls: Why Do People Migrate? New York: Crabtree Pub. Company, 2010. 
An excellent overview highly recommended for competent readers 12 years old and up who want to expand their general knowledge. 
Yang, Kao Kalia. A Map Into the World. Minneapolis, Minnesota: Carolrhoda Books, 2019.
How do you find your way in a new world? A little girl settles into a new home with her parents and grandmother in this quietly hopeful picture book by an award-winning Hmong American writer living in Minnesota. As the seasons pass, Paj Ntaub welcomes her twin brothers into the world, befriends a grieving neighbour, and enjoys the beauties of nature in her neighbourhood. Softly coloured, full-page illustrations by Seo Kim help tell this story recommended for readers 7 to 11 years old.  
Click HERE for lessons on human migration.
STORIES OF HUMAN MIGRATION DUE TO CONFLICT
Almond, David. Raven Summer. Delacorte Press, 2008.
All of Almond's novels are for readers with speculative minds. "What if. . ." is always the question that changes the course of what might have been a straight-forward realistic novel.  And in this novel, the question is "What if an abandoned baby leads to children who have lived through horrific acts of war? What shall we do? Send them back to their nightmares?" Since Almond is a British writer, some of the references will not be familiar to Canadian students. Nevertheless, this story full of surprises will intrigue readers aged eleven and up.
Arias, Patricia de. Marwan's Journey. Hong Kong: Minedition, 2018.
A little boy is walking, leaving his homeland and travelling into the unknown. Step after step, day after day, Marwan and his family trudge along, searching for safety, imagining a new home where they will live in peace. Simple yet powerful full-page illustrations by Laura Borràs accompany this picture book originally published in Spanish. Told from the first person point of view, it is highly recommended for readers 8 years old and up. 
Azaad, Dezh. The Carpet: An Afghan Family Story. New York: Abrams Books for Young Readers, 2023.
A refugee child describes all the ways the family gathers around their treasured carpet. They prepare food together, share meals together, read books, play games, remember the life they had long ago, and dream of the life they will have in a new land. Written by an Afghan refugee who lives in Germany and illustrated by a New York City artist, this colourful picture book is recommended as a read-aloud for children five to nine years old. 
Bondoux, Anne-Laure. A Time of Miracles. New York: Delacorte Press, 2010.
"In the early 1990s, a boy with a mysterious past and the woman who cares for him endure a five-year journey across the war-torn Caucasus and Europe, weathering hardships and welcoming unforgettable encounters with other refugees searching for a better life." – CIP. Includes a map tracing the journey. A memorable novel of suspense and survival by an outstanding author. Translated from the French by Y. Maudet. [Caucasus; France; Historical fiction; Refugees; Secrets; Survival] 
Bradley, Kimberly Brubaker. The War That Saved My Life. New York : Dial Books for Young Readers, 2015.
"A young disabled girl and her brother are evacuated from London to the English countryside during World War II, where they find life to be much sweeter away from their abusive mother." – CIP. Highly recommended for readers 11 years old and up. [Abuse; Brother and sisters; England; Foster children; People with Disabilities; Runaways]
Bradman, Tony, ed. Give Me Shelter: Stories about Children Who Seek Asylum. London: Frances Lincoln, 2007.
Eleven short stories by various authors depict children who must flee their homelands and seek refuge in foreign countries. Emotionally powerful and recommended for readers 12-years-old and up. 
Bunting, Eve. Gleam and Glow. Toronto: Harcourtbooks, 2001.
After his home is destroyed by war in Bosnia-Herzegovina, eight-year-old Viktor finds hope in the survival of two very special fish. This picture book is based on a true story. 
Bunting, Eve. One Green Apple. New York: Clarion Books, 2006. 
Farah, a young Muslim immigrant, joins her new class on a field trip to an apple orchard. Illustrated by award-winning Ted Lewin, this picture book is recommended as a read-aloud for children 6 to 9 years old.
Chapman, Fern Schumer. Is It Night or Day? New York: Farrar, Straus and Giroux, 2010.
"In 1938, Edith Westerfeld, a young German Jew, is sent by her parents to Chicago, Illinois, where she lives with an aunt and uncle and tries to assimilate into American culture, while worrying about her parents and mourning the loss of everything she has ever known. Based on the author's mother's experience, includes an afterword about a little-known program that brought twelve hundred Jewish children to safety during World War II." – CIP. A memorable story of courage and resilience highly recommended for readers 11 to 15 years old. [Chicago; Grief; Holocaust; Immigrants; Loneliness; Jews; WW 2]
Coates, Jan L. A Hare in the Elephant's Trunk. Red Deer Press, 2010.
Jacob flees when war comes to his Southern Sudan village in 1987.  He spends months on the run and years in refugee camps but somehow survives to tell his story and start a new life in Canada. Based on the experiences of Jacob Deng, this informative novel will be appreciated by readers who prefer 'real' stories. [Sudan; Refugees; Deng, Jacob; War; Historical fiction] 
Cooney, Caroline B. Diamonds in the Shadow. Delacorte, 2007.
Jared is irritated to learn that his family will be taking in an African refugee family sponsored by his church. He and his younger sister will both have to share their bedrooms which seems entirely unfair. His irritation turns to suspicion and astonishment, though, when he discovers the horrors the newcomers have left behind. Or have they left them behind? This novel for mature readers could be compared to Almond's Raven Summer or Ellis's No Safe Place. [Africa; Nigeria; Refugees; Immigrants; Connecticut; Civil War; Family life; Compassion; Courage; Criminals]
Copp, Mary Wagley. Whenever I Go. New York: Atheneum Books for Young Readers, 2019. [Refugee camps]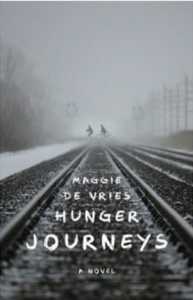 De Vries, Maggie. Hunger Journeys. Toronto: HarperTrophyCanada, 2010.
Lena and her friend Sofie use false identity cards and help from two German soldiers to escape from Nazi-occupied Amsterdam.  A suspense-filled award-winning novel for mature readers, due to the sexual references. [WW 2; Netherlands; Soldiers; Friendship; Survival; Family problems; Teenagers; Young adult fiction] Click HERE to read a reader's response to this novel. 
Diaz, Alexandra. The Crossroads. New York: Simon & Schuster Books for Young Readers, 2018.
Twelve-year-old Jaime and fifteen-year-old Angela are cousins from Guatemala living in a trailer in rural New Mexico. Jaime's older brother works on a ranch and the two younger cousins go to school. But how can you feel like you belong when you can't understand English? How can you feel safe when you don't want anyone to know that you are in the country illegally? How can you rest when you are worried about your relatives back home?
This skillfully written story is full of plot twists and real life dilemmas will give you a new perspective on the problems of modern migration. The novel is long – 303 pages – but it is not difficult to read. There is lots of conversation, and the sentences are quite simple.I think you are ready to read a story about what it is like to be independent when you are only 12 years old. [Brothers; Cousins; Guatemala; Illegal aliens; New Mexico; Ranch life; Refugees; Schools]
Ellis, Deborah. No Safe Place. Groundwood Books/House of Anansi Press, 2010.
Fifteen-year-old Abdul and two other young migrants, meet in a boat adrift in the English Channel. For mature readers due to sexual references and violence. [Refugees; France; England; Voyages and travels; Courage; Criminals; Runaways]
Gundersheimer, Ben. Lilah Tov, Good Night. New York: Nancy Paulsen Books, 2020.
Halahmy, Miriam. Hidden. New York: Holiday House, 2016.
"Fourteen-year-old Alix is faced with a huge moral dilemma when she helps pull an illegal Iraqi immigrant from the incoming tide on the coastal English island where she lives." – CIP.  Stories written in present tense from the first-person point of view are frequently tiresome in their self-obsession but this novel is a remarkable exception. Alix has no perfect life and no illusions about her own importance. What she has is the ability to see life from someone else's point of view. The horror of life for refugees seeking asylum opens her heart and reveals her courage in this novel highly recommended for all readers 12 years old and up. [England; Family problems; Friendship; Iraqis; Racism; Refugees; Schools; Secrets]
Hartnett, Sonya. The Midnight Zoo. Somerville, Mass.: Candlewick Press, 2010. 
"Twelve-year-old Andrej, nine-year-old Tomas, and their baby sister Wilma flee their Romany encampment when it is attacked by Germans during World War II, and in an abandoned town they find a zoo where the animals tell their stories, helping the children understand what has become of their lives and what it means to be free." – CIP. How can there be a happy ending to a realistic story about war? Only if the characters have a sense of themselves beyond the horrors of the moment. This philosophical novel by an award-winning writer is recommended for introspective readers 11 years old and up.  It could be compared with Fish by L.S. Matthews and The Donkey of Gallipoli by Mark Greenwood. [Freedom; Refugees; Romanies; Zoos]
Hautzig, Esther. The Endless Steppe. New York: HarperCollins, 1995.
Esther Hautzig is a brilliant author, most famous for her award-winning book The Endless Steppe. Esther was born on October 18, 1920 in Wilno, Poland (now known as Vilnius, Lithuania). She is known for writing true-life tales about survival in the labor camps of Siberia in World War II. Esther, amazingly and superbly, gives us an understanding of what went on in Russia during World War II. The Hautzig family was taken to the endless steppe of Siberia, and they were told they were "capitalists…enemies of the people" (12). She, vividly and descriptively, gives us a tremendously terrific picture of how hard it was for some people in Russia during that time….(Bradley in grade eight)
Hesse, Monica. They Went Left. New York: Little, Brown and Company, 2020.
After surviving the horrors of being locked up in a concentration camp, eighteen-year-old Zofia travels back to her home in Poland in 1945 with the help of a Russian soldier. She hopes to be reunited with her younger brother, but he isn't there.  So leaving the enamoured soldier behind, she sets off in the middle of the night to search for him, determined not to give up until she finds him. It is in a displaced-persons camp in Germany where she finally discovers the truth.
A young adult novel about love and loss and learning to live with memories, this novel is most highly recommended for mature readers 13 years old and up.
(Note: due the sexual references, some private schools and some parents may prefer to reserve this book for older readers.)
Ho, Van and Marsha Forchuk Skrypuch. Too Young to Escape: A Vietnamese Girl Waits to Be Reunited with Her Family. Toronto: Pajama Press, 2018.
Imagine being left behind when your parents move to another country. That is what happened to young Van. She was left behind when her parents and older siblings fled from the communist rulers in Vietnam. Happily, Van was eventually able to rejoin her family in Canada.  The large print and widely spaced lines make the book easy to read, but the story itself is not so easy to read.  This 142-page true story – accompanied by photographs – is recommended for brave readers with compassionate hearts. [Communism; Grandmothers; Refugees; Vietnam]
Kalman, Bobbie. Refugee Child. St. Catherines, On.: Crabtree, 2006.
In this memoir of the 1956 Hungarian Revolution, the author describes seeing truckloads of dead and wounded people as she walked home from school one day. Soon, her family was on the run, crossing muddy fields and freezing water, hoping to escape the dogs and gunshots, hoping to get across the border to Austria. 
Kelly, Erin Entrada. The Land of Forgotten Girls. New York: Greenwillow Books, 2016.
"Abandoned by their father and living in poverty with their heartless stepmother in Louisiana, two sisters from the Philippines, twelve-year-old Sol and six-year-old Ming, learn the true meaning of family." – CIP.  A heart-moving story of loss and resilience highly recommended for readers 11 to 14 years old. The design – large margins and widely-spaced lines – helps to make this 299-page novel easy to read. [Filipino Americans; Friendship; Grief; Immigrants; Louisiana; Neglect; Sisters; Stepmothers]
Kadohata, Cynthia. A Place to Belong. New York: Atheneum, 2019.
Twelve-year-old Hanako, her younger brother, and her parents have been incarcerated in internment camps ever since the bombing of Pearl Harbor in 1942. Although the war is now over, her family is still not wanted in America, so her parents give up their American citizenship and move to Japan. Her grandparents are overjoyed to see them, but Hanako doesn't feel at home. She is too American to blend into Japanese life. And the poverty is overwhelming.
This 399-page novel is an outstanding addition to the historical fiction genre. The facts of post-war Japanese life are smoothly embedded in an emotionally powerful story – with an unerring sense of voice – highly recommended for competent readers 11 years old and up.
P.S. This is a superb novel for a small group study. Numerous thought-provoking sentences will promote connections between the story and readers' own lives…
"'When I walked away last time…I never looked back….I was scared it would make me change my mind'" (90).
"'…you must forgive….I see and hear many bad in world, many bad….but there is also many good. So we move forward in life, neh? When we can, we move forward'" (105).
"This was the thing about being spoiled: you had to rise above it" (136).
"There was not enough; this was a fact. The world was filled with facts that could not be changed. She had learned this during their camp days. There were many, many, many facts" (158).
"'Maybe same thing make you sad, make Japanese children happy'" (189).
"'You did the right thing….You may cry. But don't forget that you did the right thing'" (204).
Krans, Angela Pham. Finding Papa. New York: Harper, an imprint of HarperCollinsPublishers, 2023.
After the Vietnam War ended in 1975, thousands of people tried to escape their devastated country. Setting out on boats into the unknown, they hoped for a better life in a new place. Some survived. This picture book – illustrated by a Caldecott Honor winner – is the story of one such family, a mother and daughter trying to reach America. Based on the author's own childhood experience, this powerful picture book – well-suited to reading aloud – is recommended for children 6 to 11 years old.
Kuntz, Doug and Amy Shrodes. Lost and Found Cat: The True Story of Kunkush's Incredible Journey. New York: Crown Books for Young Readers, 2017. [Greece; Iraq]
Magorian, Michelle. Goodnight Mister Tom.  London: Puffin, 2010."
"Young Willie Beech is evacuated to the country as Britain stands on the brink of the Second World War. A sad, deprived child, he slowly begins to flourish under the care of old Tom Oakley – but his new-found happiness is shattered by a summons from his mother back in London . . ." – Amazon. Guardian Children's Fiction Award winner. Now available as a DVD, this novel of the evacuation of London is highly recommended for readers 10 years old and. up.
Maclear, Kyo. Story Boat. Toronto: Tundra, 2020.
Marsh, Katherine. Nowhere Boy. New York: Roaring Brook Press, 2018.
Thirteen-year-old Max is not happy when his family moves to Brussels, Belgium for a year. He is even less pleased when he has to attend a local school – with instruction all in French – while his older sister is allowed to attend an international school. Worse yet, he has to repeat the sixth grade. But life changes when Max discovers a fourteen-year-old refugee, Ahmed, hiding in the basement. Told in alternating points-of-view, this 362-page suspenseful novel – set in the days following the 2016 Paris bombings – provides a heart-rending yet hopeful picture of life for survivors of war. Highly recommended for readers 11 years old and up. 
Matthews, L.S. Fish. New York : Delacorte, 2004.
Tiger and his parents have to leave the village where they have been working. A drought is drying up the land, war is approaching, and their only hope is to escape across the mountains. So they set out with a guide. But events become more and more mysterious after Tiger finds a little fish in a mud puddle and determines to keep it alive until they all reach safety. This short but sophisticated story is for readers with imagination eleven years old and up. 
Mochizuki, Ken. Passage to Freedom: the Sugihara Story. New York: Lee & Low Books, 1997.  
In 1940, five-year-old Hiroki Sugihara watched as his father, a Japanese diplomat stationed in Lithuania, disobeyed orders and signed visa after visa for Jewish refugees fleeing the horrors of Nazi Germany. Hiroki's father was soon transferred and the entire family – he, his parents, his aunt, and his two younger brothers moved to Berlin. In an afterward, Sugihara tells what happened to to his family as a result of his father's courageous actions.The haunting full-page illustrations by Dom Lee and the well-spaced layout of the text enhance the power of this little-known true story of a man who saved an estimated 10,000 refugees. Highly recommended for readers 7 to 70 years old. [Courage; Diplomats; Holocaust, Jewish; Sugihara, Chiune; WW2]
Naidoo, Beverley. The Other Side of Truth. London: Puffin Books, 2000.
Smuggled out of Nigeria after their mother's murder, Sade and her younger brother are abandoned in London when their uncle fails to meet them at the airport; they are fearful of their new surroundings and of what may have happened to their journalist father back in Nigeria.
Nayeri, Daniel. Everything Sad is Untrue: (a True Story). New York: Levine Querido, 2020. 
Khosrou's family history goes back centuries. In Iran, his family was welll-to-do, educated, respected. But now, in an Oklahoman middle-school, the renamed Daniel is merely a poor lonely immigrant. In the style of the stories of Scheherazade, Khosrou tells how his mother converted to Christianity and they had to flee the secret police, leaving his father behind.A multiple award winner, this 356-page autobiographical novel is highly recommended for readers 11 years old and up.
Nielsen, Jennifer A. A Night Divided. New York: Scholastic Press, 2015.
When the Berlin Wall went up, Gerta, her mother, and her brother Fritz are trapped on the eastern side where they were living, while her father, and her other brother Dominic are in the West–four years later, now twelve, Gerta sees her father on a viewing platform on the western side and realizes he wants her to risk her life trying to tunnel to freedom." – CIP. Highly recommended for readers 11 to 16 years old. [Berlin Wall; Courage; Germany; Secrets; Tunnels] 
Oron, Judie. Cry of the Giraffe. Toronto: Annick Press, 2010.
Thirteen-year-old Wuditu and her family, Ethiopian Jews, set out for the Sudan, hoping to eventually reach safety in Israel.  Instead, Wuditu ends up in a refugee camp and life as a slave.  Will she ever be reuinited with her family?  Based on a true story, this novel is for mature readers. [Ethiopia; Sudan; Jews; Refugees; Slavery; Historical fiction]
Pak, Soyung. A Place to Grow. New York: Arthur A. Levine Books, 2002.
Beautifully bright illustrations help tell this story of a family's bonds that hold them lovingly together no matter where life takes them. A great story to read aloud or share with a friend or use to teach students how to find hidden sentences true to life for all of us. [Emigration and immigration; Fathers and daughters; Gardening; Korean Americans]
 Paterson, Katherine. The Day of the Pelican. Boston: Clarion Books, 2009.
In 1998 when the Kosovo hostilities escalate, the life of thirteen-year-old Meli, an ethnic Albanian, changes forever after her brother escapes his Serbian captors and the entire family flees from one refugee camp to another until they are able to immigrate to America. (CIP)
Think of that one day where you did something wrong, the day you are pretty sure affected your whole future and those around you. Imagine your feelings: desperation, guilt, shame and a longing to go back and change that day. This is how Meli Lleshi from The Day of the Pelican by Katherine Paterson (Clarion Books, 2009) feels all the time after her family is forced to flee their city. She thinks that just because she drew a rude picture of her teacher, which led to her brother being beaten and jailed, the Serbians are going to attack her home and family. Even after, when they are in a refugee camp, safe and protected, her mind takes her back to that dreadful day where everything changed. Now they are in America and there is "a new beginning" as her father says, a new beginning of hope, peace and freedom. But even this does not last long. Soon after the 9/11 attack, everyone is paranoid and wicked glances are thrown in her direction and she is treated as if she is a terrorist, as if this is all her fault. Will her family ever fit in and go back to living a life of happiness? (Ilar in grade eight)
Preus, Margi. Village of Scoundrels: Based on a True Story of Courage during WWII. New York: Amulet Books, 2021.
During World War 2, brave villagers in Les Lauzes, France shelter refugees and the people leading them to safety in Switzerland. This quickly-paced novel does not hide the brutality of the Nazi occupiers. Danger is ever present. But there is also humour and joy and hope among the children and young adults setting out to fool the German Gestapo. Includes an epilogue with photographs and biographies of what happened to the real people in the story. Highly recommended for readers 11 to 14 years of age. 
Ramadan, Danny. Salma the Syrian Chef. Toronto: Annick Press, 2020.
Resau, Laura. Star in the Forest. New York: Delacorte Press, 2010. 
Life for illegal migrants is vividly portrayed in this easy-to-read novel. "After eleven-year-old Zitlally's father is deported to Mexico, she takes refuge in her trailer park's forest of rusted car parts, where she befriends a spunky neighbor and finds a stray dog that she nurses back to health and believes she must keep safe so that her father will return." – FVRL. Despite a few far-fetched coincidences in the story, such as both the dog and Zitlally's father suddenly disappearing and then being injured by jumping out of trucks, this heart-warming novel set in Colorado will be appreciated by animal lovers 9 to 13 years of age. [Dogs; Fathers; Friendship; Illegal aliens; Mexican Americans] 
Ruurs, Margriet. Stepping Stones: A Refugee Family's Journey. Victoria, British Columbia: Orca Book Publishers, 2016.
Amazing illustrations made of stones show people on a journey in this English and Arabic picture book of a young girl and her family fleeing civil war in Syria.  A forward explains how the Canadian author and the Syrian illustrator, Nizar Ali Badr, came together to create this story recommended for readers of all ages.  [Refugees; Syria]
Sanna, Francesca. The Journey. London: Flying Eye Books, 2016.
"What is it like to have to leave everything behind and travel many miles to somewhere unfamiliar and strange? A mother and her two children set out on such a journey; one filled with fear of the unknown, but also great hope. Based on her interactions with people forced to seek a new home, and told from the perspective of a young child…"  – FVRL. A picture book to share with readers 8 to 14 years of age. Read more about this award-winning picture book and its author HERE.
Savit, Gavriel. Anna and the Swallow Man. New York: Alfred A. Knopf, 2016.
"When her university professor father is sent by the Gestapo to a concentration camp, seven-year-old Anna travels the Polish countryside with the mysterious Swallow Man during World War II." – CIP. So much has to be inferred in this story told from the third person point of view but only revealing the thoughts of the main character. This imaginative novel is highly recommended for competent readers 12 years old and up.  [Poland; Runaways; Survival; WW 2]
Sepetys, Ruta. Salt to the Sea. New York: Philomel Books, 2016.
Fleeing the invading Russian army near the end of the war, refugees try to escape aboard a military transport ship transporting German evacuees. Told from alternating points of view and based on the true story of the Wilhelm Gustloff, this award-winning 389-page emotion-laden novel is highly recommended for mature readers 13 years old and up. Includes a map. [Germany; Historical fiction; Poland; Refugees; Survival; WW 2; Young adult fiction]
Sis, Peter. Nicky & Vera: A Quiet Hero of the Holocaust and the Children He Rescued. New York: W. W. Norton & Company, Inc., 2021.
Twenty-nine-year-old Nicholas Winton saved almost 700 children from Nazi-occupied Czechoslovakia in 1938. Ten-year-old Vera was one of those children. Written and illustrated by the inimitable Peter Sis, this true story describes the astonishingly daring rescue during the war and the unexpected reunion fifty years later. Accompanied by an extensive afterward, this picture book is highly recommended for readers eight years old and up.
Skrypuch, Marsha Forchuk with Tuan Ho. Adrift At Sea: A Vietnamese Boy's Story of Survival. Toronto: Pajama Press, 2016.
In 1981, six-year-old Tuan escaped with his mother and two of his sisters. In the middle of the night, they got on a boat which took them far out to sea where they were rescued by sailors on an American aircraft carrier. Illustrated by award-winning Brian Deines, this powerful picture book tells the true story of one child's journey as a refugee from Vietnam to Canada. Accompanied by historical and biographical information, as well as numerous photographs, this informative and inspiring story is recommended for readers 8 years old and up.
Stewart, Sarah. The Quiet Place. New York: Margaret Ferguson Books, 2012.
In 1957, young Isabel writes letters to her Aunt Lupita back in Mexico after she and  her family move to the U.S.A. The softly coloured illustrations by the author's husband, David Small, help create a touching picture book recommended for readers – and listeners – 7 to 14 years old. [Aunts; Homesickness; Immigrants; Letters; Mexican Americans]
Tonatiuh, Duncan. Pancho Rabbit and the Coyote: A Migrant's Tale. New York: Abrams Books for Young Readers, 2013.
"When Papa Rabbit does not return home as expected from many seasons of working in the great carrot and lettuce fields of El Norte, his son Pancho sets out on a dangerous trek to find him, guided by a coyote." – CIP.  This colourful picture book – a Pura Belpré Honor Book that includes a glossary, author's note, and list of websites  – is an effective introduction to the topic of farm labour and illegal immigration from Central America. It is highly recommended for readers – and listeners – 5 to 15 years old.  [Allegories; Coyotes; Migrant labor; Rabbits; Voyages and travels]
Trottier, Maxine. Migrant. Toronto: Groundwood Books, 2011.
Anna and her family leave their home in Mexico each spring to travel north. All spring and summer they work on farms before returning to Mexico for the winter. They are part of a group of German-speaking Mennonites who left Canada in the 1920s but now return for part of each year, earning just enough money to survive.
This powerful story encourages readers – and listeners – to think about the life of migrant workers and the role they play in providing food for Canadian and American consumers. An afterword explains the history of these Mennonites who moved to Mexico. (Read a literary analysis of this story HERE.)
Wells, Rosemary with Secundino Fernando. My Havana: Memories of a Cuban Childhood. Somerville, Mass.: Candlewick Press, 2010. 
"Relates events in the childhood of architect Secundino Fernandez, who left his beloved Havana, Cuba, with his parents, first to spend a year in Spain, and later to move to New York City." – CIP. Full colour illustrations and black and white photographs accompany this story of the architect's childhood, the only children's book I've found that depicts the political situation in Cuba during the reign of Batista and the turmoil as Castro gained power in 1959.   Highly recommended for all readers 9 years old and up. [Architecture; Dictators; Cuba; Family life; Fernandez, Secundino; Historical fiction; Spain]
Williams, Karen Lynn and Chadra Mohammed. Four Feet, Two Sandals. Grand Rapids, Mich.: Eerdmans Books for Young Readers, 2007.
Williams, Karen Lynn and Khadra Mohammed. My Name is Sungoel. 
A young Sudanese immigrant is frustrated that no one can correctly pronounce his name. Should he adopt an American name? No. Instead, he comes up with a unique way to not only teach others his name but create a sense of cheerful community in his classroom. This picture book illustrated by Catherine Stock – with an explanatory afterward – is recommended as a read-aloud for children 7 to 10 years old. [Dinka; Immigrants; Refugees; Sudan]
Williams, Michael. Diamond Boy. New York: Little, Brown and Co., 2014.
"When Patson's family moved to the Marange region of Zimbabwe he begins working in the mines, searching for blood diamonds, until government soldiers arrive and Patson is forced to journey to South Africa in search of his missing sister and a better life." – CIP. [Brothers and sisters; Child labor; Diamonds; Mines and mining; Runaways; Shona (African people); Zimbabwe]  
Williams, Michael. Now Is the Time for Running. New York : Little, Brown, 2013, c2009.
"When soldiers attack a small village in Zimbabwe, Deo goes on the run with Innocent, his older, mentally disabled brother, carrying little but a leather soccer ball filled with money, and after facing prejudice, poverty, and tragedy, it is in soccer that Deo finds renewed hope." – CIP. Recommended for more mature readers 12 years old and up.  [Brothers; Homelessness; People with mental disabilities; Refugees; Soccer; Zimbabwe]
Click HERE for more stories about refugees and conflicts since 1945. Click HERE and  HERE for lessons on migration and history.
ANIMAL MIGRATION
DePalma, Mary Newell. Two Little Birds. Grand Rapids, Mich.: Eerdmans Books for Young Readers, 2014.  
Recommended as a read-aloud for children up to seven years of age. 
Dowson, Nick. North: the Amazing Story of Arctic Migration.  Somerville, Mass.: Candlewick Press, 2011.
A beautiful picture book – with glossary, index, and additional background information – highly recommended for readers of all ages. 
George, Jean Craighead. Galapagos George. New York: Harper, 2014.
A wonderfully informative and inspiring picture book for readers 8 years old and up.
Hoose, Phillip. Moonbird : a Year on the Wind with the Great Survivor B95. New York: Farrar Straus Giroux, 2012. 
A red knot shorebird has migrated 18,000 miles a year for nearly 20 years. Every year, it has flown from the Canadian Arctic to Tierra del Fuego at the tip of South America. This amazing feat is described in a 139-page book written in an engaging style by an award-winning author. Numerous photographs, profiles of scientists, an appendix on how to help conserve our natural environment, and a 6-page index help to make this an excellent resource for competent readers 12 years old and up.  
Lock, Deborah. The Great Migration. New York: DK Publishing, 2012.
This 32-page nonfiction book includes photographs, maps, and an index. An excellent resource for students learning to do research. While this fact-filled book might seem to be more suitable for younger readers, it would also be very useful for older reluctant readers who are willing to expand their general knowledge as long as they do not have to read for too long. Click HERE for a guide on writing summaries for nonfiction books. 
Marino, Gianna. Following Papa's Song. New York: Viking, 2014.  
Full-page illustrations colourfully illustrate this story about the migration of humpback whales. Recommended for children up to seven years of age.