YOUNG ADULT BOOKS FOR GRADES 8+
Acheson, Alison. Mud Girl. Cotteau Books, 2006.
Sixteen-year-old Abi is lonely. Her mother left a year ago and her father rarely speaks. So when she finds a boyfriend, life seems so much happier. But Jude, in his twenties, already has a young son and he wants his relationship with Abi to go much further than she expected.
Bauer, Joan.  Hope Was Here. Speak, 2000.
Hope moves to Wisconsin when her aunt takes a new job running a diner. Making new friends, learning more about her past, and learning how to fight for something all combine to create a new vision of the future for Hope.
Bauer, Joan. Best Foot Forward. New York : Putnam, 2005.
Jenna is busy running between school, Al-Anon meetings, and her job at a shoe store.  And life becomes more complicated when her boss, Mrs. Gladstone, hires another teenager: a boy on probation. Who can you trust in life? Can people really change? Readers in grades eight to ten will enjoy this humourous novel with a bit of romance and a lot of angst. [Stores; Old age; Shoplifting; Family problems; Work; Ethics]
Bronte, Charlotte. Jane Eyre.
Jane, an orphan in 19th-century England, grows up unwanted and unloved until she turns eighteen, takes a position as a governess and falls in love with the master of the house.
Brooks, Martha. Bone Dance. Orchard Books, 1997.
"After her father dies and she inherits a cabin in rural Manitoba, Alexandra meets a young man who shares her First Nations heritage and her ability to see into another world." – CIP. Highly recommended for mature readers 13-years-old and up. [Dreams; Manitoba; Parent-child relationship; Supernatural]
Brooks, Martha. Mistik Lake. Toronto: Groundwood Books, 2007.
"After Odella's mother runs off to Iceland with another man, Odella finally learns some of the many secrets that have haunted the family for two generations." Another recommended novel for mature readers 13-years-old and up. [Manitoba; Mothers and daughters; Sisters; Traffic accidents]
Cooney, Caroline B. They Never Came Back. New York : Delacorte Press, 2010.
"When fifteen-year-old Cathy decides to carpool from Norwalk to tony Greenwich, Connecticut, to study Latin in summer school, she does not expect the shocking events that occured five years earlier to suddenly come flooding back into her relatively settled life." – CIP [Abandoned children; Connecticut; Cousins; Foster children; Identity; Parent and child; Secrets; School; Summer; Theft]
…
Crockett, S.D. One Crow Alone. New York : Feiwel & Friends, 2013.
The long, bitter winters are getting worse, and a state of emergency has been declared across Europe. In Poland, the villagers are subject to frequent power cuts and fuel shortages. After the death of her grandmother and the evacuation of her village, 15-year-old Magda joins forces with the arrogant, handsome Ivan and smuggles her way onto a truck bound for London – where she hopes to find her mother. But London, when they reach it, is a nightmarish world, far from welcoming." – CIP  Highly recommended.  [Climatic changes; Survival]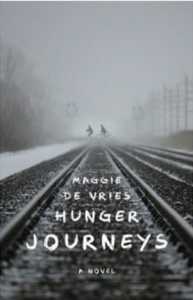 De Vries, Maggie. Hunger Journeys. Toronto: HarperTrophyCanada, 2010.
Lena and her friend Sofie use false identity cards and help from two German soldiers to escape from Nazi-occupied Amsterdam.  A suspense-filled award-winning novel for mature readers, due to the sexual references. [WW 2; Netherlands; Soldiers; Friendship; Survival; Family problems; Teenagers; Young adult fiction] Click HERE to read a reader's response to this novel.
Donaldson, Joan. On Viney's Mountain. New York: Holiday House, 2009.
"In the Cumberland Mountains during the fall of 1879, sixteen-year-old Viney is shocked to hear that Englishmen will arrive on her mountain and build a new community, massacring the beautiful area that inspires her weaving." – CIP.  A quietly romantic novel recommended for readers 13 to 16 years old. [Country life; Dating (Social customs); Family life; Historical fiction; Sisters; Tennessee; Weaving]
Ellis, Deborah. The Heaven Shop. Fitzhenry & Whiteside, 2004.
After their father dies of AIDS, Binti and her siblings are sent to neglectful relatives all over Malawi until they re rescued by their grandmother.
Ellis, Deborah. True Blue. Toronto : Pajama Press, 2011.
"The darker side of a friendship is portrayed by Jess, a seventeen-year-old who struggles to find the moral courage to remain loyal to her best friend Casey who has been accused of murdering an eight-year-old girl at summer camp. The town becomes a media circus and the pressures far too great for Jess to cope." – CIP Recommended for readers in grade eight and up. [Camps; Faith; Friendship; Loyalty; Murder; Peer pressure; Young adult fiction]
Friesen, Gayle. Janey's Girl. Kids Can Press, 1998.
Fifteen-year-old Claire discovers more than she expected when her mother takes her to visit her maternal grandparents in a small rural town in B.C.'s Fraser Valley.
See No Evil by Jamila Gavin (Farrar, Straus and Giroux, 2008).
Twelve-year-old Nettie enjoys a wealthy life with her parents in London, England. There are servants, private ballet lessons and travels around the world. But when her favourite tutor mysteriously disappears and she meets the son of a household employee, Nettie starts to suspect that her father's wealth is coming from trafficking in illegal aliens. Full of suspense, this story may appeal to readers who appreciated The Boy in the Striped Pajamas.
Harmon, Michael. Brutal. New York : Alfred A. Knopf, 2009.
Sixteen-year-old Poe is sent to live with her father when her mother decides to work in South America for a year. Poe doesn't know her father. He left when she was only a baby.  And Poe doesn't know how she will survive in a town where cliques rule the high school and bullying is ignored.  But she is determined to fight back. Winner of numerous awards, this quick read will be appreciated by readers in grade 8 and up. [Dating (Social customs); California; Fathers and daughters; Schools; Mothers and daughters; Anger; Moving (Household)]
Holmes, Kathryn. The Distance Between Lost and Found. New York: HarperTeen, 2015. 
"Sophomore Hallie Calhoun, her former friend Jonah, and her new friend Rachel leave a church youth group hike in the Great Smoky Mountains and become lost for five days, struggling to survive as Hallie finally speaks about the incident that made her a social pariah and Jonah admits why it hurt him so much." – CIP.  Highly recommended for readers 12 years old and up. [Bullying; Camps; Conduct of life; Faith; Friendship; Teenagers; Wilderness Survival]
Hrditschka, Shelley. Sister Wife. Orca, 2008.
Told from the points of view of three teenagers, this novel describes life in a polygamous cult where fifteen-year-old girls are assigned to be wives of older men.
Hyde, Catherine Ryan. Becoming Chloe. Alfred A. Knopf, 2006.
Two homeless teenagers, a fearful girl and a gay boy, become friends, leave New York City and take a road trip across America in search of beauty.
Becoming Chloe by Catherine Ryan Hyde (Alfred A Knopf, 2006) is the story of Jordan who lives a lonely life in the streets. This all changes when he meets Chloe. Chloe, a small blonde girl who has also lived her life in the streets, thinks the world is ugly and full of misery. But when, Jordan takes Chloe on a road trip across the country to show her that the world is a wonderful place, they have lots of adventures, make many memories, and Chloe changes her mind. She realizes that the world really is a beautiful place. This book entertains, heals your heart, and feeds your soul. I really enjoyed reading it and I recommend this book to children ages twelve to fifteen. (Megan)
Kent, Trilby. Once in a Town Called Moth. Toronto: Tundra Books, 2016.
Why did Anneli's mother abandon her and her father? Why has her father – 10 years later – brought her to Canada? Fifteen-year-old Anneli struggles to fit in at her new high school after growing up in a remote Mennonite colony in Bolivia. But with the help of a few friends, she learns more about herself and finds her mother. While the plot is a bit too predictable and the Mennonite setting a bit too stereotypical, the novel is nevertheless a smoothly written mystery. It is recommended for readers – 13 years old and up – who enjoy quiet stories about outsiders. [Bolivia; High schools; Mennonites; Missing persons; Moving, Household; Secrets; Toronto (Ont.)] 
Kephart, Beth. Nothing But Ghosts. HarperTeen, 2009.
Sixteen-year-old Katie grieves the death of her mother, uncovers a mystery and acquires a boyfriend while working as a gardener on the estate of a recluse who has not been seen for decades. (Fathers and daughters; Grief; Gardening; Librarians; Mothers; Art; Summer; Secrets; Research; Painting)
Kidd, Sue Monk. The Secret Life of Bees. Penguin Books, 2003.
Fourteen-year-old Lily, living in South Carolina in the 1960's, learns more about racism and discovers the truth about the day her mother was killed ten years earlier.
The Secret Life of Bees by Sue Monk Kidd (Penguin Putnam Inc., 2002) is the story of Lily Owens who lives with an abusive father and her nanny, Rosaleen. Lily, who wants nothing more than to learn more about her mother, faces a conflict: Run away from home with Rosaleen and go to Tiburon in South Carolina to learn more about her mother or stay and deal with her father and his lies. Because Lily decides to run away, she meets three beekeeper sisters who take her and Rosaleen in. They learn to keep bees and Lily learns more about her mother. This book was very moving and very well written. (Chelsea in grade eight)
Matas, Carol. Past Crimes. Key Porter, 2006.
Nineteen-year-old Ros takes her baby and goes back to live with her parents in Palm Springs after her husband, a police officer, is killed.  Her hopes for a safe life are shattered when people around her are mysteriously attacked. Is there someone out to kill her?  A suspense novel about revenge and reincarnation, this novel by a well-known Canadian author will appeal to readers who enjoy a quick read.
McCormick, Patricia. Sold. Hyperion, 2006.
Thirteen-year-old Lakshmi lives in poverty with her mother and stepfather on a Nepalese mountainside.  She hopes a better life awaits her when she is sent to work in the city. But instead, she discovers she has been sold into prostitution. A National Book Award finalist, this disturbingly realistic novel is for mature readers only.
McIntyre, R. P. Apart. Groundwood, 2007.
While looking for her father, sixteen-year-old Jessica finds a friendship becoming more than she expected when she meets a seventeen-year-old boy named Sween.
McMullan, Margaret. Sources of Light. Houghton Mifflin, 2010.
Love and sorrow, fear and courage all come together in this story set in 1962 about a 14-year-old girl and her mother who move to Jackson, Mississippi and encounter violence against African Americans and anger towards anyone who speaks up for equal rights. Readers of The Secret Life of Bees by Sue Monk Kidd will appreciate this coming-of-age novel about learning to see life through a different lens.
Newbery, Linda. Set in Stone. David Fickling Books, 2006.
Set in 1898 England, this suspenseful novel tells the story of two sisters who live with their father in a grand house in the countryside. Told from the alternating points of view of the governess, Charlotte Agnew, and an art tutor, Samuel Godwin, the story slowly reveals the secrets lying behind the imposing walls of the mansion.  Recommended for readers aged 13 and up.  (Historical; Architecture; Sisters; Secrets; Incest; England)
Paterson, Katherine. Jacob Have I Loved. HarperCollins, 1980.
Sara Louise has always lived in the shadow of her pretty, talented twin sister Caroline.  When will she ever get to be special?
Ravel, Edeet. Held. Toronto: Annick Press, 2011.
Seventeen-year-old Chloe, vacationing in Greece, is kidnapped and held in exchange for the release of prisoners back in the United States. Is she the victim of terrorists or is her kidnapper a victim of political terror himself?  Is their growing relationship simply a symptom of Stockholm Syndrome? Despite some awkwardness in the writing, this dramatic novel will raise awareness of political injustice in the world. Recommended for teenagers.  [Greece; Kidnapping; Stockholm Syndrome; Vacations; Summer; Love; Young adult fiction]
…
Reiss, Kathryn. Blackthorn Winter. Harcourt, 2006.
Fifteen-year-old Juliana discovers mystery and romance in an artists' village in southwest England. A relatively easy read recommended for readers 12-years-old and up. 
Robinson, Eden. Monkey Beach. Toronto : Vintage Canada, 2001, c2000.
"Infused by turns with darkness and humour, this is a spellbinding voyage into the long, cool shadows of BC's Coast Mountains, blending teen culture, Haisla lore, nature springs and human tenderness into a multilayered story of loss and redemption." – CIP. Highly recommended novel for mature readers 14-years-old and up due to the subject matter. [Brothers; Family life; First Nations; Kitimat Region (B.C.); Missing persons]
Rosoff, Meg. The Bride's Farewell. Doubleday Canada, 2009.
Pell Ridley runs away the morning she is to be married, taking only her white horse. But her little brother who never speaks is determined to come along and the two set off for Salisbury Fair, hoping to find work and a new life far away from the abuse and poverty of their childhood. However, life in 19th century England is full of suspicion and deviousness. Will Pell ever find someone who loves her? Will she ever find a place she belongs? (England; Historical fiction; Child abuse; Marriage; Runaways; Brothers and sisters)
Sheppard, Mary C. One For Sorrow. Puffin Canada, 2008.
Issy is determined to leave her unhappy life in a small Newfoundland outport as soon as she is sixteen years old. Her mother and older sister are unkind, her father is hardly ever home and she has no friends. But how will she succeed in escaping her lonely existence if she can't even read? 
Schlitz, Laura Amy. The Hired Girl. Somerville, Mass.: Candlewick Press, 2015.
"Fourteen-year-old Joan Skraggs, just like the heroines in her beloved novels, yearns for real life and true love. But what hope is there for adventure, beauty, or art on a hardscrabble farm in Pennsylvania where the work never ends? Over the summer of 1911, Joan pours her heart out into her diary as she seeks a new, better life for herself – because maybe, just maybe, a hired girl cleaning and cooking for six dollars a week can become what a farm girl could only dream of – a woman with a future." – FVRL. A marvellous 387-page novel for romantic readers 12 years old and up. [Baltimore (Md.); Diaries; Historical fiction; Jewish families; Maryland; Runaways; Servants]
Sheppard, Mary C. Three for a Wedding. Toronto: Puffin Canada, 2009.
"There's something mysterious about Grace-Mae's arrival in Cook's Cove but Violet, her cousin, doesn't have time to unravel it as she has final exams, her sisters wedding, a garden party, and her first boyfriend to think about." – WAFMS. Part of a trilogy highly recommended for competent readers 12-years-old and up. [Cousins; Family life; Summer]
Sheth, Kashimra. Keeping Corner. Hyperion Books, 2007.
Thirteen-year-old Leela's happy life in 1940's India is over when her husband of four years – someone whom she hardly knows – dies and she becomes an unwanted widow.
Smith, Dodie. I Capture the Castle. Little, Brown, 1949.
Seventeen-year-old Cassandra lives in poverty with her family in an English castle.  If only she would marry a rich man, they could all be saved. But there is someone else who truly loves her.
Stratton, Allan. Chanda's Wars. HarperCollins, 2008.
An African teenager tries to save her younger siblings after they are kidnapped to serve as child soldiers in an African rebel army.
Turnbull, Ann. No Shame, No Fear. Candlewick Press, 2003.
Fifteen-year-old Susanna, a poor country girl from a Quaker family, falls in love with seventeen-year-old William, the son of a rich Anglican man in 17th-century England.
Walters, Eric. Alexandria of Africa. Doubleday Canada, 2008.
…rich, spoiled, almost sixteen-year-old Alexandria Hyatt … is caught for shoplifting and goes to court for a second time, and this time, she can't … get out of the consequences; soon enough, Alexandria is in Africa working for an international charity where she has many exciting and memorable adventures. (Megan in grade eight) (Africa; Juvenile delinquents; Voyages and travels; Coming of age) Listen to an excerpt!
More Recommendations!
Thirteen Reasons Why by Jay Asher is an outstanding novel about teen suicide. It's not just any novel about suicide though, it's quite irregular. "Hannah is dead. Her secrets should be buried with her." But they aren't. Hannah decided to make thirteen cassette tapes about why she did it. Why she decided to give up. Why she decided to kill herself. And she wants everyone, who are thirteen reasons, why she did it. She says to pass these cassette tapes around from person to person, out of the few thirteen, and if they don't… Well there will be a second set sent out to everyone. Some of these reasons are bad ones. In fact, some are illegal. Some don't even have to do with her, but they still effected her. In this story we follow Clay Jensen, one of the few thirteen, he shouldn't be a reason why and he isn't. Hannah admits that. "Clay, honey, your name does not belong on that list. (200)" But she had to add him to tell her story. He wasn't the last either there was four more to go after him. And this story goes to show the effects on those nine people before him and those four people after him. Their lives will never be the same, I know I wouldn't be the same if I had to do something with someone's death. But I do think this is a good book for mature grade eights, and up of course. This is quite a marvelous story about a girl who wasn't clinically depressed when she first started her story but after incident after incident, something Hannah likes to the the "snowball" effect, you just change. Thirteen Reasons Why shows you examples of what to look out for if you're afraid one of your friends is thinking about ending there lives. It's a smooth powerful read that should be shared by my fellow students, because this book really is that good. (Sarah in grade eight)
Love You Hate You Miss You by Elizabeth Scott changed my view about how perfect friendships still have there faults but can overcome it. The main character, Amy, has just lost her best friend with whom she had been friends for five years. Amy and Julia, her best friend, attended a party that would change their lives forever, Julia died at that party. She got into her car and drove home after her boyfriend has been caught cheating on her. But how is this about friendship? Amy forced her to see Kevin, her boyfriend, sleeping with another girl, and Amy knew it would hurt her but still it had to be forced, Julia needed to see that. Not because she wanted to hurt Julia but because Kevin hurt Julia. He hurt Julia a lot. And she never had the strength to leave him because that's what love really is, not leaving even when the going get too tough to process. You have to take time to think about the situation and if that connection is strong enough you do not live. You never leave. "I wanted her to be free of Kevin, free of what she called love. (139)" Their friendship, Amy and Julia's, was not perfect but they cared about each other. Amy wasn't the only failure of a friend though, Julia has put Amy through pain before too. One day while at a party Amy went to the bathroom and the guy she'd been seeing was angry because she didn't want to be with him so he decided to pour grain alcohol into her drink. She hadn't known at the time but Julia had. Why didn't Julia stop him? Or tell her what he had done? I don't know, and I still don't know but I could guess. Julia wanted to spend the night with Kevin having fun but Amy wanted to go home, so Julia didn't tell her what he had done he did make her leave though. She never apologized but the next day in the hospital she "I'm scared. (112)" Julia put her best friends health and safety after her own having fun. The two best friends were always there for one another. Julia never left her at the hospital and Amy never told Julia about Kevin so she would finally understand how she had to leave so he would stop hurting her. In the end, Julia died from a car crash where she had been driving, Amy had forced her to drive but Julia made the choice to drive, and that choice took her life. Amy still misses Julia but Amy is learning to live without her and it will start to hurt less. But the memories that will never leave Amy's mind show readers that their friendship was real, one that everyone can relate too. (Sarah in grade eight)
Brutal by Michael Harmon is a fiction novel about teenager, Poe. In Poe's high school teachers are all the same. They tell students the exact same stuff that follow the rules of the school board. Most of them are the exact same, in everything they do. They make rules, for example, gym class you must wear uniform for Bender's high, Poe's high school, unless you play promising American sport. Like football. Or cheer leading. All other sports don't matter as much, or should I say extra-curricular activities. Like choir. Poe is a very good singer and she decided that she should be allowed to wear her choir uniform to gym class because its an extra-curricular activity at Bender's high. That was not allowed, because it abides the rules. Her singing voice was exceptional and was offered the lead soloist position, that didn't last long. The former lead soloist spot wasn't given up Poe was planning on taking their position but her parents wouldn't let that happen because she did not have a fair tryout at spots were already given out. As far as bullying goes the staff do not help at all. Velveeta was almost beaten to death in the bathroom and no justice was served until Poe found evidence. Now is Poe's school like my school? Well, I believe that some teachers don't actually like to be imaginative. They follow the districts rules exactly, in gym class everyone is allowed to wear whatever they want. They do prefer that you wear black shorts and a gray shirt though. The dress code, I'm not sure what that is for actually for. The rules are to tell you how your attire is and is not appropriate for school but when you get to high school they truly stop caring what you wear as long as you cover the necessities. For extra-curriculars the best is the best, it may take awhile to get to the top but if you are the best you should be put where you belong. Every school is different and they all have different way of doing things but it truly are the teachers that make a difference in how you see the school. (Sarah in grade eight)
The novel Girls Don't Fly by Kristen Chandler tell the story of Myra, a senior in high school who is counting down the days until she gets to graduate. This year has been very difficult for Myra, seeing as how her boyfriend, Erik, of nineteen months just broke her heart. "I've dated Erik for nineteen months" (pg. 14). Yes he broke up with her. Why? He didn't want to have a long distance relationship seeing as how they were both going off to college. "…We're going to graduate in three and a half months…" (pg. 15). Well that excuse lasted a day, Myra got to work and soon found out Erik had been all over this 'new girl' named Ariel. That didn't last long either, because all Erik is really 'in' for is the girl. He wanted one thing and that was sex. He was in a relationship for nineteen months with Myra just for sex. And he had tried to make that happen too but she wouldn't let it. And she still wouldn't. "It felt like a mistake" (pg. 209). And that is was. Erik went from this totally harmless guy to someone Myra didn't even know all for that one thing he wanted. Sex. He didn't care whether or not she wanted to do it she was getting forced and that wouldn't stop unless she did something. So unlike her regular polite self who tries to please everyone she did something out of her comfort zone. She slapped him. She slapped him hard. He got pissed immediately, but it wasn't her fault it was his. It still is. Therefore, this novel shows that actions do speak louder then words do. And ever will so always watch to see if they've changed and to prove that you forgave them for a good reason. (Sarah in grade eight)
Dreams, nightmares. Janie sees them all. In Gone by Lisa Mcmann (Simon Pulse, 2010), Janie Hannagan is a dreamcatcher which means she can see into other people's dreams. That might sound fun and cool once in a while if you can choose which dreams you go into, but Janie cannot. Nobody knows about this curse except for Cabel, the one person she trusts with her secret. Janie has been living with her alcohol-addicted mother for the last 17 years, because her father left them before Janie was born, but now he has suddenly returned with a serious illness that might just kill him. Janie might find out the fate of a dreamcatcher, the secret her father's been keeping from the world. Will she find out? Or will the secret die with Janie's father? (Tina in grade eight)
In the book The Darlings are Forever by Melissa Kantor (Hyperion Publishing, 2011), I noticed that the main character's world of view is pretty close to my own world of view. In this book, there are three girls setting off for high school. They all get accepted by different schools. Each of them is having a hard time. The same sort of thing is happening to me except I am in my last year of middle school. My friend and I are in different schools this year and we both find it hard once in a while. We both try to help each other as much as we both can with homework and reading. My friend just moved back to Abbotsford, so she's with kids she does not know in a new school with new teachers who she's not used to yet. Eventually we will get used to being in separate schools but it may take a while, just like what is happening in the book I am reading. (Kendra in grade eight)
Clothing, Cosmetic and Self-Esteem Tips by Joan Esherick (Harding House Publishing, 2006) is an informative and interesting read about how to feel good in your own body, no matter what shape, size, or other physical attributes. Did you know in the 1890's, Lillian Russell, a famous woman who weighed 200 pounds, was considered an "ideal" woman? Did you know makeup should be put on in a certain order? Foundation should always come first, followed by concealer, then cover stick and eye makeup (eye shadow, eyeliner, then mascara). After mascara, apply blush followed by glitter or powder. Lipstick and lip-gloss is always last. The most important thing to remember about beauty is that "beauty is only skin deep." Your real beauty is what's in the inside. I feel this book has really changed the way I view myself and that it's a must read for all teen girls. It makes you feel comfortable and safe in your own body. (Natalie in grade eight)
Perfect by Natasha Friend is an excellent novel about a young girl with a problem. Isabelle has an eating disorder. She becomes bulimic after convincing herself that she is fat. Her mother places her in a group called "Eating Disorder and Body Image Therapy Group" where she gains friends and increases her confidence in her own appearance. Then when she is befriended by Ashley Barnum, a member of the group and also the most popular girl at school, Isabelle realizes that there is no such thing as being perfect. And that she should be happy with her appearance no matter what size she is. After all, no one will ever be perfect. (Yasmine in grade eight)
Becoming Chloe by Catherine (Alfred A. Knopf, 2006) is a fantastic fiction book about two homeless teenagers with dark and disturbing pasts. Jordy, the main character, faces a dilemma: should he support the troubled and abused Chloe, or should he leave her and continue to suffer on his own? Either way, his life will be a struggle but as the novel continues, Jordy realizes that it is his job to show Chloe that the world really is a very beautiful place. So they leave New York City and take a road trip across the country. And they prove to each other how wonderful their lives really are. This is truly a phenomenal novel which I absolutely recommend! (Anna in grade eight)
Lush by Natasha Friend (Scholastic Inc, 2006) is the story of thirteen-year-old Sam who lives with her alcoholic father who goes out every morning and doesn't come back until midnight, drunk. Sam desperately wants someone to talk to. Therefore, she randomly chooses a girl at the library and writes anonymous notes to her. Will Sam's problem be solved? (Megan in grade eight)