Aruego, Jose and Ariane Dewey. The Last Laugh. Dial Books for Young Readers, 2006.
Avi. Nothing But the Truth. Orchard Books, 1991.
Philip loves running but he might not get to stay on his high school track team because he is failing ninth grade English. He is sure his teacher is at fault. Is she? What happens when everyone claims to know the problem and the solution? [Bullying; Honesty; Running; Schools; Newbery Medal; Young adult fiction]

Bloor, Edward. Tangerine. Orlando, FL: Harcourt, Inc., 1997.
"Twelve-year-old Paul, who lives in the shadow of his football hero brother Erik, fights for the right to play soccer despite his near blindness and slowly begins to remember the incident that damaged his eyesight. "— NVPL. Highly recommended for competent readers 12-years-old and up. 
Bottner, Barbara. Miss Brooks' Story Nook. New York: Alfred A. Knopf, 2014.
"A school librarian encourages her students to make up stories, and teaches a lesson about bullying in the process." – CIP. A humorous picture book illustrated by Michael Emberley. [Bullies; Librarians; Storytelling]
Carlson, Nancy L. Henry and the Bully. Viking, 2010.
A picture book for 5 to 8 year olds by an outstanding storyteller.
Child, Lauren. Clarice Bean, Don't Look Now.  Candlewick Press, 2006.
Clarice lies asleep at night, worrying. So she makes lists. [Bullying; Family life; Friendship; Worry] 
Cline-Ransome, Lesa. Finding Langston. New York: Holiday House, 2018.
After the death of his mother in 1946, eleven-year-old Langston moves with his father from Alabama to Chicago. Living in a lonely apartment building and bullied at school, Langston finds refuge in the school library where he discovers the magical poetry of Langston Hughes.Have you ever felt alone? Have you ever felt misunderstood by those who love you? Have you ever found hope in unexpected places? Then you know how the main character feels in this outstanding novel for readers 9 years old and up. Told in present tense from the first person point of view, the sentences come alive with the cadence of the main character's Southern speech. If you like stories by Patricia MacLachlan, you will love this 104-page novel. [African Americans; Books and reading; Bullying; Chicago, (Ill.); Grief; Historical fiction; Moving, Household; Poetry]
Codell, Esme Raji. Vive la Paris. New York: Hyperion Books for Children, 2006.
Lively Paris learns about the Holocaust from her piano teacher and how to protect her brother from bullies in this hopeful novel for grades four to seven.

Davies, Matt. Ben Rides On. New York : Roaring Brook Press, 2013.
In this humorous picture book by a British cartoonist, a young boy saves – and changes – a bully. Recommended as a real-aloud to stimulate discussions.

Dowell, Frances O'Roark. The Second Life of Abigail Walker. New York: Atheneum Books for Young Readers, 2012.
"Bullied by two mean girls in her sixth-grade class, a lonely, plump girl gains self-confidence and makes new friends after a mysterious fox gently bites her." – CIP. A heart-warming novel for imaginative readers 10 to 13-years old. [Bullying; Friendship; Human-animal relationships; Overweight persons; Self-confidence]
French, Simon. My Cousin's Keeper. Somerville, Mass.: Candlewick Press, 2014, c2012.
Eleven-year-old Kieran tries to be one of the popular kids at school, one of the powerful kids.  What will he do when his cousin arrives in town? A cousin who isn't athletic. Isn't outgoing or confident. Soon Bon is the target of the powerful bullies. What should Kieran do? Life becomes even more confusing when the girl Kieran admires becomes friends with Bon, more complicated when he discovers why Bon has come. This memorable novel from Australia is recommended for readers 10 to 14 years old.  [Australia; Bullying; Conduct of life; Cousins; Imagination; Individuality; Jealousy; Moving (Household); Parent and child; Schools]
Grimes, Nikki. The Watcher. Grand Rapids, Michigan: Eerdmans Books for Young Readers, 2017.
Jordan is afraid of Tanya, the class bully. But she, too, is afraid. How can these two classmates become friends? Well, with God's help, of course. Nikki Grimes has used the the words of Psalm 121 to write her own narrative poem, ending each line with a word from the psalm. Designed so those words are in boldface, the entire psalm can be read by simply reading the last word of each line. Powerfully illustrated by the award-winning Bryan Collier, this brilliant picture book is highly recommended for readers – and listeners – 6 years old and up.
P.S. Maybe you'd like to try writing your own "golden shovel" poem afterwards. All the directions are supplied at the end of the book.
1 I lift up my eyes to the mountains—
    where does my help come from?
2 My help comes from the Lord,
    the Maker of heaven and earth.
3 He will not let your foot slip—
    he who watches over you will not slumber;
4 indeed, he who watches over Israel
    will neither slumber nor sleep.
5 The Lord watches over you—
    the Lord is your shade at your right hand;
6 the sun will not harm you by day,
    nor the moon by night.
7 The Lord will keep you from all harm—
    he will watch over your life;
8 the Lord will watch over your coming and going
    both now and forevermore. (NIV) 
Harmon, Michael. Brutal. New York : Alfred A. Knopf, 2009.
Sixteen-year-old Poe is sent to live with her father when her mother decides to work in South America for a year. Poe doesn't know her father. He left when she was only a baby.  And Poe doesn't know how she will survive in a town where cliques rule the high school and bullying is ignored.  But she is determined to fight back. Winner of numerous awards, this quick read will be appreciated by readers in grade 8 and up. [Dating (Social customs); California; Fathers and daughters; Schools; Mothers and daughters; Anger; Moving (Household)]
Haworth, Danette. Me & Jack. New York: Walker & Co., 2011.
"During the Vietnam War, when twelve-year-old Josh and his Air Force recruiter father move to a small town in the mountains of Pennsylvania and get a dog from the local shelter, Josh is forced to stop hanging back and takes on the unfriendly town residents, a mountain, and the meanest boy in school." – CIP  This fast-paced novel is recommended for readers eleven to fourteen years old, especially ones who enjoyed Wild Life by Cynthia deFelice and Heart of a Shepherd by Rosanne Parry. [Bullies; Country life; Dogs; Fathers and sons; Friendship; Grief; Moving (Household); Pennsylvania; Post-tramautic stress disorder; Schools; Soldiers; Vietnam Conflict, 1961-1975]
…
 Holmes, Kathryn. The Distance Between Lost and Found. New York: HarperTeen, 2015. 
"Sophomore Hallie Calhoun, her former friend Jonah, and her new friend Rachel leave a church youth group hike in the Great Smoky Mountains and become lost for five days, struggling to survive as Hallie finally speaks about the incident that made her a social pariah and Jonah admits why it hurt him so much." – CIP.  Highly recommended for readers 12 years old and up. [Bullying; Camps; Conduct of life; Faith; Friendship; Teenagers; Wilderness Survival] 
Javaherbin, Mina. Goal! Somerville, Mass.: Candlewick Press, 2010. 
A group of soccer playing buddies fend off bullies who try to spoil their game in this picture book set in a South African township.
Jennings, Patrick. Odd, Weird & Little. New York: Egmont, 2014.
"Befriending a very strange new student, Toulouse, helps outsider Woodrow stand up to the class bullies who have been picking on them both." – CIP Recommended for readers seven to ten years old. Could be compared to Feathers by Jacqueline Woodson.  [Bullying, Eccentrics and eccentricities; Friendship; Humorous stories, Schools]
MacGregor, Roy. Murder at Hockey Camp. Toronto: McClelland & Stewart, 1997.
When the Screech Owls and the Junior Aeros teams go to hockey camp together, they think nothing could be worse than the bullying camp director, until he is found dead and their coach is arrested for the crime.
McClintock, Norah. Bang. Victoria, B.C.: Orca, 2007.
Quentin is left taking the blame when a robbery goes wrong. An easy-to-read short novel for readers 12-years-old and up. [Bullying; Theft; Murder; Teenagers; Honesty; Young adult fiction]
McClintock, Norah. Marked. Orca, 2008.
Colin is happy to have a job for the summer. He hadn't planned on becoming a criminal. An easy-to-read short novel for readers 12-years-old and up. (Bullying; Summer; Juvenile delinquents; Theft; Mystery and detective stories]
McClintock, Norah. Watch Me. Victoria, B.C.: Orca, 2008.
Kaz, bullied at school because of his inability to read and because of the scars left from a fire, steals a watch, a family heirloom from World War II. An easy-to-read short novel for readers 12-years-old and up.
Moniz, Michael. The Cardinal and the Crow. Vancouver, B.C.: Simply Read Books, 2014.
Lonely old Crow is constantly mocked for his appearance, especially by young Cardinal. When Cardinal is caught by a cat, though, it is Crow who rescues him through trickery. Inspired by an Aesop's fable, this picture book with gently evocative illustrations will appeal to readers 5 to 14 years old. 
Newbery, Linda. Lost Boy. David Fickling Books, 2007.
Part ghost story, part mystery, part realistic fiction about standing up to bullies, this novel about a boy who moves to a small town in Wales will appeal to readers in middle schools. (Wales; Bullying; Moving, Household; Ghosts; Accidents; Friendship; Mystery and detective stories; Friendship)
Nobleman, Marc Tyler. Brave Like My Brother. New York: Scholastic Press, 2016.
Only 100 pages long, it is printed in a large font with lots of space between the lines and large margins. And each chapter is only 4 pages long. Actually, each chapter is a letter. Yes, a letter. And the novel is a series of these letters. The first and the last letter are from Charlie, writing to his older brother, Joe, a soldier sent to England during World War II. All the others in between are letters from Joe, writing to tell of his experiences during the days leading up to D-Day, the Allied invasion of France. [Brothers; Courage; England, Soldiers; World War II]
Olsen, Sylvia. Yellow Line. Victoria, B.C.: Orca, 2005.
Teenaged Vince faces racism and violence when he falls in love with a First Nations girl in their small town. Best suited for mature readers in grade 8 and up. [Bullying; Racism; Schools; First Nations; Canada; Violence; Dating (Social customs); Love; Peer pressure; Young adult fiction]
Otoshi, Kathryn. One. San Rafael, Calif.: KO Kids Books, 2008.
An award-winning counting book about bullying and courage.
Pearson, Kit. Perfect Gentle Knight. Toronto: Puffin Canada, 2007.
After their mother dies and their father becomes absorbed in his work, the six lonely Bell children –  the oldest ones still teenagers – struggle to cope with their grief, each in their own way. On ERAC recommended novel list for grades 7 and 8. [Bullying; Grief; Vancouver (B.C.); Brothers and sisters; Family life]
Philbrick, Rodman. Freak the Mighty. New York : Scholastic, 1993.
At the beginning of eighth grade, learning disabled Max and his new friend Freak, whose birth defect has affected his body but not his brilliant mind, find that when they combine forces they make a powerful team. [Friendship; Abuse; Violence; Courage; People with disabilities; Fathers and sons; Kidnapping]
Preller, James. Bystander. Feiwel and Friends, 2009.
Thirteen-year-old Eric encounters a bully terrorizing students at his new school. It seems no one, not even adults, can stop the intimidation until Eric thinks of a solution. [Bullying; New York (State); Moving, Household; Divorce; Schools; Conduct of life; Young adult fiction]
Schmidt, Gary D. Lizzie Bright and the Buckminster Boy. Clarion Books, 2004.
Turner is not pleased when his father moves the family to Phippsburg, Maine. He is even less pleased when his father, a church minister, expects him to always behave with dignity and diplomacy despite the two bullies who are less than welcoming.  But when he is also expected to go along with the growing racism that is forcing African Americans from their homes, he takes a stand which brings about surprising changes.  Set in 1911, this novel for sixth to ninth graders is a Newbery Honor Book. (Maine; Newbery Medal; Faith; Moving, Household; Fathers and sons; African Americans; Racism; Historical fiction; Coming of age)
Schmidt, Gary D. Okay for Now. Clarion Books, 2011.
Fourteen-year-old Doug has just moved to a small town in New York State. He has a mean older brother and an abusive father. He has fellow students and teachers who bully him. He can't read and he has no friends. But slowly he makes friends with a classmate, with his teachers and with a librarian who teaches him how to draw. And after his oldest brother comes back from Vietnam, life starts to change at home, too.   [Bullying; Family life; Fathers and sons; New York (State); Schools; Friendship; Drawing; Violence; Child abuse; Audubon, John James; Theater; Brothers; Vietnam conflict, 1961-1975; Moving, Household; Dating (Social customs)]
Scrimger, Richard. The Nose from Jupiter. Toronto: Tundra, 1998.
"Alan isn't brave or strong, and he's not much good at soccer. What's more, he seems to be a bully magnet. Everything changes one day when a tiny alien from Jupiter takes up residence in Alan's nose." – back cover
Spinelli, Jerry. Wringer. New York: HarperCollins, 1997.
Nine-year-old Palmer is afraid of turning ten when he must decide whether he will start wringing the necks of pigeons at an annual shooting competition.
Stead, Rebecca. Goodbye Stranger. New York: Wendy Lamb Books, 2015.
"As Bridge makes her way through seventh grade on Manhattan's Upper West Side with her best friends, curvacious Em, crusader Tab, and a curious new friend–or more than friend–Sherm, she finds the answer she has been seeking since she barely survived an accident at age eight: 'What is my purpose?'" – CIP. Another great novel by a Newbery Medal winner. Recommended for readers 12 to 15 years old. [Famly life; Forgiveness; Friendship; Love; New York (City); Schools]
Stevenson, Robin. Impossible Things. Victoria: Orca, 2008.
Cassidy Silver is not having a good year. Her engineering father is in the Middle East, her artist mother is too busy to listen to the painful details of her daughter's grade seven life, her genius younger brother is being bullied, and her best friend Chiaki has abandoned her to hang out with the meanest girls in school. — back cover
Tutu, Desmond and Douglas Carlton Abrams. Desmond and the Very Mean Word. Somerville, Mass.: Candlewick Press, 2013.
Desmond happily sets out on his bicycle but soon encounters some jeering boys. This picture book about learning how to forgive is inspired by an incident in Archbishop Tutu's own childhood. [Bullying; Forgiveness; Prejudice; Racism] 
Vawter, Vince. Paperboy. New York: Delacorte, 2013.
"When an eleven-year-old boy takes over a friend's newspaper route in July 1959, in Memphis, his debilitating stutter makes for a memorable month." – CIP.  A Newbery Honor Book, highly recommended for readers 10 to 15 years old. [Bullying; Family life; Newspaper carriers; Race relations; Stuttering; Tennessee]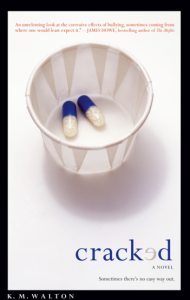 Walton, K.M. Cracked. Simon Pulse, 2012.
When Bull Mastrick and Victor Konig wind up in the same psychiatric ward at age sixteen, each recalls and related in group therapy the bullying relationship they have had since kindergarten, but also facts about themselves and their families that reveal they have much in common. [Bullying; Young adult fiction; Schools; Emotional problems; Hospitals; Family life]
Wishinsky, Frieda. Queen of the Toilet Bowl. Victoria: Orca, 2005.
After being bullied because her mothering is a cleaning lady, Renata learns to be proud of who she is. — NVPL
Woodson, Jacqueline. Feathers. New York : Puffin Books, 2007.
Sixth-grade Frannie is reading a poem about hope in class. But there's not much hope in her life. Her friend Samantha is becoming peculiar. The class bully is becoming more trouble. And the new boy, nicknamed 'Jesus Boy', says he's not white but he sure looks like he's white. What's going to happen next? [African- Americans; Bullying; Moving, Household; Racism; Schools]
Your Responses
Wonder by R.J. Palacio (Alfred A. Knopf, 2012) is the story of August, a boy born with extreme facial abnormalities who was not expected to survive infancy. Life changes for 11-year-old Auggie when his parents stop homeschooling him and put him into a public school where he endures taunting and bullying. Now he must figure out how to be accepted. Will the bullying ever stop? Will he ever be accepted? Read this inspiring novel to find out! (by Rabia in grade 6)