How should we live?
How should we treat the environment?
What is fairness?
What can we really know for sure?
Philosophy…
is a love of wisdom and…
a rational investigation into the truth about life.
Albrecht, Maciek. They Call Me River. Petaluma, California: Cameron Kids, 2021.
A river begins as a raindrop, high above the mountains. It falls to earth and starts its journey to the sea, travelling along past families hiking, children swimming, a couple getting married outdoors,… And at the end, it becomes one with the ocean before rising to start the cycle over as a raindrop once again. This picture book lyrically explains the water cycle, but it also tells the story of human life. We are all carried along by the currents of life, growing, changing, entering into relationships and then, finally, letting go at the end. Beautiful collages full of intriguing details help to create a book that can be enjoyed at many different levels: literally, psychologically, philosophically, even spiritually. Highly recommended for ages 6 and up.
Alcorn, Stephen. A Gift of Days: The Greatest Words to Live By. New York: Atheneum Books for Young Readers, 2009.
A collection of inspiring quotations from well-known noteworthy people, one for each day of the year and arranged by birthdate.  Illustrated by an award-winning artist and appended with biographical information,A Gift of Days is recommended for reflective people 10 years old and up.
Barnett, Mac. Rules of the House. Los Angeles: Disney/Hyperion, 2016.
"Ian always follows the rules and his sister, Jenny, never does but when she angers some monsters while breaking all the rules of their vacation house in the woods, Ian first runs away, then realizes there should be a rule about protecting your sister from being eaten by monsters." – CIP. A humorous story with a philosophical slant for readers of all ages. 
Barnett, Mac. The Skunk. New York: Roaring Brook Press, 2015.
Why does that skunk keep following me? How will I get away? Wait a minute! What will happen if I follow it?
This humorous story – written by a best-selling author and illustrated by award-winning Patrick McDonnell – has analogies to real life that will appeal to observant readers. The straight-forward text and the elegantly simple pictures combine to create a picture book for all ages. (P.S. Observant readers may want to analyze the use of colour in this sophisticated story.)
Bogart, Jo Ellen. The White Cat and the Monk : a Retelling of the Poem 'Pangur Bán'. Toronto; Groundwood Books/House of Anansi Press, 2016.
A monk spends hours studying while his cat spends hours hunting in the darkness. As a new day dawns, the cat has found his mouse and the monk has found the meaning of his manuscript. A retelling of an Irish poem from the 9th century, this picture book illustrated by Sydney Smith is accompanied by an explanatory author's note. It is recommended for inquisitive readers 7 to 14 years old. [Cats; Middle Ages; Monks; Pets; Truth]
Brown, Peter. The Wild Robot. New York: Little, Brown and Company, 2016.
Roz awakens on a isolated island. Where is she? How did she come to be here? How will she survive? How will she get along with the inhabitants? This marvellous tale about a robot is really about all of us. Why are we on this earth? How can we live together in peace? What does it mean to be human?
An excellent read-aloud for grades 4 to 6. A quickly-paced novel for readers 10 to 14 years old. 
Bucay, Jorge. The King and the Magician. New York: Abbeville Kids, 2014.
A powerful and feared king, who commands his subjects to not only obey him and but also admire him, hears of a much loved magician who can foretell the future. Consumed by jealousy, the king plots the magician's demise. This spell-binding picture book from Argentina – full of magnificent pictures by Gusti, an award-winning illustrator – will be appreciated by readers 8 to 14 years old. [Jealousy; Kings, queens, rulers, etc.; Wisdom; Wizards] 
Children's Book of Philosophy : an Introduction to the World's Great Thinkers and their Big Ideas. New York: DK Publishing, 2015. 
Cuevas, Michelle. The Uncorker of Ocean Bottles. New York: Dial Books for Young Readers, 2016.
A lonely man lives his life by the sea, faithfully watching for letters to deliver. Messages that almost always deliver joy to the recipients. Will there never be a message for him? This poignant tale of hope – softly illustrated by Erin E. Stead – will appeal to gentle reflective readers 8 years old and up. [Friendship, Letters, Oceans]
Demi. The Empty Pot. New York: H. Holt, 1990. 
Should you admit failure? This folktale from China tells the story of Ping, who discovers that no matter what he tries, he cannot make a seed grow. What will he have to show the great emperor? [China; Honesty]
Demi. The Girl Who Drew a Phoenix. New York: Margaret K. McElderry Books, 2008. 
A young girl practises drawing a phoenix and thereby gains its qualities: wisdom, clear sight, equality, generosity, and right judgement. Striking illustrations help tell another story by the award-winning Demi. Recommended for ages 7 and up. [China; Drawing; Phoenix (Mythyical bird); Wisdom]
Demi. The Greatest Power. New York: Margaret K. McElderry Books, 2004."Long ago, a Chinese emperor challenges the children of his kingdom to show him the greatest power in the world, and all are surprised at what is discovered." – CIP. The story of Ping, started in The Empty Pot, continues in this beautiful picture book. Recommended for everyone 7-years-old and up who is looking for hope.
Demi. The Hungry Coat: a Tale from Turkey. New York: Margaret K. McElderry Books, 2004.
"After being forced to change to a fancy new coat to attend a party, Nasrettin Hoca tries to feed his dinner to the coat, reasoning that it was the coat that was the invited guest." – CIP. Nasrettin Hoca was a 13th century philosopher who told stories to teach his listeners lessons about life. This illustrated picture book by the award-winning author of numerous biographies and philosophical stories is highly recommended for readers of all ages. Excellent as a read-aloud , as well. 
Demi. The Shady Tree. New York: Henry Holt and Company, 2016.
Wealthy Tan Tan lives in a beautiful home with a lovely shady tree which he does not want to share. After poor Ping uses the little money he has to buy that shade, Tan Tan discovers  he's sold more than he expected.  Kind Ping, though, shares and all turns out well in this Chinese folktale for readers 7 to 14 years old. [China; Folklore; Greed; Sharing]
Demi. Su Dongpo. New York: Lee & Low Books, 2006.
A delicately detailed picture book biography of a civil engineer, poet, and statesman who exhibited courage, patience, and honour in 11th century China. Recommended for lovers of philosophy of all ages. [Authors; China; Su, Shi]
Fan Brothers. Lizzy and the Cloud. New York: Simon & Schuster Books for Young Readers, 2022.
Another wonderfully imaginative picture book by Terry and Eric Fan. Lizzy spends a Saturday at the park, where she purchases a cloud. Not a fancy cloud – not a rabbit or a fish or a parrot – but an ordinary cloud that comes with a list of six instructions, and the first is "Name your cloud." Lizzy carefully cares for Milo, who grows and grows until it is time to follow the last instruction: "Never confine a cloud to a small space."
Younger readers will enjoy the whimsical creativity and laugh. Older readers can read this story as a metaphor for life. Highly recommended for all ages!
Fan, Terry and Eric Fan. The Night Gardener. New York: Schuster Books for Young Readers, 2016.
What a magnificent story! William, a lonely boy, creeps out at night to discover the stranger who prunes the trees into amazing creatures. The simple text in a suitably-sized font accompanies the intricate illustrations that subtly help tell the story. Highly recommended as a book to read and read again. And talk about: How does beauty change people? How does creating beauty change people? How does imagination save us? Wonderful for all ages. [Gardeners; Imagination; Loneliness; Topiary]
Goldsaito, Katrina. The Sound of Silence. New York: Little, Brown and Company, 2016.
"Yoshio delights in the everyday sounds of Tokyo, but when a musician tells him that her favorite sound is ma, the Japanese word for silence, Yoshio sets out to hear this sound for himself among the hustle and bustle of the city. Includes information on the Japanese concept of ma." – CIP. [Books and reading; Japan; Silence; Sound]
Halperin, Wendy Anderson. Peace. New York: Atheneum Books for Young Readers, 2013. 
Haseley, Dennis. Twenty Heartbeats. New York: Roaring Brook Press, 2008.
We are often so sure of our thoughts. So sure of our beliefs. Sometimes, though, we are so wrong that when we discover our error, we can scarcely breathe. That abrupt enlightenment is at the heart of this picture book illustrated by the inimitable Ed Young.
A wealthy man hires an artist to paint a picture of his favourite horse. Years pass. The painting does not arrive. Finally, enraged, the man goes to the artist. Where is the painting? What has taken so long?
This elegant reflective story is recommended for readers and listeners six years old and up. You'll smile and listen differently afterwards.
(Note to aspiring writers and illustrators: Notice the feeling at the end of the story: the sense of being pulled up to a sudden stop. Look at the last illustration: notice the posture of the horse. Then think about the power of illustrations to do more than show the events of a story.)
Heide, Florence Parry and Judith Heide Gilliland. The House of Wisdom. New York: DK Ink, 1999.
Long ago, during the Dark Ages in Europe, knowledge flourished in the Arabic-speaking world. Baghdad became the centre of a great civilization that made lasting discoveries in cartography, geography, mathematics, chemistry, medicine, and philosophy. Scholars gathered to study together and translate foreign documents in what was the largest library in the world.
Ishaq, the main character in this picture book biography, travels to far-away lands and returns with thousands of books and manuscripts  He later goes on to translate all the works of Aristotle into Arabic. Later still, those Arabic translations would help inspire the European Renaissance.
Softly coloured illustrations by Mary GrandPré, additional historical information, a timeline, and a map enhance this quietly adventurous biography for readers 9 years old and up.
Javaherbin, Mina. Elephant in the Dark. New York : Scholastic Press, 2015.
This cheerful picture book – written in the style of a folktale, based on a poem by Rumi, and illustrated by Eugene Yelchin – offers a reminder that we do not always see the whole picture in life.  This story will be appreciated as a start to discussion. 
Kaye, Sharon M. More Philosophy for Teens: Examining Reality and Knowledge.  Waco, TX : Prufrock Press, 2008. 
Contents: The self — Who am I? — Am I the same person I used to be? — Am I free? — How should I live? — Knowledge — Is knowledge the greatest virtue? — Can computers think? — What is it like to be somebody else? — What if tomorrow never comes? — The universe — Is the world around us real? — Does the universe have a beginning? — Is the universe finite or infinite in size? — What is the difference between genuine science and pseudoscience? — God — Is the natural world an accident? — Is it reasonable to believe? — What is the meaning of life?
Kaye, Sharon M. Philosophy for Teens: Questioning Life's Big Ideas. Waco, TX: Prufrock Press, 2007.
Lagrecrantz, Rose. My Happy Life. Wellington, N.Z.: Gecko Press, 2014, c2013.
Want to teach young readers how to recognize theme in novels? Want to use a novel to start philosophical discussions with 7-year-olds? Read this novel aloud and watch for true-to-life sentences.
Lagercrantz, Rose. My Heart is Laughing. Wellington, New Zealand: Gecko Press, 2014.
Dani is always happy. Except when she is unhappy. But she does not count those times. This cheerful story about the little adventures of life is filled with quiet wisdom: Don't give up, even when things seem hopeless. Try to think about something fun when you're upset. Forgive people. Originally published in Sweden in 2012, this short novel with large print and wide margins is perfect for readers 7 to 10 years old.
Some stories have an intriguing plot line. Some have finely drawn characters. But very few flow beautifully. Lyrically. And that last quality is what turns a novel into a work of art. Rose Lagercrantz's story – translated into English by Julia Marshall and illustrated by Eva Eriksson – is a true example of writing as art.
Love, D. Anne. Of Numbers and Stars. New York: Holiday House, 2006.
Almost 2000 years ago in Egypt, in the famous city of Alexandria, a girl was born who would grow up to be a teacher renowned for her knowledge of science, mathematics and philosophy. People came from all over to learn from her and to seek her advice. Unfortunately, eventually, more powerful people in Alexandria became displeased with her independent thinking. This gently illustrated and informative picture book biography tells Hypatia's (Hi-PAY-shu's) story in a style reminiscent of Miss Rumphius by Barbara Cooney and is suitable for readers – and listeners – aged eight to eighty. [Egypt, Ancient; Hypatia; Mathematicians; Philosophers] 
Maclachlan, Patricia. The Poet's Dog. New York: Katherine Tegen Books, 2016.
Are we really loved? Will will be remembered when we're gone? Who will save us when we're lost?
This short easy-to-read novel told from the point of view of an Irish wolfhound portrays the abiding bond between people and animals. It demonstrates the power of poetry and the mysterious connections that carry us through hardships. A philosophical novella highly recommended for readers and listeners 6 years old and up. [Blizzards; Brothers and sisters; Dogs Grief; Human-animal relationships; Loss (Psychological); Poets] 
Mattick, Lindsay. Finding Winnie: the True Story of the World's Most Famous Bear. Toronto: HarperCollins Publishers Ltd, 2015.
"During World War I, Captain Harry Colebourn, a Canadian veterinarian rescued a bear cub on his way to Europe and took her to the war." – CIP. Written by the great-granddaughter of Harry Colebourn, beautfully illustrated by Sophie Blackall, and accompanied by historical photographs, this thoughtful informative book is highly recommended for readers 8-years-old and up.
"'Sometimes,' I said, 'you have to let one story end so the next one can begin.'
"'How do you know when that will happen?'
"'You don't,' I said. 'Which is why you should always carry on.'"
McDonnell, Patrick. Shine! New York: Megan Tingley Books/Little, Brown and Company, 2017.
"I wish I were…" Somewhere else. Someone else. Something else. Little Hoshi wishes and wishes she were not a humble little sea star in the ocean. Until she learns, of course, that happiness is to be found right where we are and possibilities always surround us. This delightful picture book – illustrated by Naoko Stoop – is another heart-warming and inspiring story by the creator of the Mutts comic strips. Highly recommended as a read-aloud – for listeners 4 years old and up – and for anyone who needs a humorous reminder that we all can shine.
Muth, Jon J. Stillwater and Koo Save the World. New York: Scholastic Press, 2023.
Stillwater and his nephew Koo return in this marvellous story of saving the world in little ways. So often, children – and adults – dream of doing grand things to save our planet and bring peace. But what about the small deeds? The everyday tasks? Like cleaning the cat's litter box and clearing the leaves off the fish pond. Like baking a cake for a neighbour and protecting a family of ducklings crossing the road. Each considerate act towards the living creatures around us is a step to saving the world. This calm reflective picture book is most highly recommended for readers of all ages.
Muth, Jon J. Stone Soup. New York: Scholastic Press, 2003. 
Set in China, this retelling of the classic European folktale includes three Buddhist characters who teach people how to be wise. An afterward provides additional information about Buddhist culture. Highly recommended for all ages. 
Muth, Jon J. Zen Shorts. New York: Scholastic Press, 2005.
Addy, Karl and Michael visit Stillwater, the giant panda, and listen to stories. They hear about Uncle Ry who gave a gift to a thief, and they hear about a monk who is angry about an ungrateful woman. Gracefully, quietly, this Caldecott Honor Book leaves readers of all ages with new perspectives to consider.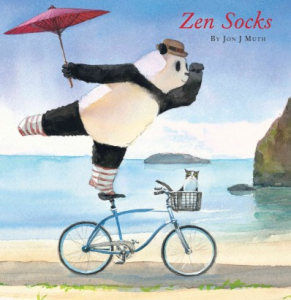 Muth, Jon J. Zen Socks. New York: Scholastic Press, 2015.
"Stillwater the giant panda and his friends Leo and Molly teach each other about patience, sharing, and compassion." – CIP. Another in a series of picture books, all beautifully illustrated and full of life lessons, featuring Stillwater the giant panda.  All are highly recommended.
Poirier, Tiffany. Q is for Question: an ABC of Philosophy. Washington: O Books, 2009. 
Rashin. Two Parrots: Inspired by a Tale from Rumi. New York: North-South, 2014.
"A plucky parrot [purchased in India and] living in the home of a wealthy merchant [in Iran] appears to have everything. But, despite all this, the parrot is sad. The merchant will do anything to make his parrot happy! But will he be willing to set his beloved pet free?" – CIP. An outstanding picture to read aloud as a start to a philosophical discussion about freedom and material wealth. 
Turk, Evan. The Storyteller. New York: Atheneum Books for Young Readers, 2016.
"In a time of drought in the Kingdom of Morocco, a storyteller and a boy weave a tale to thwart a Djinn and his sandstorm from destroying their city." – CIP. A complex story highly recommended for deep thinkers 11-years-old and up.
Watts, Bernadette. Varenka. New York: North South, 2022.
What is a miracle? What happens when we pray?
Varenka, a widow, lives deep in a forest, far from other people. But war is coming and she must decide: should she flee? She thinks. If she leaves, who will take care of the animals and feed the birds in winter? Who will take care of the people wandering through the woods? She decides to remain. People seeking shelter do arrive and soldiers with guns arrive. And a miracle occurs. Or is it a coincidence? An answer to prayer or pure good luck? Readers will have to decide for themselves after reading this beautiful picture book by an accomplished British author and illustrator. Highly recommended for all ages.
P.S. Readers who appreciate books by Brian Wildsmith, might like to know that this author studied under him for a time and might enjoy comparing the styles of artwork.
Wehrli, Ursus. The Art of Clean Up: Life Made Neat and Tidy. San Francisco: Chronicle Books, 2013.
What if everything was taken apart? Organized? Put in order? How would the world look then? A humorous wordless book highly recommended for all ages!
Wenzel, Brendan. A Stone Sat Still. San Francisco, California : Chronicle Books LLC, 2019.
A stone is a pebble to a moose and mountain to a snail. A wild place to some but a home for others. A dark rock in the night until the moonlight shines upon it. In this beautiful picture book, a stone is depicted from many different perspectives while all the while remaining steadily the same. A lovely book – in rhyming verse – to share with preschoolers, it is perhaps even more valuable as a way to start a conversation about life. Most highly recommended for all ages.
White, David. The Examined Life: Advanced Philosophy for Kids. Waco, Tex.: Prufrock Press Inc., 2005.
White, David. Philosophy for Kids : 40 Fun Questions that Help You Wonder — About Everything!  Waco, Tex.: Prufrock Press, 2001. 
Read philosophical thoughts of middle school students HERE!
Read more philosophical thoughts HERE!