There are many humorous novels about boys bumbling along, trying to survive in a world that expects too much from them.
Here are books about boys – and men – of courage who stand up and take action.
"You will never do anything in this world without courage.
It is the greatest quality of the mind next to honor." – Aristotle
BIOGRAPHIES
Asim, Jabari. Fifty Cents and a Dream: Young Booker T. Washington. New York: Little, Brown and Co., 2012.
Bruchac, Joseph. Jim Thorpe's Bright Path. New York: Lee & Low Books, 2004.
Jim Thorpe is considered one of the most important American athletes in the 20th century. Over the course of his long career, he set records and won awards in many sports including football, baseball, track and swimming. This picture book biography of an aboriginal American from Oklahoma is highly recommended for readers 9-years-old and up.
Bryant, Jen. Six Dots: A Story of Young Louis Braille. New York: Alfred A. Knopf, 2016.
Energetic, impetuous, determined, brilliant. This picture book biography – illustrated by Boris Kulikov – of the young boy who grew up to invent a way for blind people to read is highly recommended for readers of all ages. An author's note, additional information about Louis Braille, and a bibliography and list of websites are provided at the end of the story.
Cole, Tom Clohosy. Wall. Somerville, Mass.: Templar Books, 2014.
In 1961, families found themselves suddenly separated by the Berlin Wall. East Berlin was under Communist rule and people were not permitted to cross the wall and join their relatives in the West.  In this evocatively illustrated picture book, a young boy is determined to find a way for his family to be reunited. Told from the first person point of view and based on true stories, Wall is recommended for readers 8 years old and up. (Artists interested in seeing how to depict night-time scenes may appreciate analyzing the illustrations which were created digitally but provide ideas for working with pastels.) [Berlin Wall; Cold War; Fathers; Historical fiction]
Demi. Su Dongpo. New York: Lee & Low Books, 2006.
A delicately detailed picture book biography of a civil engineer, poet, and statesman who exhibited courage, patience, and honour in 11th century China. Highly recommended for lovers of philosophy of all ages. [Authors; China; Su, Shi]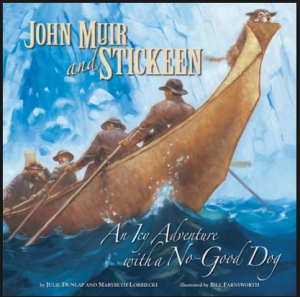 Dunlap, Julie and Marybeth Lorbiecki. John Muir and Stickeen: An Icy Adventure with a No-Good Dog. NorthWord Press, 2004.
Ferris, Jeri Chase. Noah Webster & His Words. Boston: Houghton Mifflin Harcourt, 2012.
Heckert, Barbara. A Boy, a Mouse, and a Spider: The Story of E.B. White. New York: Christy Ottaviano Books / Henry Holt and Company, 2017.
Who was the author of the classic Charlotte's Web? What was his childhood like?  What challenges did he overcome? What inspired him to write children's stories? The design of this picture book – illustrated by Caldecott winner Lauren Castillo – is unfortunately weakened by the font, which does not match the style of the pictures. Nevertheless, this biography is still recommended for curious readers 8 years old and up. 
Kamkwamba, William and Bryan Mealer. The Boy Who Harnessed the Wind. New York: Dial Books for Young Readers, 2012.
In 2001, William Kamkwamba's village suffered from a drought. His starving family could not afford to send him to school but he did not give up learning. In the local library, he read a book about windmills. He decided to build his own windmill. Amazingly, he was successful!  He found a way to bring electricity to his village, and a way to use that electricity to provide irrigation to water crops for his village. This picture book, beautifully illustrated by Elizabeth Zunon, is highly recommended for readers 8 years old and up.  (Africa; Electricity; Ingenuity; Inventors; Irrigation; Malawi; Mechanical engineers; Poverty; Windmills) 
Kamkwamba, William and Bryan Mealer. The Boy Who Harnessed the Wind. New York: Puffin Books, 2015.
Young William was born in 1987 to a farming family in Malawi. Too poor to pay school fees, he had to stay home rather than continuing his education. But he did not stop learning. He found books in a small library and figured out how to build a device that created electricity. This 293-page autobiography – a longer version of the picture book shown above – of an intrepid and determined boy will inspire readers 11-years-old and up. Highly recommended.
Kidder, Tracy. Mountains Beyond Mountains: The Quest of Dr. Paul Farmer, A Man Who Would Cure the World. New York: Delacorte Press, 2013.
Paul Farmer, a medical doctor educated at Harvard University, has devoted his life to helping poor people in Haiti and around the world. A detailed biography – adapted by Michael French –  for readers 12 years old and up.
Leyson, Leon. The Boy on the Wooden Box: How the Impossible became Possible…on Schindler's List: a Memoir. New York : Atheneum Books for Young Readers, 2013.
Markel, Michelle. Balderdash! John Newbery and the Boisterous Birth of Children's Books. San Francisco: Chronicle Books, 2017.
Wow! What a quietly rambunctious biography! Created by two award winners – author Michelle Markel and illustrator Nancy Carpenter – this picture book tells the story of an English farm boy who grew up to create the first magazines and novels especially for children. Readers of graphic novels will enjoy the details in the illustrations. Avid readers will find the story fascinating. Additional information and a bibliography are provided at the end. Highly recommended!
Milway Smith, Katie. One Hen. Kids Can Press, 2008.
Based on a true story, this picture book a picture book tells the story of a young boy in Ghana who, with the help of a small loan, starts a small chicken farm to earn enough money to go back to school and help his family. (Ghana; Poverty; Perseverance; Loans; Decision-making)
Mochizuki, Ken. Passage to Freedom: the Sugihara Story. New York: Lee & Low Books, 1997.  
In 1940, five-year-old Hiroki Sugihara watched as his father, a Japanese diplomat stationed in Lithuania, disobeyed orders and signed visa after visa for Jewish refugees fleeing the horrors of Nazi Germany. Hiroki's father was soon transferred and the entire family – he, his parents, his aunt, and his two younger brothers moved to Berlin. In an afterward, Sugihara tells what happened to to his family as a result of his father's courageous actions.The haunting full-page illustrations by Dom Lee and the well-spaced layout of the text enhance the power of this little-known story of a man who saved an estimated 10,000 refugees. Highly recommended for readers 7 to 70 years old. [Courage; Diplomats; Holocaust, Jewish; Sugihara, Chiune; WW2]
Drawing From Memory (Scholastic Press, 2011) by Caldecott medal winner Allen Say is an inspiring story about Allen Say's life. His life was very eventful and also very interesting. This book starts with Allen telling what he did as a kid. All he did as a kid was read and draw. Their family had to escape the war and move quickly. But during that chaos, all Allen wanted to do was draw, and his parents and grandparents hated him for it. His Grandmother finally told him hat if he got into this very well known private middle school, she would rent an apartment for him at the age of 12. Allen of course studied everyday hoping to pass the entrance exam. Once he passed the exam, his Grandmother rented him a place in an apartment. This only reason his Grandmother sent him to the apartment was so he could study for his new school, but the only thing on Allen's mind was to draw, and draw, and draw. After going out to dinner, Allen picks up the local newspaper at the restaurant. He starts to read about another kid who ran away from home just to draw. He soon got taken in by Allen's favorite artist, Noro Shinpei. Noro gave him a test just as bad as the middle school exam. Allen passed and became the second apprentice of Noro Shinpei.
This book was creatively coloured. But this book was also very inspiring and interesting. I loved this book, because Allen's life is very like mine. I often feel like Allen. (Kelvin in grade eight)
Sisson, Stephanie Roth. Star Stuff: Carl Sagan and the Mysteries of the Cosmos. New York : Roaring Brook Press, 2014. Highly recommended for ages 8-years-old and up.
Tate, Don. Strong as Sandow: How Eugen Sandow Became the Strongest Man on Earth. Watertown, MA: Charlesbridge, 2017.
Eugen was a weakling, small and puny, without any athletic ability to attract fame. Born in Prussia, his father took him to visit art galleries in Italy, where he was astonished at the physiques portrayed in the statues. Could he ever become as strong as those ancient athletes? While his father wanted him to strengthen his mind, he joined the circus in order to strengthen his body. By the time Eugen was in his early twenties, he was ready to challenge the strongest men in the world. In London in 1889, he reached his goal and sailed into the world of fame.
This beautifully written 40-page picture book biography by an award-winning illustrator and former bodybuilder is recommended for readers 8 to 14 years old. It includes a lengthy bibliography and additional information, including exercises to build strength. A great book for action-oriented students who like sports. Watch on Youtube.
Winter, Jeanette. Biblioburro: A True Story from Columbia. Beach Lane Books, 2010.
The story of Luis Soriano, who loads up his burro with books and visits villages in Columbia.
Winter, Jonah. Born and Bred in the Great Depression. New York: Schwartz & Wade Books, 2011.
The author tells the story of his father's childhood in Texas during the 1930s. Told from the second person point of view, this beautifully designed picture book with pencil, ink, and watercolour illustrations by Kimberly Bulcken Root is accompanied by black and white photographs. Recommended for readers 8 years old and up.
NOVELS
Avi. The Button War. Somerville, Massachusetts. Candlewick Press, 2018.
Anything written by Avi is worth reading. Anything published by Candlewick is worth considering. And this World War I story is absolutely riveting: the animosities among a group of boys in Russian-occupied Poland during the summer of 1914 are revealed by a competition to collect military buttons. This intense 229-page novel is not for readers looking for a light-hearted read but rather for thoughtful readers – 11-years-old and up – who understand how fierce rivalry can lead to betrayal and violence.
Avi. Catch you Later, Traitor. Toronto: Tundra Books, 2015.
Twelve-year-old Pete Collison enjoys reading detective novels and listening to radio dramas. But in 1950s America, the government's search for communist sympathizers leads to a real-life mystery when the FBI shows up at Pete's home in Brooklyn, New York. Could there be Communist spies in his family? A note at the end of the story provides more information about this time in American history, describing the author's connections to his own life growing up in New York City. A fast-moving suspenseful novel highly recommended for readers 11 years old and up.
Avi. The Player King. New York: Atheneum Books for Young Readers, 2017.
During the 1400s, two families fought to gain control of the English throne. In 1485, Henry proclaimed himself king and defeated Richard at the Battle of Bosworth Field. But Richard's supporters did not want to give up the power they'd enjoyed. So they found a boy, Lambert Simnel, and convinced him to pretend that he was the true heir to the crown. All so they could keep their wealth and prestige. This really happened. This novel is a spell-binding tale that tells how a young penniless orphan might have been convinced that he was someone important, someone who was worthy of becoming the king.
By the way, even though the topic is quite serious, this 195-page book isn't difficult to read. The margins are generous. The lines of print are widely spaced. Many sentences and paragraphs are very short. There is also lots of conversation. You will undoubtedly race through it to find out what happens!
Avi. The Unexpected Life of Oliver Cromwell Pitts: being an absolutely accurate autobiographical account of my follies, fortune, and fate: written by himself. Chapel Hill, North Carolina: Algonquin Young Readers, 2017.
In 1724 England, life is perilous. Twelve-year-old Oliver's mother died when he was born. His older sister moved from their home in Melcombe Regis, Dorset to the big city of London. And now his father has mysteriously disappeared in the middle of the night. Oliver is on the run, escaping the cruel master of the poorhouse. Quickly-paced in an old-fashioned swashbuckling style, this 313-page novel by the inimitable Avi will undoubtedly appeal to adventure lovers 11 years old and up.
Bodeen, S.A. The Gardener. New York: Square Fish, 2010.
"When high school sophomore Mason finds a beautiful but catatonic girl in the nursing home where his mother works, the discovery leads him to revelations about a series of disturbing human experiments that have a connection to his own life." – CIP.  Could be compared to Gem-X. [Fathers; Runaways; Science experiments; Secrets; Single-parent families]
Boyne, John. The Boy at the Top of the Mountain. Toronto: Doubleday Canada, 2015.
When Pierrot is four years old, his father – a German soldier in the Great War – disappears. When Pierrot is seven years old, his French mother dies in a Parisian hospital. What will happen to Pierrot? He is sent to live with his Aunt Beatrix, a housekeeper for Adolf Hitler. It is 1935 and life is changing in Europe.
What happens when people flatter us and make us feel important? What happens when lies start to sound like truth? What happens when we realize we've betrayed the people who love us?
Spanning the course of World War II and its aftermath, this 215-page novel by a breathtakingly powerful writer is highly recommended for mature readers 11-years-old and up. [France; Germany; Historical fiction; Hitler, Adolf; Orphans; Self-awareness] 
 Couloumbis, Audrey. War Games. New York: Random House Children's Books, 2009.
This novel, based on a true story, describes life for twelve-year-old Petros when German soldiers invade his Greek village during World War 2. Quarrels with his older brother Zola fade away when a Nazi commander takes up residence in their small home and they must quickly hide all belongings that might betray their American background.  Games of marbles give way to a greater challenge: how to hide their older cousin who has escaped German custody.  Masterfully told by a Newbery Honor author, this story will engage readers eleven years old and up. It might especially appeal to readers of The Boy in the Striped Pajamas. [Greece; Historical fiction; World War 2; Brothers; Farm life; Secrets; Courage; Cousins] 
D'Adamo, Francesco.  Iqbal. Aladdin Paperbacks, 2005, c2001.
Iqbal, a child labourer who escapes from a Pakistani carpet factory, returns to help other children escape before being gunned down while still only thirteen years old. Based on a true story, this short novel is on the ERAC recommended novel list for grades 8 to 9. (Pakistan; Child labor; Child abuse; Runaways; Masih, Iqbal; Courage; Murder)
DeFelice, Cynthia. Wild Life. FSG Kids, 2011.
When his parents are deployed to Iraq, Erik is sent off to live with his grandparents in North Dakota.  When he rescues a dog wounded by a porcupine, he is not allowed to keep it. Lonely and confused by all the tension in his new home, he takes his new dog and a shotgun and runs away, determined to live off the land. [Runaways; Dogs; Grandparents; Secrets; Winter; North Dakota; Survival]
Doder, Joshua. Grk Smells a Rat! Anderson Press, 2008.
Tim and his dog Grk are off to watch Max play in a tennis tournament in Delhi, India. But when they discover enslaved children working in hidden factories, they have to help even if it places their lives in danger.  Action, suspense and humour combine to make this a great read for fourth to seventh graders. (India; Adventure and adventurers; Dogs; Humour; Mystery and detective stories; Child labor; Tennis)
Dowell, Frances O'Roark. Trouble the Water. New York: Atheneum Books for Young Readers, 2016.
An old yellow dog brings Cassie and Wendell – a black girl and a white boy – together in racially segregated Kentucky in 1953. Buddy leads them to a ramshackle cabin in the woods where two invisible boys are waiting to cross the nearby river. Partly historical fiction, partly a ghost story, this memorable novel by a thought-provoking writer is highly recommended for readers 10 to 15 years old.
P.S. Do you know the story of how Jesus healed the sick man by the pool of Bethesda? The man who never got to the pool in time to be healed after an angel 'troubled the water'? You might like to read about it in John 5 after you read Dowell's story. Then you might like to think about the Pharisees in the Bible and the townspeople in the story. And think about that pool at the end of the novel. Might you be called to be an angel?
Durango, Julia. The Walls of Cartagena. New York: Simon & Schuster Books for Young Readers, 2008.
"Thirteen-year-old Calepino, an African slave in the seventeenth-century Caribbean city of Cartagena, works as a translator for a Jesuit priest who tends to newly-arrived slaves and, after working for a Jewish doctor in a leper colony and helping an Angolan boy and his mother escape, he realizes his true calling." – CIP. Highly recommended for readers 11 to 16 years old. [Catholic Church; Colombia; Faith; Leprosy; Slavery]
French, Simon. My Cousin's Keeper. Somerville, Mass.: Candlewick Press, 2014, c2012.
Eleven-year-old Kieran tries to be one of the popular kids at school, one of the powerful kids.  What will he do when his cousin arrives in town? A cousin who isn't athletic. Isn't outgoing or confident. Soon Bon is the target of the powerful bullies. What should Kieran do? Life becomes even more confusing when the girl Kieran admires becomes friends with Bon, more complicated when he discovers why Bon has come. This memorable novel from Australia is recommended for readers 10 to 14 years old.  [Australia; Bullying; Conduct of life; Cousins; Imagination; Individuality; Jealousy; Moving (Household); Parent and child; Schools] 
Gemeinhart, Dan. Some Kind of Courage. New York: Scholastic Press, 2016.
Joseph is alone in the world. His mother and sister have died of illness. His father has been killed in an accident. And the man who is supposed to take care of him has sold his beloved horse. So Joseph sets out – on his own – to find Sarah and buy her back again.  This heart-warming novel – set in 1890 in the state of Washington – will appeal to readers 11 to 15 years old who enjoy stories of survival. 
Glatshteyn, Yankev. Emil and Karl. New Milford, Conn.: Roaring Brook Press, 2006.
Left alone after three men drag his mother away and threaten to return for him, nine-year old Karl runs to the home of his friend Emil. But he finds no safety. Emil's mother is not well and is taken away, leaving both boys alone.  Aryan Karl and Jewish Emil struggle to survive in the dangerous world of Nazi-occupied Vienna., Austria. 
Many novels have been written about the Holocaust. But this one is unusual in that it was first published in 1940, before the United States even entered the war. Written in Yiddish and translated into English by Jeffrey Shandler, it is highly recommended for all readers 10 years old and up.
Gratz, Alan. Prisoner B-3087. New York: Scholastic, 2013.
Based on the life of Jack Gruener, this book relates his story of survival from the Nazi occupation of Krakow, when he was eleven, through a succession of concentration camps, to the final liberation of Dachau." – CIP. Highly recommended for mature readers 12-years-old and up. [Holocaust survivors; Jews; Poland]
Hartnett, Sonya. The Midnight Zoo. Somerville, Mass.: Candlewick Press, 2010. 
"Twelve-year-old Andrej, nine-year-old Tomas, and their baby sister Wilma flee their Romany encampment when it is attacked by Germans during World War II, and in an abandoned town they find a zoo where the animals tell their stories, helping the children understand what has become of their lives and what it means to be free." – CIP. How can there be a happy ending to a realistic story about war? Only if the characters have a sense of themselves beyond the horrors of the moment. This philosophical novel by an award-winning writer is recommended for introspective readers 11 years old and up.  It could be compared with Fish by L.S. Matthews and The Donkey of Gallipoli by Mark Greenwood. [Freedom; Refugees; Romanies; Zoos]
Haworth, Danette. Me & Jack. New York: Walker & Co., 2011.
"During the Vietnam War, when twelve-year-old Josh and his Air Force recruiter father move to a small town in the mountains of Pennsylvania and get a dog from the local shelter, Josh is forced to stop hanging back and takes on the unfriendly town residents, a mountain, and the meanest boy in school." – CIP  This fast-paced novel is recommended for readers eleven to fourteen years old, especially ones who enjoyed Wild Life by Cynthia deFelice and Heart of a Shepherd by Rosanne Parry. [Bullies; Country life; Dogs; Fathers and sons; Friendship; Grief; Moving (Household); Pennsylvania; Post-tramautic stress disorder; Schools; Soldiers; Vietnam Conflict, 1961-1975]
Hopkinson, Deborah. How I Became a Spy. New York: Alfred A. Knopf, 2019.
In World War 2 London, thirteen-year-old Bertie tries to solve a mystery: what has happened to the owner of a coded notebook? Eleanor, an American girl, and David, a Jewish refugee, join him and his dog Little Roo as they race to prevent a double agent from telling secrets to the Nazis. Told from the first-person point of view, this surprisingly cheerful story will appeal to readers 11 to 13 years of age. [London (England); Spies; World War 2]
Manivong, Laura. Escaping the Tiger. Harper, 2010.
Escaping from Laos in 1982, twelve-year-old Vonlai, his older sister and his parents hope for a better life in Thailand. But instead, they encounter deprivation and despair  during their four years in a refugee camp while waiting to emigrate to America. Based on the experiences of the author's husband, this compelling novel is suitable for mature readers in grades six and up. (Refugees; Laos; Thailand; Historical fiction; Brothers and sisters; Hope; Courage; War; Family life; Homelessness)
Holt, Kimberly Willis. The Water Seeker. New York: Henry Holt, 2009.
This is the story of Amos, born in Missouri in 1833, son of a trapper and dowser. After his mother dies giving birth to him, he lives with relatives until his father and reclaims him and they set out overland to Oregon. When the story ends, it is 1859 and Amos is a husband and father. A great adventure story full of vivid details for readers eleven-years-old and up.  [Aboriginal people; Adventure and adventurers; Coming of age; Dowsing; Fathers and sons; Friendship; Frontier and pioneer life; Prejudice; Voyages and travels]
McCormick, Patricia. Never Fall Down. New York: Balzer + Bray, c2012.
Arn is forced to serve as a child soldier in this vivid novel, based on a real story, by an accomplished author. It will be appreciated by mature readers in grades eight and up. [War; Survival; Cambodia; Soldiers; Genocide; Young adult fiction; Kidnapping]
McCormick, Patricia. Purple Heart. New York: Balzer + Bray, 2009.
While recuperating in a Baghdad hospital from a traumatic brain injury sustained during the Iraq War, eighteen-year-old soldier Matt Duffy struggles to recall what happened to him and how it relates to his ten-year-old friend Ali. (CIP) For mature readers only due to subject matter and language. [Iraq; Friendship; Young adult]
McDonough, Yona Zeldis. The Bicycle Spy. New York: Scholastic Press, 2016.
Twelve-year-old Marcel – riding his bicycle and dreaming of racing in the Tour de France – discovers that he is delivering more than bread from his family's bakery. He is delivering secret messages that must be kept hidden from the German soldiers who have invaded France. Set in 1942, this suspenseful novel – with widely spaced lines and relatively large print – will appeal to readers 10 years old and up.
Myers, Walter Dean. Sunrise Over Fallujah. New York: Scholastic Press, 2008.
Eighteen-year-old Robin Perry is an American soldier in Iraq. Far from his home in Harlem, he discovers war isn't so much heroic as confusing: orders change inexplicably, people die unexpectedly and nothing seems to make any sense. All he feels is constant fear. Fighting a war isn't anything at all like playing video games. Set in 2003, this novel explains some of the politics of war while showing the grittiness of army life and is suitable only for mature students in grade eight and up.
Naidoo, Beverly. Burn My Heart. Amistad, 2009, c2007.
Matthew and Mugo have been friends for years even though Matthew is the son of a wealthy landowner and Mugo is a household servant. But everything changes when the Mau Mau uprising begins in 1950s Kenya. Everyone becomes afraid and violence is around every corner. Based on historical events, this novel will appeal to adventurous readers who like books about real life. [Kenya; Historical fiction; Friendship; Racism; Fathers and sons]
Newbery, Linda. Lost Boy. David Fickling Books, 2007.
Part ghost story, part mystery, part realistic fiction about standing up to bullies, this novel about a boy who moves to a small town in Wales will appeal to readers in middle schools. (Wales; Bullying; Moving, Household; Ghosts; Accidents; Friendship; Mystery and detective stories; Friendship)
Nobleman, Marc Tyler. Brave Like My Brother. New York: Scholastic Press, 2016.
Only 100 pages long, it is printed in a large font with lots of space between the lines and large margins. And each chapter is only 4 pages long. Actually, each chapter is a letter. Yes, a letter. And the novel is a series of these letters. The first and the last letter are from Charlie, writing to his older brother, Joe, a soldier sent to England during World War II. All the others in between are letters from Joe, writing to tell of his experiences during the days leading up to D-Day, the Allied invasion of France. Highly recommended. [Brothers; Bullying; Courage; England; World War II]
Parry, Rosanne. Heart of a Shepherd. New York: Random House 2009.
Ignatius "Brother" Alderman, nearly twelve, promises to help his grandparents keep the family's Oregon ranch the same while his brothers are away and his father is deployed to Iraq, but as he comes to accept the inevitability of change, he also sees the man he is meant to be. – CIP [Iraq War, 2003; Faith; Family life; Christian life; Oregon; Ranch life; Grandfathers; Responsibility]
Perkins, Mitali. Bamboo People. Watertown, Mass.: Charlesbridge, 2010.
Chiko's father is a doctor, imprisoned for resisting the Burmese government. Tu Reh's father is a fighter with the Karenni resistance, a minority people persecuted by the Burmese government. The two boys meet in the jungle when Chiko is forced to join the army and Tu Reh runs away from a refugee camp to help his father. Readers of War Brothers by Sharon McKay and Shattered by Erica Walters will appreciate this political novel filled with compassion and hope.  [Fathers and sons; Burma; Survival; Soldiers; Refugees; War stories; Courage]
Philbrick, Rodman. The Mostly True Adventures of Homer P. Figg. New York: Blue Sky Press, 2009.
Twelve-year-old Homer runs away from his cruel uncle to rescue his older brother who has been forced to serve as a soldier in the American Civil War. For 11 – 15 year olds. [Adventure and adventurers; Brothers; Historical fiction; Uncles; Orphans; War; Runaways]
Pileggi, Leah. Prisoner 88. Watertown, Mass.: Charlesbridge, 2013.
Ten-year-old Jake is sent to prison, accused of killing a man. He can't remember pulling the trigger, but he figures he must be guilty. Fearful and lonely, he arrives at the Idaho Territorial Penitentiary and is placed in a cell alongside adult criminals. Despite the violence, he finds people who protect him. And he enjoys more food to eat than he can ever remember. Based on a real newspaper article from 1885, this inspiring novel is highly recommended for readers 11-years-old and up. It could be compared to Then by Morris Gleitzman or The Killer's Tears by Anne-Laure Bondoux.  [Courage; Fathers and sons; Historical fiction; Idaho; Prisons; Prisoners; Reading] 
Porter, Tracey. Billy Creekmore. New York: Joanna Cotler Books, 2007.
Ten-year-old Billy suffers the cruelties of life in an orphanage. Not enough food. Not enough warmth. And no love, at all. Everything changes, though, when an uncle and aunt claim him and take him off to live with them in a coal mining town in West Virginia. Billy's spunk and love of storytelling, though, cause trouble when he gets involved with the union. This is 1905 and the mine managers are angry. So Billy runs away to join the circus and find the father who long ago abandoned him.
This modern-day Charles Dickens novel could also be compared toThe Mostly True Adventures of Homer P. Figg by Rodman Philbrick. It is highly recommended for readers 9 to 14 years old. It would also make a wonderful read-aloud for a fifth grade class.  [Aunts and uncles; Circus; Coals and coal mining; Fathers and sons; Historical fiction; Honesty; Orphanages; Runaways; Self-reliance; West Virginia]
Preller, James. Bystander. Feiwel and Friends, 2009.
Thirteen-year-old Eric encounters a bully terrorizing students at his new school. It seems no one, not even adults, can stop the intimidation until Eric thinks of a solution. [Bullying; New York (State); Moving, Household; Divorce; Schools; Conduct of life; Young adult fiction]
Schmidt, Gary D. Lizzie Bright and the Buckminster Boy. Clarion Books, 2004.
Turner is not pleased when his father moves the family to Phippsburg, Maine. He is even less pleased when his father, a church minister, expects him to always behave with dignity and diplomacy despite the two bullies who are less than welcoming.  But when he is also expected to go along with the growing racism that is forcing African Americans from their homes, he takes a stand which brings about surprising changes.  Set in 1911, this novel for sixth to ninth graders is a Newbery Honor Book. (Maine; Newbery Medal; Faith; Moving, Household; Fathers and sons; African Americans; Racism; Historical fiction; Coming of age)
Smith, Dan. My Brother's Secret. New York: Chicken House, 2015.
Set in 1941 Germany, this story depicts the changes that happen when twelve-year-old Karl realizes that life is not so simple. After his father is killed on the Eastern Front and his family goes to live with his grandparents, he starts to see life differently. Is Hitler really a hero? Are the Nazis noble soldiers? Is his older brother Stefan's decision to join an underground movement courageous? Does he himself have the courage to stand up against everything he has been taught at school? This novel by an award-winning British writer is recommended for readers 12 years old and up. P.S. Every novel published by Chicken House is worth checking out. Every story is well-written and memorable for its hope in the face of hardships.  [Brothers; Germany; Historical fiction]
Williams, Michael. Diamond Boy. New York: Little, Brown and Co., 2014.
"When Patson's family moved to the Marange region of Zimbabwe he begins working in the mines, searching for blood diamonds, until government soldiers arrive and Patson is forced to journey to South Africa in search of his missing sister and a better life." – CIP. [Brothers and sisters; Child labor; Diamonds; Mines and mining; Runaways; Shona (African people); Zimbabwe]  
Williams, Michael. Now Is the Time for Running. New York : Little, Brown, 2013, c2009.
"When soldiers attack a small village in Zimbabwe, Deo goes on the run with Innocent, his older, mentally disabled brother, carrying little but a leather soccer ball filled with money, and after facing prejudice, poverty, and tragedy, it is in soccer that Deo finds renewed hope." – CIP. Recommended for more mature readers.  [Brothers; Homelessness; People with mental disabilities; Refugees; Soccer; Zimbabwe]
 Yelchin, Eugene. Breaking Stalin's Nose. New York: Henry Holt, 2011.
When I was a child, my father told me a story of his childhood on the Canadian prairies during the hungry years of the 1930s. A man in his village said that life would be far better for them if they lived in the Soviet Union where everyone had enough food to eat. "Go then," people said in my father's village. And he did. He moved to Russia. Some time later, he sent a letter to Canada.  "Come here! There are enough jobs and enough food for everyone. Come.  But you will need a very sturdy trunk for such a long journey.  There is only one place in the village that makes the kind of trunk you will need." And he gave the name of the business.  It was the casket maker.
This novel, a Newbery Honor book, tells the story of ten-year-old Sasha who adores his father who works for the secret police in Stalinist Russia. But his perspective changes when he discovers secrets about his deceased mother and his father is unexpectedly arrested, leaving Sasha homeless in the middle of winter.  While easy to read, this powerful story is best suited for brave readers aged eleven and up. 
Yelchin, Eugene. The Haunting of Falcon House.  New York: Henry Holt and Company, 2016. 
"In 1891, twelve-year-old Lev Lvov travels to Saint Petersburg, Russia, to assume his duties as Prince, but must first use his special gift to rid the House of Lions of a ghost." – CIP. Written by Prince Lev Lvov with pictures drawn in his own hand; translated by Eugene Yelchin who writes in the preface, "when I was a schoolboy in St. Petersburg, Russia,…I came upon a bundle of paper held together with frayed twine….Some years passed….Resolved to faithfully restore Lvov's original narration, I set to work. To carry Prince Lev's feelings across to the reader, I became inwardly connected to the young prince…" A spell-binding story for readers 11 to 14-years-old.
Yelchin, Eugene. Spy Runner. New York: GodwinBooks, Henry Holt and Company, 2019.
In 1953 America, 12-year-old Jake is keeping his eyes open for Russian spies. His father has been missing in action since the end of the war in 1945, so when his mother invites a mysterious boarder into their home, he is suspicious. Why do the stories about his father not make sense? Why is his mother so affectionate toward this new man? Why is his principal so afraid of two strange men who visit the school? What is going on? This dramatic page-turner – evoking all the secrecy and paranoia of the Cold War – will appeal to curious readers 11 years old and up. [Cold War; Communism; Russia; Spies]
Yep, Laurence. The Star Maker. New York: Harper, 2011. 
Artie learns how to deal with a bully with the help of his uncle Chester in this short novel set in 1954. Includes an afterward with information about the Chinese customs in the story. Recommended for readers eight to eleven-years-old.  [California; Chinese Americans; Chinese New Year; Family life; San Francisco (Calif.); Uncles]
Ylvisaker, Anne. Button Down. Somerville, Mass.: Candlewick Press, 2012.
Tugs's cousin Ned is the hero in this sequel to The Luck of the Buttons. He learns strategy from his ailing grandfather, battles bullies, and discovers that he can play football despite his small size. This lively novel is highly recommended for readers ten-years-old and up. [Depressions; Family life; Football; Friendship; Grandfathers; Historical fiction; Humorous stories; Iowa; Poverty]