World Rivers Day
is celebrated every year on the last weekend in September
in more than 60 countries around the world!
The founder is Mark Angelo, a river conservationist from Burnaby, British Columbia, Canada.
Carlstrom, Nancy White. Raven and River. Boston: Little, Brown, 1997.
"Raven and the other animals try to awaken the frozen river to the coming Alaskan springtime." – CIP.
Cherry, Lynne.  A River Ran Wild. Boston: HMH Books for Young Readers. 1992.
A picture book describing the renewal of the polluted Nashua River in Massachusetts.
De Vries, Maggie. Tale of a Great White Fish: a Sturgeon Story. Vancouver: Greystone Books, 2006.
"Follows the adventures of Big Fish, a 177-year-old sturgeon living in British Columbia's Fraser River, who during her very long life endures and survives such catastrophes as rock slides, lake drainages, and sport fishermen." – CIP. A picture book useful for learning about sturgeon and the life cycle of fish on the Fraser River. It could be used as part of a note-taking lesson for students in grades 4 to 6. 
Grahame, Kenneth. The Wind in the Willows. Bath: Palazzo, 2008, c2007. 
"The escapades of four animal friends who live along a river in the English countryside–boastful Toad, bashful Mole, world-wise Rat, and practical Badger." – CIP. First published in 1908, this wonderful novel continues to be popular in various adaptations and film versions. 
Harrison, David L. Rivers: Nature's Wondrous Waterways. Honesdale, Pa.: Boyds Mills Press, 2002.
A picture book useful for young readers learning basic facts about rivers and their formation. It could also be read aloud as part of a note-taking lesson for students in grades 3 to 5. 

Hobbs, Will. Never Say Die. New York: HarperCollins Children's Books, 2014, c2013.
"Fifteen-year-old half-Inuit Nick and his white brother, Ryan, meet and share an adventure on the Firth River in the Canadian Arctic, facing white water, wild animals, and fierce weather as Ryan documents the effects of climate change on caribou for National Geographic magazine." – CIP. An action-filled novel by an author of many novels for middle school students.
Hobbs, Will. Take Me to the River. New York: Harper, 2011.
"When North Carolina fourteen-year-old Dylan Sands joins his fifteen-year-old cousin Rio in running the Rio Grande River, they face a tropical storm and a fugitive kidnapper." – CIP. Another fast-moving story by Hobbs, this time for young adults.
Holling, Holling Clancy. Paddle-to-the-Sea. Boston: Houghton Mifflin, 1941.
A little canoe travels from the Great Lakes to the ocean in this Caldecott Honor Book This classic picture book is also available as a film from the National Film Board of Canada.
Hughes, Langston. The Negro Speaks of Rivers. New York: Jump at the Sun, 2009.
Evocative illustrations by E.B. Lewis accompany this poem by the acclaimed African American writer.
Ibbotson, Eva. Journey to the River Sea. New York: Dutton Children's Books, 2001.
"Sent with her governess to live with the dreadful Carter family in exotic Brazil in 1910, Maia endures many hardships before fulfilling her dream of exploring the Amazon River." – CIP. An adventure novel recommended for readers in grades five to seven.
LaMarche, Jim. The Raft. New York: Lothrop, Lee & Shepard Books, 2000.
"Reluctant Nicky spends a wonderful summer with Grandma who introduces him to the joy of rafting down the river near her home and watching the animals along the banks." – CIP. A heart-warming picture book based on the author's childhood.
LeBox, Annette. Salmon Creek. Toronto: Groundwood Books, 2002.
"A story about the life cycle of the wild Pacific salmon. Includes information on working to preserve their disappearing environment." – CIP. A picture book.
Locker, Thomas. Where the River Begins. New York: Dial/Dutton, 1984.
Two boys explore a river with their grandfather in this astonishingly beautiful picture book.
Locker, Thomas. Water Dance. San Diego: Harcourt Brace & Company, 1997.
A description of earth's water cycle by this outstanding artist and author of picture books.
London, Jonathan. Otters Love to Play Somerville, Mass.: Candlewick Press, 2016.
This joyous picture book follows a family of otters through the seasons from spring to winter. The large-print story line is supplemented by additional facts about otters in smaller print which is still large enough to be easily read. At the end of the story is a 12-entry index and an additional paragraph about otters useful for students doing research projects. Highly recommended.
Paulsen, Gary. The River. New York: Yearling, 1993.
"Because of his success surviving alone in the wilderness for fifty-four days, fifteen-year-old Brian, profoundly changed by his time in the wild, is asked to undergo a similar experience to help scientists learn more about the psychology of survival." – CIP. The sequel to the popular novel Hatchet.
Peters, Merilee. Ten Rivers That Shaped the World. Toronto: Annick Press, 2015.
The Nile. The Amazon. the Mississippi. The Tigris and Euphrates. The Thames and Rhine in Europe. The Yangtze and Ganges in Asia. The Zambezi and Awash in Africa. These 10 rivers have changed the course of history. And they still affect life today. 10 Rivers That Shaped the World, an easy-to-read book full of anecdotes, coloured photographs, maps, and drawings, is highly recommended for all readers – 11 years old and up – who enjoy expanding their general knowledge.
Did you know?
3,000 species of freshwater fish have been discovered in the Amazon.
Ancient Egyptians were the first people in the world to pay taxes, which were based on the height of the Nile floods: higher floods meant greater harvests which led to higher taxes.
The nursery rhyme of London Bridge falling down may recall the Viking invasion of 1014.
Musicians on riverboats helped spread jazz and blues north along the Mississippi in the early 20th century.
Pignat, Caroline. Timber Wolf. Brighton, Mass.: Red Deer Press, 2011.
 "Jack's determination to succeed as a rafts-man in the lumber industry up the Ottawa River leads him to wake up on the rocky forest floor, bruised and without the memory of who and where he is, but as he pieces together clues about his own history, Jack comes to remember the mistakes he has made." – WAFMS. The third novel in a series for young adults.
Raven, Margaret Theis. Night Boat to Freedom. New York: Farrar, Straus and Giroux, 2006.
"At the request of his fellow slave Granny Judith, Christmas John risks his life to take runaways across a river from Kentucky to Ohio. Based on slave narratives recorded in the 1930s." – CIP. Illustrated by E.B. Lewis.
Sanna, Alessandro. The River. New York: Enchanted Lion Books, 2014.
A wordless picture book about four seasons on the Po River.
Suzuki, David and Sarah Ellis. Salmon Forest. Vancouver: GreyStone Books, 2003.
A picture book – by two acclaimed writers – that describes the life cycle of salmon.
Twain, Mark. The Adventures of Huckleberry Finn. New York: Puffin Books, 1994.
"Huck Finn and Jim, an escaped slave, make a break for freedom down the vast Mississippi River on a raft." – CIP. The classic adventure story first published in 1884.
Twain, Mark. The Adventures of Tom Sawyer. New York: Kingfisher, 2002.
The classic American novel of the Mississippi River originally published in 1876.
Whelan, Gloria. Friend on Freedom River. Chelsea, MI: Sleeping Bear Press, 2004. 
Whelan has written many historical novels for middle school students. In this picture book, she tells the story of how "On a cold December night, Louis must decide whether to brave the treacherous Detroit River to take a slave family to freedom." – CIP.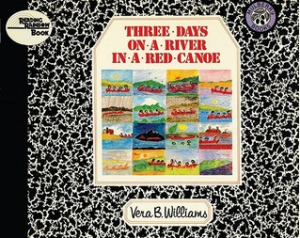 Williams, Vera B. Three Days on a River in a Red Canoe. New York: Greenwillow Books, 1981.
A red canoe carries a family on an exciting camping trip in this picture book for young readers. 
Click HERE for quotations and nonfiction books about rivers!