Stories of World War II

Shulevitz, Uri. Chance: Escape from the Holocaust. New York: Farrar Straus Giroux Books for Young Readers, 2020.
Uri Shulevitz is a master storyteller and artist. Anything he writes is worth reading. Anything he draws is worth viewing. In Chance, we discover the story of his childhood from the age of four – when bombs started dropping on Warsaw – to fourteen – when he and his parents emigrated to Israel. In between, they endured internment in a Soviet settlement, poverty in the southern republic of Turkestan, and ostracism in France. Nowhere was safe. Black-and-white illustrations help tell the story of a human spirit surviving in the face of persecution. Despite the large print and wide margins, though, this 329-page book is not recommended for readers in early grades. Some of the details are too heartbreaking. Instead, Chance is highly recommended for readers 11 years old and up. Even adults.
PICTURE BOOKS
Elvgren, Jennifer. The Whispering Town.Minneapolis, MN: Kar-Ben Publishing, 2014.
"In Denmark during World War II, young Annet, her parents, and their neighbors help a Jewish family hide from Nazi soldiers until it is safe for them to leave Annet's basement." – CIP. Based on a true story and illustrated by Fabio Santonmauro, this picture book is highly recommended for readers 8-years-old and up. 
Innes, Stephanie and Harry Endrulat. Bear on the Homefront. Toronto: Pajama Press, 2014.
"During World War II, nurse Aileen Rogers and her stuffed bear, Teddy, greet English 'guest children' sent overseas for safety. Teddy befriends homesick young William and his sister Grace, sharing the experience of the cross-country train ride and five years on a host family's farm." – CIP. Soft full-page illustrations accompany this Canadian story based on a diary kept by Aileen Rogers and written by her great-niece. It is highly recommended for readers 8-years-old and up.
Hesse, Karen. The Cats in Krasinski Square. New York: Scholastic Inc., 2004. 
Inside the Wall of the Ghetto, and inside the cracks, dark corners, and openings in the rubble, are cats who've lost their owners. It is dangerous here. You cannot act Jewish. A girl and her sister, Mira, have almost no food. So one day, they decide to get their friends – who live beyond The Wall – to secretly smuggle bags of food. But on the day the train is to come, they get news that the Gestapo knows of the train and the food! They are bringing their dogs. The girl has a slightly dangerous plan. She scurries over to the rubble and collects the cats in baskets. Then they all hurry over to the train station. The train comes, and the dogs are let loose. But what else is let loose? The cats! The dogs immediately lose interest in the train and begin chasing the poor cats! What chaos! A few minutes later, the girl and sister happily walk home in the night with bags of food. – Eishmeet in grade 6     Listen to the story on Youtube 
Innocenti, Roberto. Rose Blanche. Mankato, Minn.: Creative Editions, 1985.
"During World War II, a young German girl's curiosity leads her to discover something far more terrible than the day-to-day hardships and privations that she and her neighbors have experienced." – WAFMS.
Johnston, Tony. The Harmonica.  Watertown, MA: Charlesbridge, 2008.
"Torn from his home and parents in Poland during World War II, a young Jewish boy starving in a concentration camp finds hope in playing Schubert on his harmonica, even when the commandant orders him to play." – WAFMS. Highly recommended for readers 9-years-old and up. Could be compared to 'Silent Music: a Story of Baghdad' by James Rumford, which describes how a young boy finds refuge in calligraphy while bombs are dropping around him during the war in 2003.
Kacer, Kathy. The Magician of Auschwitz. Toronto: Second Story Press, 2014.
The true story of Werner Reich who learned magic while a boy in the Auschwitz concentration camp. 
Keefer, Janice Kulyk. Anna's Goat. Victoria, B.C.: Orca Book Publishers, 2000.
Anna is born in a war-torn country where her family are refugees struggling to survive. When they are finally allowed to return home, they discover that everything has been destroyed and they must somehow find a way to rebuild and make a life again.  Illustrated by Janet Wilson and based on a true story, this picture book could be compared to 'Gleam and Glow' by Eve Bunting. Recommended for readers 8-years-old and up. 
Lee-Tai, Amy. A Place where Sunflowers Grow = Sabaku ni saita himawari. San Francisco: Children's Book Press, 2006.
"While she and her family are interned at Topaz Relocation Center during World War II, Mari gradually adjusts as she enrolls in an art class, makes a friend, plants sunflowers and waits for them to grow." Gentle full-page illustrations accompany the text written in English and Japanese. Recommended for readers 10-years-old and up. 
Lowry, Lois. Crow Call. New York: Scholastic Press, 2009.
On a cold November morning, Liz wakes up early. She and her father, recently returned from fighting in the war, are going hunting together. Based on the author's own childhood memories, this gentle story of understanding and hope will appeal to readers eight to eighty years old. Possible questions to discuss: What gifts does Liz's father give to her? What does the plaid shirt symbolize? How are all five senses shown in this story? [Pennsylvania; Historical fiction; Hunting; Fathers and daughters; Gifts; World War 2; Autumn; Birds] 
McMullan, James. Leaving China: An Artist Paints His World War II Childhood. Chapel Hill, North Carolina: Algonquin, 2014.
Do you ever feel like you're not quite good enough? That you can't ever please your parents? That you don't belong anywhere? Read this memoir about an artist who grew up moving from China to Canada to India to the U.S.A. and is now a highly acclaimed designer and illustrator. A 113-page autobiography with full-page illustrations recommended for readers 10 years old and up.
Mochizuki, Ken. Passage to Freedom: the Sugihara Story. New York: Lee & Low Books, 1997.  
In 1940, five-year-old Hiroki Sugihara watched as his father, a Japanese diplomat stationed in Lithuania, disobeyed orders and signed visa after visa for Jewish refugees fleeing the horrors of Nazi Germany. Hiroki's father was soon transferred and the entire family – he, his parents, his aunt, and his two younger brothers moved to Berlin. In an afterward, Sugihara tells what happened to to his family as a result of his father's courageous actions.The haunting full-page illustrations by Dom Lee and the well-spaced layout of the text enhance the power of this little-known story of a man who saved an estimated 10,000 refugees. Highly recommended for readers 7 to 70 years old. [Courage; Diplomats; Holocaust, Jewish; Sugihara, Chiune; WW2]
Ruelle, Karen Gray. The Grand Mosque of Paris: A Story of How Muslims Rescued Jews during the Holocaust.  Holiday House, 2010.
"An illustrated picture book that tells of how Muslims helped to hide escaped prisoners of war and Jews of all ages in the complex of the Grand Mosque of Paris during World War II." – WAFMS. Highly recommended for competent readers 9-years-old and up.
Selbert, Kathryn. War Dogs: Churchill & Rufus. Watertown, MA: Charlesbridge, 2013.
Sis, Peter. Nicky & Vera: A Quiet Hero of the Holocaust and the Children He Rescued. New York: W. W. Norton & Company, Inc., 2021.
Twenty-nine-year-old Nicholas Winton saved almost 700 children from Nazi-occupied Czechoslovakia in 1938. Ten-year-old Vera was one of those children. Written and illustrated by the inimitable Peter Sis, this true story describes the astonishingly daring rescue during the war and the unexpected reunion fifty years later. Accompanied by an extensive afterward, this picture book is highly recommended for readers eight years old and up.
Stelson, Caren.  A Bowl Full of Peace: A True Story. Minneapolis: Carolrhoda Books, 2020.
Sachiko was six years old on August 9, 1945 when an atomic bomb was dropped on Nagasaki. War had already come to Japan. People were already going hungry from lack of food and hiding in air raid shelters built into the hillsides. When the bomb dropped, one of Sachiko's brothers was killed, and the rest of the family became ill and slowly started dying of radiation sickness. Sachiko's remaining family members continued to gather around grandmother's bowl every evening – just as they had before the war – to offer thanks for their food. But once a year, they instead filled the bowl with ice and – as it melted – also prayed for peace. This quietly heart-breaking story of courage, poignantly illustrated by Akira Kusaka, is highly recommended for readers seven years old and up.
Stinson, Kathy. The Lady with the Books: A Story Inspired by the Remarkable Work of Jella Lepman. Toronto: Kids Can Press, 2020.
Set in Germany, just after WW2, this extraordinary picture book tells a story about the founder of IBBY, the International Board on Books for Young People. Anneliese and her younger brother Peter discover a book exhibit while wandering the damaged city of Munich. Their imagination is is wakened and their hearts take courage after seeing stories from around the world. Accompanied by an extensive illustrated history at the end of the story, this book will be greatly appreciated by all readers interested in history. Highly recommended. 
NOVELS
Attema, Martha. A Time to Choose.
Attema, Martha. When the War is Over.
Avi. Don't You Know There's A War On?
Bawden, Nina. Carrie's War.
Boyne, John. The Boy at the Top of the Mountain. Toronto: Doubleday Canada, 2015.
When Pierrot is four years old, his father – a German soldier in the Great War – disappears. When Pierrot is seven years old, his French mother dies in a Parisian hospital. What will happen to Pierrot? He is sent to live with his Aunt Beatrix, a housekeeper for Adolf Hitler. It is 1935 and life is changing in Europe.
What happens when people flatter us and make us feel important? What happens when lies start to sound like truth? What happens when we realize we've betrayed the people who love us?
Spanning the course of World War II and its aftermath, this 215-page novel by a breathtakingly powerful writer is highly recommended for mature readers 11-years-old and up. [France; Germany; Historical fiction; Hitler, Adolf; Orphans; Self-awareness]
Boyne, John. The Boy in the Striped Pajamas.
Bradley, Kimberley Brubaker. For Freedom: the Story of a French Spy.
Bradley, Kimberly Brubaker. The War That Saved My Life. New York : Dial Books for Young Readers, 2015.
"A young disabled girl and her brother are evacuated from London to the English countryside during World War II, where they find life to be much sweeter away from their abusive mother." – CIP. Highly recommended for readers 11 years old and up. [Abuse; Brother and sisters; England; Foster children; People with Disabilities; Runaways]
Bradley, Kimberly Brubaker. The War I Finally Won. New York: Dial Books for Young Readers 2017.
Do you need courage to have hope? Can you know something but not believe it? How do you learn to overcome fear? The story of Ada and Jamie, evacuated from London in The War That Saved My Life, continues in this 385-page novel recommended for readers 12 years old and up.
The story begins with surgery to repair Ada's clubfoot. But surgery can't repair the sense of rejection she still feels from years of abuse. And surgery can't teach her how to trust anyone except herself. It is steadfast love from her new guardian and her own determination to learn that transforms Ada from a fearful 11-year-old to a confident 14-year-old ready to embrace the goodness of life. A multiple award-winner and New York Times bestseller. 
P.S. Part of the brilliance of this novel is its quiet complexity. While told from the limited point of view of Ada, the reader sees that we all have limited points of view. And sometimes our lack of knowledge limits our ability to see clearly. Lady Thorton is stand-offish due to limitations imposed by her childhood. People in the village mistrust Ruth – a Jewish refugee – due to ignorance of events in Germany. Susan assumes she will be rejected by a friend's family, and Maggie thinks her mother doesn't care about her. Over and over again, we see that life may have been horrific in the past but it can still be good in the future. And we are all lovable.
Chapman, Fern Schumer. Is It Night or Day? New York: Farrar, Straus and Giroux, 2010.
"In 1938, Edith Westerfeld, a young German Jew, is sent by her parents to Chicago, Illinois, where she lives with an aunt and uncle and tries to assimilate into American culture, while worrying about her parents and mourning the loss of everything she has ever known. Based on the author's mother's experience, includes an afterword about a little-known program that brought twelve hundred Jewish children to safety during World War II." – CIP. A memorable story of courage and resilience highly recommended for readers 11 to 15 years old. [Chicago; Grief; Holocaust; Immigrants; Loneliness; Jews; WW 2]
Coerr, Eleanor. Sadako and the Thousand Paper Cranes. 
 Couloumbis, Audrey. War Games. New York: Random House Children's Books, 2009.
This novel, based on a true story, describes life for twelve-year-old Petros when German soldiers invade his Greek village during World War 2. Quarrels with his older brother Zola fade away when a Nazi commander takes up residence in their small home and they must quickly hide all belongings that might betray their American background.  Games of marbles give way to a greater challenge: how to hide their older cousin who has escaped German custody.  Masterfully told by a Newbery Honor author, this story will engage readers eleven years old and up. It might especially appeal to readers of The Boy in the Striped Pajamas.  [Greece; Historical fiction; World War 2; Brothers; Farm life; Secrets; Courage]
Dahlberg, Maurine F. Play to the Devil. (AR 4.7)
Degens, T. Transport 7-41-R.
DeJong, Meindert. The House of Sixty Fathers.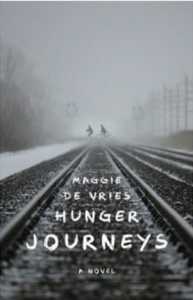 De Vries, Maggie. Hunger Journeys. Toronto: HarperTrophyCanada, 2010.
Lena and her friend Sofie use false identity cards and help from two German soldiers to escape from Nazi-occupied Amsterdam.  A suspense-filled award-winning novel for mature readers, due to the sexual references. [WW 2; Netherlands; Soldiers; Friendship; Survival; Family problems; Teenagers; Young adult fiction] Click HERE to read a reader's response to this novel.
Dudley, David L. Caleb's Wars. New York: Clarion Books, 2011.
Caleb, a black fifteen-year-old in rural Georgia, has to step off  sidewalks and into the mud to get out of the way of white people. He can wash dishes in the kitchen of a restaurant but may not sit down at a table to eat. Those are the rules. But when German prisoners of war receive more respect than black people, Caleb decides to break the rules.   [Fathers and sons; Georgia; Racism; World War 2; Black Americans; Prisoners of war; Germans; Segregation; Faith]
The Snow Goose by Paul Gallico ( McClelland and Stewart, 1940) is a novel explaining the hope, affection and independence of a middle-aged Anglo-Saxon man named Philip Rhayader. Set in England during World War II, it describes the experiences of Philip whose life changes after he meets a snow goose. (Sukhi in grade eight)
Garrigue, Sheila. The Eternal Spring of Mr. Ito. (AR 4.2)
Giff, Patricia Reilly. Lily's Crossing. 
Giff, Patricia Reilly. Genevieve's War. New York: Holiday House, 2017.
August of 1939. Summer is over. Time to leave France and go home to America. But thirteen-year-old Genevieve decides – at the last moment – to stay with her grandmother in the small Alsatian village rather than return to New York. Mere months later, Nazi soldiers arrive and life changes.
This story is among the best of Giff's many novels. Who are your friends? Whom can you trust? For whom will you risk your life? All these questions are quietly and skillfully addressed in a compelling novel for readers 11 years old and up. [Courage; France; Grandmothers; Love; Orphans; Self-reliance; Underground movements]
Glatshteyn, Yankev. Emil and Karl. New Milford, Conn.: Roaring Brook Press, 2006.
Left alone after three men drag his mother away and threaten to return for him, nine-year old Karl runs to the home of his friend Emil. But he finds no safety. Emil's mother is not well and is taken away, leaving both boys alone.  Aryan Karl and Jewish Emil struggle to survive in the dangerous world of Nazi-occupied Vienna., Austria. 
Many novels have been written about the Holocaust. But this one is unusual in that it was first published in 1940, before the United States even entered the war. Written in Yiddish and translated into English by Jeffrey Shandler, it is highly recommended for all readers 10 years old and up.
Gleitzman, Morris. Once.
Gleitzman, Morris. Then. New York : Henry Holt, 2008.
In this sequel to Once, ten-year-old Felix and six-year-old findshelter with a woman who tries to hide from the Nazis in the Polish countryside. Highly recommended for mature readers 12-years-old and up. 
Gratz, Alan. Prisoner B-3087. New York: Scholastic, 2013.
Based on the life of Jack Gruener, this book relates his story of survival from the Nazi occupation of Krakow, when he was eleven, through a succession of concentration camps, to the final liberation of Dachau." – CIP. Highly recommended for mature readers 12-years-old and up. [Holocaust survivors; Jews; Poland]

Greene, Bette. Summer of My German Soldier.
Hahn, Mary Downing. Stepping on the Cracks. 
Hartnett, Sonya. The Midnight Zoo. Somerville, Mass.: Candlewick Press, 2010. 
"Twelve-year-old Andrej, nine-year-old Tomas, and their baby sister Wilma flee their Romany encampment when it is attacked by Germans during World War II, and in an abandoned town they find a zoo where the animals tell their stories, helping the children understand what has become of their lives and what it means to be free." – CIP. How can there be a happy ending to a realistic story about war? Only if the characters have a sense of themselves beyond the horrors of the moment. This philosophical novel by an award-winning writer is recommended for introspective readers 11 years old and up.  It could be compared with Fish by L.S. Matthews and The Donkey of Gallipoli by Mark Greenwood. [Freedom; Refugees; Romanies; Zoos]
Hautzig, Esther. The Endless Steppe.
Esther Hautzig is a brilliant author, most famous for her award-winning book The Endless Steppe. Esther was born on October 18, 1920 in Wilno, Poland (now known as Vilnius, Lithuania). She is known for writing true-life tales about survival in the labor camps of Siberia in World War II. Esther, amazingly and superbly, gives us an understanding of what went on in Russia during World War II. The Hautzig family was taken to the endless steppe of Siberia, and they were told they were "capitalists…enemies of the people" (12). She, vividly and descriptively, gives us a tremendously terrific picture of how hard it was for some people in Russia during that time. Esther Hautzig passed away on November 1st, 2009 but will always be remembered as an awesome author who gave us a better understanding of life and provided us amazing new knowledge. (Bradley in grade eight)
Hesse, Karen. Aleutian Sparrow.
Hest, Amy. The Summer We Found the Baby. Somerville, Massachussets: Candlewick Press, 2020.
Eleven-year-old Julie and her six-year-old sister Martha find a baby on the steps of the local library. Twelve-year-old Bruno, running away from home, sees them take the baby and wonders: Are they kidnapping it? Where are they going? He follows and so starts this quiet heart-warming story set in a beachside community in New York State during WW2. Told in three voices, this poignant novel – in an easy-to-read font with widely spaced lines and short chapters – will appeal to reflective readers 9 to 12 years old. 
By the way, all stories by Amy Hest are worth reading, especially for readers up to 12 years of age. All books by Candlewick are worth picking up.
Heuck, Sigrid. The Hideout.
Hesse, Monica. They Went Left. New York: Little, Brown and Company, 2020.
After surviving the horrors of being locked up in a concentration camp, eighteen-year-old Zofia travels back to her home in Poland in 1945 with the help of a Russian soldier. She hopes to be reunited with her younger brother, but he isn't there.  So leaving the enamoured soldier behind, she sets off in the middle of the night to search for him, determined not to give up until she finds him. It is in a displaced-persons camp in Germany where she finally discovers the truth.
A young adult novel about love and loss and learning to live with memories while facing the future with hope, this novel is most highly recommended for mature readers 13 years old and up.
(Note: due the sexual references, some private schools and some parents may prefer to reserve this book for older readers.)
Holm, Anne. I Am David. 
Hopkinson, Deborah. How I Became a Spy. New York: Alfred A. Knopf, 2019.
In World War 2 London, thirteen-year-old Bertie tries to solve a mystery: what has happened to the owner of a coded notebook? Eleanor, an American girl, and David, a Jewish refugee, join him and his dog Little Roo as they race to prevent a double agent from telling secrets to the Nazis. Told from the first-person point of view, this surprisingly cheerful story will appeal to readers 11 to 13 years of age. [London (England); Spies; World War 2]
Hughes, Monica. Blaine's Way.
Hughes, Dean. Missing in Action. New York : Simon Pulse, 2010.
Jay Thacker's mother takes him to live in her small home town during World War 2 where most people are hostile because he is part Navajo. They are even more hostile when he befriends a Japanese teenager at a nearby internment camp. And then his mother starts telling him the truth about his father, whose ship has gone down somewhere in the Pacific. What will happen when he can't run away, anymore? [Racism; Friendship; Grandparents; Faith; Family problems; Young adult fiction; Baseball, World War 2; Japanese Americans; Historical fiction]
  Ibbotson, Eva. The Dragonfly Pool.
Kerr, M.E. Slap Your Sides.
Kerr, Philip. The Winter Horses. New York: Alfred A. Knopf, 2014.
Kalinka, a Jewish orphan girl, hides from Nazi soldiers during the winter of 1941. On the wind-blown plains of the Ukraine, she meets an elderly man and two wild horses who help her flee from danger. This fascinating story of the rare Przewalski horses will intrigue readers who enjoy historical fiction. While the novel is somewhat awkwardly written – as if the author is explaining the story rather than letting it come to life – it nevertheless provides a unique perspective on World War 2 and so is recommended for readers 11 to 16 years of age.
Kadohata, Cynthia. A Place to Belong. New York: Atheneum, 2019.
Twelve-year-old Hanako, her younger brother, and her parents have been incarcerated in internment camps ever since the bombing of Pearl Harbor in 1942. Although the war is now over, her family is still not wanted in America, so her parents give up their American citizenship and move to Japan. Her grandparents are overjoyed to see them, but Hanako doesn't feel at home. She is too American to blend into Japanese life. And the poverty is overwhelming.
This 399-page novel is an outstanding addition to the historical fiction genre. The facts of post-war Japanese life are smoothly embedded in an emotionally powerful story – with an unerring sense of voice – highly recommended for competent readers 11 years old and up.
P.S. This is a superb novel for a small group study. Numerous thought-provoking sentences will promote connections between the story and readers' own lives…
"'When I walked away last time…I never looked back….I was scared it would make me change my mind'" (90).
"'…you must forgive….I see and hear many bad in world, many bad….but there is also many good. So we move forward in life, neh? When we can, we move forward'" (105).
"This was the thing about being spoiled: you had to rise above it" (136).
"There was not enough; this was a fact. The world was filled with facts that could not be changed. She had learned this during their camp days. There were many, many, many facts" (158).
"'Maybe same thing make you sad, make Japanese children happy'" (189).
"'You did the right thing….You may cry. But don't forget that you did the right thing'" (204).
Kogawa, Joy. Naomi's Road. 
Kogawa, Joy. Obasan.
Lisle, Janet Taylor. The Art of Keeping Cool. Aladdin Paperbacks, 2000.
"There are people in this world who are naturally open and easy to get to know, and there are difficult people, the ones who put up barricades and expect you to climb over them" (p. 8). Robert, his sister and his mother are staying with his paternal grandparents in Rhode Island while his father is fighting overseas. But all sorts of secrets surround Robert. Why is his cousin Elliot so different than anyone else? Why won't his grandfather let anyone talk about Robert's father? Why won't his mother write and tell his father that they've left the family farm in Ohio? Who is the German artist living in the woods? And what is art, anyway? Set in 1942, this Scott O'Dell Award winning novel is for readers eleven years old and up.
Lord, Bette Bao. In the Year of the Boar and Jackie Robinson. (AR 4.6)

Lowry, Lois. Number the Stars. 
Magorian, Michelle. Goodnight Mister Tom.
Mah, Madeline Yen. The Chinese Cinderella. 
Matas, Carol. After the War.
Matas, Carol. Greater than Angels. 
Matas, Carol. Daniel's Story.  Lisa.  Jesper.
Daniel's Story by Carol Matas (Simon and Schuster Books, 1993) is the story of Daniel, a Jewish boy living during the Holocaust. Daniel, scared and captured, has lost almost everything important to him. He and his father are struggling to survive this harsh time and hoping it will end soon. Daniel becomes weaker but he and his father survive, although his mother and sister do not. What would have happened if they had been caught earlier and so spent longer locked up? (Megan in grade eight)
My class is currently doing a novel study on a book by Carol Matas: Daniel's Story. It is about a Jew going through the Holocaust and has details of what was done to Jews and facts that I can guarantee you never knew. This story will keep you wanting more because Daniel and others must take constant risks to survive. Not everyone lives. This novel may be sad, but there are some happy parts. This novel is also full of determination, love and hope. It is very different from other books about children going through war. I DARE YOU to read it and see if you like it! (Laura in gr. 7)
McDonough, Yona Zeldis. The Bicycle Spy. New York: Scholastic Press, 2016.
Twelve-year-old Marcel – riding his bicycle and dreaming of racing in the Tour de France – discovers that he is delivering more than bread from his family's bakery. He is delivering secret messages that must be kept hidden from the German soldiers who have invaded France. Set in 1942, this suspenseful novel – with widely spaced lines and relatively large print – will appeal to readers 10 years old and up. 
McSwigan, Marie. Snow Treasure. New York: Puffin Books, 2004, c1942.
"In 1940, when the Nazi invasion of Norway reaches their village in the far north, twelve-year-old Peter and his friends use their sleds to transport nine million dollars worth of gold bullion past the German soldiers to the secret harbor where Peter's uncle keeps his ship ready to take the gold for safekeeping in the United States."  – CIP. A classic novel for readers 10 to 14 years of age.
Morpurgo, Michael. The Amazing Story of Adolphus Tips. HarperCollins, 2005.
Twelve-year-old Lily Tregenza's family is evacuated from their seaside Devon farm in 1942 because the army wants to use the village to practise for the D-Day invasion of France. But Lily's cat doesn't want to relocate and keeps running back to the farm. So Lily goes after him. She makes new friends with an evacuee from London and a soldier from America and discovers that life is full of unexpected surprises. This heart-warming novel by a well-known British writer will be appreciated by readers of almost any age. 
Morpurgo, Michael. The Day the World Stopped Turning. New York: Feiwel and Friends, 2019.
A teenager, tired of his studies in England, travels to France where he discovers a story from the second world war: An autistic boy and a Roma girl had met in a village and become friends. But when German soldiers had invaded, their lives were in danger. All Morpurgo's novels are competently written, but most are for younger readers. In contrast, this sophisticated coming-of-age novel is highly recommended for thoughtful readers 12 years old and up. [Autism; Flamingos; France; Human-animal communication; Roma; World War 2]
Morpurgo, Michael. An Eagle in the Snow. London: HarperCollins Children's Books, 2016, c2015. 
"The powerful new novel from the master storyteller – inspired by the true story of one man [ – Henry Tandey – ] who might have stopped World War II. 1940. The train is under attacks from German fighters. In the darkness, sheltering in a railway tunnel, the stranger in the carriage with Barney and his mother tells them a story to pass the time. And what a story. The story of a young man, a young soldier in the trenches of World War I who, on the spur of the moment, had done what he thought was the right thing. It turned out to have been the worst mistake he ever could have made – a mistake he must put right before it is too late…" – CIP. Illustrated by award-winning Michael Foreman. Highly recommended for readers 11-years-old and up.
Morpurgo, Michael. Half a Man. Somerville, Mass.: Candlewick Press, 2015, c2006.
"Follows the experiences of a young man who after years of being told not to ask his World War II veteran grandfather about his injuries learns how his grandfather survived a torpedo attack on his ship." – CIP. A short, simply illustrated haunting novel recommended for readers 9-years-old and up. [Grandparent and child]
Morpurgo, Michael. Kensuke's Kingdom. Egmont, 1999.
Eleven-year-old Michael, his parents and his dog, Stella, are off on an adventure. They are going to sail around the world.  Around Africa, around Australia, all is going well until a storm strikes. Michael and Stella are washed overboard. And then the Robinson Crusoe adventure starts: survival on a tropical island, alone apart from an old Japanese man, a survivor of World War II.  Will Michael ever be reuinited with his family?  Will Kensuke ever go home to Japan?  If you enjoyed Hatchet by Gary Paulsen, try this survival novel by a well-known British writer.
Morpurgo, Michael. Waiting for Anya. 
Nobleman, Marc Tyler. Brave Like My Brother. New York: Scholastic Press, 2016.
Only 100 pages long, this easy-to-read novel is printed in a large font with lots of space between the lines and large margins. And each chapter is only 4 pages long. Actually, each chapter is a letter. Yes, a letter. And the novel is a series of these letters. The first and the last letter are from Charlie, writing to his older brother, Joe, a soldier sent to England during World War II. All the others in between are letters from Joe, writing to tell of his experiences during the days leading up to D-Day, the Allied invasion of France.  [Brothers; Bullying; Courage; England]
Nolan, Han. If I Should Die Before I Wake.
Orlev, Uri. Lydia, Queen of Palestine.
Orlev, Uri. Run, Boy, Run. Boston: Houghton Mifflin, 2003.
Park, Linda Sue. When My Name was Keoko. 
Paulsen, Gary. The Cookcamp.
Paulsen, Gary. The Quilt.
Pausewang, Gudrun. Dark Hours. Toronto: Annick Press, 2006.
Sixteen-year-old Gisel and her younger siblings flee Russian soldiers during a cold winter in World War 2. Trapped underground after an air raid, Gisel calls on all her courage and ingenuity to enable them to survive. Brilliantly written by an award-winning German author and translated by John Brownjohn, this young adult novel is highly recommended for competent readers 12 years old and up.
Pausewang, Gudrun. Traitor. Andersen Press, 2004.
Living in the German countryside with her grandmother, Anna finds an escaped Russian prisoner of war hiding in the barn. Instead of turning him over to the police, she helps him. She secretly takes him to an abandoned bunker in the woods and brings him food and supplies. Meanwhile, her younger brother Felix proudly proclaims that he wants to find the missing prisoner.  Will the prisoner escape over the border into Czechoslovakia or will he be caught?  This novel is for mature readers eleven years old and up.
Pearson, Kit. The Sky is Falling. 
Pearson, Kit. Looking at the Moon. 
Pearson, Kit. The Lights on On Again. 
Peck, Richard. On the Wings of Heroes. 
Pelgrom, Els. The Winter When Time was Frozen.
Preus, Margi. Village of Scoundrels: Based on a True Story of Courage during WWII. New York: Amulet Books, 2021.
During World War 2, brave villagers in Les Lauzes, France shelter refugees and the people leading them to safety in Switzerland. This quickly-paced novel does not hide the brutality of the Nazi occupiers. Danger is ever present. But there is also humour and joy and hope among the children and young adults setting out to fool the German Gestapo. Includes an epilogue with photographs and biographies of what happened to the real people in the story. Highly recommended for readers 11 to 14 years of age. 
Ravel, Edeet. A Boy Is Not a Bird. Toronto: House of Anansi Press/Groundwood Books, 2019.
Eleven-year-old Natt's comfortable life comes to an end when Russian soldiers invade his eastern European town during the summer of 1940. Hebrew schools are closed. Markets are shut down. Homes are confiscated. At first, Natt tries to cheerfully adjust to the Soviet occupation. But when food becomes scarce, his father is arrested, and he and his mother are put on a cattle train headed for Siberia, his perspective changes. He recalls his father's words: During a war, every day you can stay alive, you are a hero. Based on the true story of the author's fifth grade teacher, this vivid 221-page novel is highly recommended for mature readers 11 years old and up.
P.S. Readers of Breaking Stalin's Nose by Eugene Yelchin may wish to compare how the two main characters – Natt and Sasha – both stop admiring Stalin after their fathers are inexplicably arrested.
Reiss, Johanna. The Journey Back. 
Reiss, Johanna. The Upstairs Room. 
Richter, Hans Peter. Friedrich. 
Richter, Hans Peter. I Was There.
Rinaldi, Ann. Keep Smiling Through. 
The Sniper, by Rick Riordan (Frances Lincoln, 2008), was a thrilling book about a girl called Tania who grew up in Stalingrad, Russia in WW 2. Her father was a sniper for a general in the war, and she was trying to get her family out of the city until she was told at school that she had to work on anti-aircraft guns and try to shoot down the Nazi planes that were flying over the city. Later, the policemen of the city sent her to the general and he put her in a group of snipers trying to defeat Hitler's army. What happens in the end? Read this exciting book to find out! (Dane in gr.  7)
Ryan, Pam Muñoz. Echo: a novel.  New York: Scholastic Press, 2015.
"Lost in the Black Forest, Otto meets three mysterious sisters and finds himself entwined in a prophecy, a promise, and a harmonica–and decades later three children, Friedrich in Germany, Mike in Pennsylvania, and Ivy in California find themselves caught up in the same thread of destiny in the darkest days of the twentieth century, struggling to keep their families intact, and tied together by the music of the same harmonica." – CIP. A Newbery Honor book highly recommended for readers 10 years old and up. 
Rylant, Cynthia. I Had Seen Castles. New York:  HarperCollins, 1993. 
Going to die, going to die, he thought. Sounds of bombs, screams, and death fill the air as a young 18 year old man named John takes on the war. Taking place in Pittsburg, Pennsylvania in 1939, John is 16 years old and living a normal life until the Japanese army attacks Pittsburg. Buildings are demolished and there are many dead. The "18 and older" war sign-ups are posted throughout the town. John's friend Tony can't wait until his 18th birthday so he can use guns and be of help his country. John fears the day that he turns 18 as he is fearing death.
Two years later, as he tripped off the bus, John sees the prettiest girl in school: Ginny. She is of medium build with dark black hair, brown eyes and as John puts it, " drop dead gorgeous ". Ginny gives John a hand up, they meet and decide to walk home together. John has no clue what to say until Ginny turns away to take a separate road home. John rushes to ask her out to a movie, he gives a big sigh as Ginny simply replies, "Yes". When John goes to pick Ginny up at her house to go to the movies, he knocks on the door and Ginny's mother answers the door. She tells John that "Ginny isn't ready and she's in her room". John steps inside and is surprised to learn that they are actually living in a storage unit and Ginny's room is a closet. John feels embarrassed for the family and sad for Ginny. John's friend has already joined the army and is on the first bus out. John is puzzled with his friend Tony's decision. Why go to war and get shot, injured or possibly die? Only one good thing can come from war, a free country. John is scared for his friend and fears his death. After dating Ginny for only two months they fall deeply in love. They want to spend the rest of their lives together. At one point John will have to bring up that terrible word …….. WAR!! John asks Ginny out on their sixth date and they are having a great conversation until John suddenly blurts out the word "war"! "What?" asks Ginny. "War" she yells. They argue for hours until restaurant closing time about whether or not John should go to war. John faces the biggest conflict of his life, whether to go to war and serve his country and be a hero, or to be safe and stay at home and be considered a coward. Two days later, John gets a call from the sergeant saying his close friend Tony has been killed. John feels a part of him has died. Ginny and John decide to separate over the phone and John registers for the war. They agree that after John serves his time in the war, they would find each other marry and move to Paris.
John is on his way to his station on the bus, he arrives at his camp. He is assigned a bed, a very uncomfortable bed. He drops his belongings on the rock hard mattress then sits down and cries. On John's first day on the battlefield, he already can't stand the smell and the sounds. Lying down in a trench, watching men beside him being blown away by the explosions. All he hears are gunshots, yells and screams.
One year later, after serving his time at war, John came home to Pittsburg and began looking for Ginny. His search lasted for 8 years, then in 1953 he moved to Paris by himself. Would John ever find the love of his life again? Will he live out his time in Paris alone without Ginny?
I enjoyed this book very much, and I found it to be one of the best books I have ever read. I give this book a 10 out of 10. If you like historic war stories, action and romance, I suggest "I Had Seen Castles" by Cynthia Rylant. (Jayson in gr. 6)
Did you know that Pearl Harbor put a lot of stress on the Japanese people? Most of the Japanese kids who lived in Hawaii were bullied at school after the bombing. Did you know that people who had a Japanese flag at the time of Pearl Harbor were considered low class? Under The Blood-Red Sun by Graham Salisbury (Dell Laurel-Leaf, 1994) tells all sorts of very interesting facts about Pearl Harbor. I learned that Japanese fishermen had their boats trashed by non-Japanese people, and all the white people were considered "rich." This book shows great history of the Japanese people's past that I think we should all know and learn about. (Matthew in grade eight) 
Savit, Gavriel. Anna and the Swallow Man. New York: Alfred A. Knopf, 2016.
"When her university professor father is sent by the Gestapo to a concentration camp, seven-year-old Anna travels the Polish countryside with the mysterious Swallow Man during World War II." – CIP. So much has to be inferred in this story told from the third person point of view but only revealing the thoughts of the main character. This imaginative novel is highly recommended for competent readers 12-years-old and up.  [Poland; Runaways; Survival; WW 2]
Sepetys, Ruta.  Between Shades of Gray. New York: Philomel Books, 2011.
"In 1941, fifteen-year-old Lina, her mother, and brother are pulled from their Lithuanian home by Soviet guards and sent to Siberia, where her father is sentenced to death in a prison camp while she fights for her life, vowing to honor her family and the thousands like hers by burying her story in a jar on Lithuanian soil. Based on the author's family, includes a historical note." – CIP.  Due to the vivid description of some scenes, this novel, while highly recommended, is more suitable for mature readers in grade 8 and up. It may also be appreciated by readers of The Diary of Anne Frank and The Upstairs Room. [Historical fiction; Labor camps; Lithuania; Russia; Siberia; Survival; WW 2; Young adult fiction]
Sepetys, Ruta. Salt to the Sea. New York: Philomel Books, 2016.
Fleeing the invading Russian army near the end of the war, refugees try to escape aboard a military transport ship transporting German evacuees. Told from alternating points of view and based on the true story of the Wilhelm Gustloff, this award-winning 389-page emotion-laden novel is highly recommended for mature readers 13-years-old and up. [Germany; Historical fiction; Poland; Refugees; Survival; WW 2; Young adult fiction]
Skrypuch, Marsha Forchuk. The War Below. New York : Scholastic Press, [2020].
Luka – having escaped from a  Nazi labour camp and on the run – desperately wants to return to his home in Kyiv, Ukraine. Hiding in a forest, he meets Martina, also on the run from Soviet and Nazi soldiers. Based on actual events, this fast-moving 240-page novel – originally published as Underground Soldier in 2014 – tells the story of how two young people become involved with the Ukrainian Insurgent Army fighting for Ukraine's independence in 1943. Readers 11-years-old and up who are interested in learning more about Ukraine and its history will be amazed at all the details in this novel by an acclaimed Ukrainian Canadian writer. 
Smith, Dan. My Brother's Secret. New York: Chicken House, 2015.
Set in 1941 Germany, this story depicts the changes that happen when twelve-year-old Karl realizes that life is not so simple. After his father is killed on the Eastern Front and his family goes to live with his grandparents, he starts to see life differently. Is Hitler really a hero? Are the Nazis noble soldiers? Is his older brother Stefan's decision to join an underground movement courageous? Does he himself have the courage to stand up against everything he has been taught at school? This novel by an award-winning British writer is recommended for readers 12 years old and up. P.S. Every novel published by Chicken House is worth checking out. Every story is well-written and memorable for its hope in the face of hardships.  [Brothers; Germany; Historical fiction]
Spinelli, Jerry. Milkweed.
Stuchner, Joan Betty. Honey Cake.
Terlouw, Jan. Winter in Wartime. New York: New York Review Books, 2020.
Fifteen-year-old Michiel has lived through four years of war. He spends his days running secret errands on his bicycle and avoiding the Allied bombers flying overhead and the Nazi soldiers occupying his town. When he learns that a wounded British pilot is hiding in the woods, he starts secretly bringing him food and supplies. When the villagers are blamed for the death of a German and his father is shot in revenge, he starts to distrust everyone. Who murdered that German soldier? Who is watching him? When will soldiers come for him?
This 220-page novel based on the author's own childhood has been in print in the Netherlands for almost fifty years. Translated from the Dutch by Laura Watkinson, it is highly recommended for mature readers 11 to 17 years old who enjoy action-oriented, fast-paced stories.  
Taylor, Theodore. The Bomb. 
Thor, Annika. A Faraway Island. Delacorte Press, 2009.
Twelve-year-old Stephie and eight-year-old Nellie are sent away from their parents in Austria to live with strangers in Sweden in 1939 . Nellie lives with a happy loving family, but Stephie does not. Nellie has fun at school, but Stephie does not. Stephie wants her parents to come, but they do not. Based on the experiences of children sent to safety in Sweden during the war, this novel will appeal to readers 11 to 14 years old. [Sweden; WW 2; Jews; Immigration; Foster children; Loneliness; Bullies; Sisters; Historical fiction; Courage; Refugees]
Thor, Annika. The Lily People. New York: Delacorte Press, 2011.
In this sequel to 'A Faraway Island', thirteen-year-old Stephie moves to the city to live with a foster family so she can go to high school. [Sweden; W W 2; Jews; Foster children; Love; Historical fiction; Schools; Refugees; Friendship]

Uchida, Yoshiko. Journey to Topaz.
Vos, Ida. Anna is Still Here. 
Walters, Eric. Caged Eagles. 
Walters, Eric. Camp 30.
Watts, Irene N. Finding Sophie.
Watts, Irene N. Remember Me.
Whelan, Gloria. Burying the Sun. 
Whelan, Gloria. Summer of the War. HarperCollins, 2006.
Fourteen-year-old Belle spends her summers with her grandparents on Turtle Island, Michigan. But during the summer of 1942, her older cousin Caroline arrives and trouble starts. Caroline prefers cities and scorns rural life. She also prefers to spend her time with Ned, who no longer seems to notice Belle, at all. This quiet novel about the effects of the war will appeal to girls 12 to 15 years old.
Night by Elie Wiesel (Hill and Wang, 2006) is the story of Elie, a Jewish teenager, who was taken with his family from his hometown and forced to live in the Auschwitz concentration camp and later at Buchenwald. Conditions at the concentration camp were horrific. On the first night, he watched in horror as his mother, sister and other woman and children were thrown into a fire to burn to death. The men were kept alive to work, living on only a small ration of bread and water once a day. As I read Elie's story, I could feel the pain and sadness of the people in the concentration camp. The men turned into objects with no feeling or hope. They were prisoners, just waiting to die. Then on April 10, "at six o'clock that afternoon, the first American tank stood at the gates of Buchenwald." Freedom at last! I learned that there is always hope, to not to give up when times are tough, to fight to live at all costs. The difficult living conditions that Elias and so many others had to endure, makes me appreciate how fortunate we are. The chances of the Jews surviving were like finding a needle in a haystack, yet some lived to tell their story! (Natalie in grade eight)  [For mature readers, this Nobel Peace Prize winning autobiography can lead to discussions of how to address evil without losing one's own humanity.]

Williams, Laura E. Behind the Bedroom Wall. 
Wilson, Budge. The Christmas that Almost Wasn't.
Wilson, John. Flames of the Tiger.
Winter, Kathryn. Katarina. (AR 4.1)
Wolf, Joan M. Someone Named Eva.
Yolen, Jane. The Devil's Arithmetic.  New York : Viking Kestrel, 1988.
    Have you ever felt confused, as if you thought you knew something but you realized it was never true, yet you could have sworn you remembered it so perfectly, only you were wrong? Have you ever felt trapped, like you're stuck in quick sand and all you want to do is run, but your fear is sinking you further and further down? Then you know some of the horrific emotions the main character felt in this novel. Hannah, in the beginning of this book was at a dinner with her family and had opened the front door of her apartment to find herself in a new time zone, a new house, with a new family. She didn't understand what happened or how it happened so fast. She looked different and she didn't recognize any of the people surrounding her that seemed to replace all of her familiar family members. She was confused of what had happened. Over time, this old family of hers, her old house, her old life had slowly faded away from reality, to a memory, to occasional flashbacks, to only dreams. Her confusion had convinced her own brain that her memory was nothing but a fantasy. Yet once she got so deep into her new life, then once she had died in her new life, she realized that life was not her own. The fantasy of her old self had come back and what used to be a dream became reality once again almost as if time had never passed. She found herself in her apartment with the familiar faces she remembered were family, and looking out the front door as she remembered doing once before. Hannah couldn't have been more grateful to see her real family again, yet so confused about what had happened.
     In this novel Hannah was also feeling trapped. When she was in her new life, Hannah and her new family had been sent to a concentration camp. That was where I believe Hannah felt trapped, as she was being held hostage by soldiers she was forced to shave her head, sleep on wooden shelves, eat little food with the same bowl every day, and work 24/7 to earn the right to live. Hanna's fear of the soldiers, the fear of death was only making her feel more unable to run away or stand up to any of the people in charge. She was only obeying because she felt she had to. Just like you feel you have to stand still in quicksand so you don't sink down any faster, Hannah was obeying so the soldiers wouldn't think she was useless and put her in the gas ovens sooner. This book has no end of these horrific emotions. What do you think Hannah should do? Read this intense and compelling novel to find out. (Fallon in grade eight)

Zusak, Markus. The Book Thief.
Find stories about wars after WW2: Post WW2