Some picture books encourage us to see life from different points of view.
Some novels are told from different points of view.
Adlington, L.J. Burning Mountain. London: Hodder Children's Books, 2010.
Fifteen-year-old Denise and her younger brother Craig discover that the past isn't really over in this novel that alternates between the present-day and the 1940s. [WW 2; England; Italy; Soldiers; Afghanistan]

Cooney, Caroline B. Among Friends. New York: Laurel-Leaf Books, 1996, c1987.
[Friendship; High school]
Creech, Sharon. The Great Unexpected. New York: Joanne Cotler Books, 2012.
[Ireland; Foster children; Orphans; Poverty; Inheritances; Forgiveness; Friendship; Humorous stories; Magic]

Edwardson, Debby Dahl. Blessing's Bead. New York: Farrar, Straus and Giroux, 2009.
[Alaska; Cold War; Historical fiction; First Nations; Inupiat; Grandmothers; Family life; Village life; Influenza; Alcoholism]

Falatko, Julie and Gabriel Alborozo. Yours In Books. Petaluma, CA: Cameron Kids, an imprint of Cameron + Company, 2021.
Owl is tired of all the visitors disturbing the peace and quiet of his life in the forest. So he writes a letter to Squirrel, the owner of a bookstore, to request a book on how to soundproof his home. Squirrel replies. Unfortunately, that book is out of stock. How about a different book? And so begins a correspondence, a friendship, and a slow realization that perhaps guests aren't so awful, after all. Perhaps a party, even, could be fun. An absolutely brilliant picture book. Highly recommended for anyone of any age who would enjoy some light-hearted humour! 
P.S. The book titles in the story hilariously summarize the relationship between Owl and Squirrel. After reading the book, you might like to summarize your own relationships with friends by making up imaginary book titles.
Fleischman, Paul. Seedfolks. New York: HarperCollins, 1997.
[City life; Neighbourhoods; Friendship; Gardens]

Freedman, Deborah. This House, Once. New York: Atheneum Books for Young Readers, 2017.
Before your house was a house, what was it? Trees. Rocks. Mud. Sand. This elegantly illustrated picture book will intrigue readers and listeners 5 years old and up.
(If you like to analyze books, notice how the colour and style of the font complement the colour and size of the illustrations, creating a reflective tone that matches the mood of the story.)

Giles, Gail. Playing in Traffic. New York: Simon Pulse, 2006.
"Shy and unremarkable, seventenn-year-old Matt lathrop is surprised and flattered to find himself signaled out for the sexual attentions of the alluring Skye Colby, until he discovers the evil purpose behind her actions." – CIP  Recommended only for mature readers in grade 8 and up. Told from alternating points of view.  [Family problems; Murder; Parent and child; Suspense]
Giles, Gail. Shattering Glass. New York: Simon Pulse, 2002.
"When Rob, the charismatic leader of the senior class, turns the school nerd into Prince Charming, his actions lead to unexpected violence." – CIP  Told from alternating points of view. Recommended only for mature readers ready to see the insidious and tragic effects of a culture of entitlement. Could be compared to novels of racism and prejudice set in the 1950s.
Haddix, Margaret Peterson. Turnabout. New York: Simon & Schuster Books For Young Readers, c2000.
[Science fiction; Secrets; Friendship; Aging; Memory; Runaways]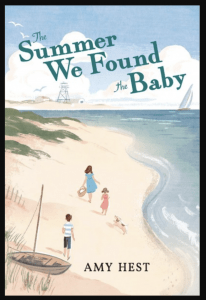 Hest, Amy. The Summer We Found the Baby. Somerville, Massachussets: Candlewick Press, 2020.
Eleven-year-old Julie and her six-year-old sister Martha find a baby on the steps of the local library. Twelve-year-old Bruno, running away from home, sees them take the baby and wonders: Are they kidnapping it? Where are they going? He follows and so starts this quiet heart-warming story set in a beachside community in New York State during WW2. Told in three voices, this poignant novel – in an easy-to-read font with widely spaced lines and short chapters – will appeal to reflective readers 9 to 12 years old. 
By the way, all stories by Amy Hest are worth reading, especially for readers up to 12 years of age. All books by Candlewick are worth picking up.
High, Linda Oatman. One Amazing Elephant. New York: Harper, 2017.
All sorts of surprises await twelve-year-old Lily when she leaves her father in West Virginia and travels to Florida to attend the funeral of her grandfather. She stays with her grandmother in a circus community. She spends time with her mother, a trapeze artist. She makes a new friend, Henry Jack. And she discovers that her grandfather's beloved elephant, Queenie Grace, is not frightening after all. This 258-page novel told from alternating points of view is a surprising delight, a heartfelt story of finding unexpected love. Highly recommended for animal lovers 11 to 15 years old. [Circus; Elephants; Florida; Friendship; Grandparents; Grief; Love; Mothers and daughters] 
Hitchcock, Bonnie-Sue. The Smell of Other People's Houses. New York: Wendy Lamb Books, 2016.
Abandonment. Loneliness. Grief. Friendship. The lives of four Alaskan teenagers – Ruth, Dora, Alyce, and Hank – overlap in this coming-of-age novel set in 1970. A strong sense of place and a captivating sense of voice make this an outstanding story for thoughtful readers 13 years old and up. [Alaska; Friendship; Grief; Parent and child]
Kass, Pnina Moed. Real Time. New York: Clarion Books, 2004.
"Sixteen-year-old Thomas Wanninger persuades his mother to let him leave Germany to volunteer at a kibbutz in Isarel, where he experiences a violent political attack and finds answers about his own past" – CIP  Recommended for readers in grade 8 and up. [Israel; Holocaust; Arab-Israeli conflict; Voyages and travels; Terrorism]
Kephart, Beth. Going Over. San Francisco: Chronicle Books, 2014.
"In the early 1980s Ada and Stefan are young, would-be lovers living on opposite sides of the Berlin Wall–Ada lives with her mother and grandmother and paints graffiti on the Wall, and Stefan lives with his grandmother in the East and dreams of escaping to the West." – CIP. Told from alternate points of view, this fast-moving novel is recommended for readers in grade 8 to 10. [Berlin; Germany; Graffiti; Historical fiction; Love stories; Young adult]
Korman, Gordon. Schooled. Toronto: Scholastic Canada, 2007.
"Told from the point of view of various characters, the novel tells of thirteen-year-old Cap's adjustment from home schooling to life in a middle school." – CIP. [Bullying; Grandmothers; Hippies; Middle schools; Home-schooling; Humorous stories; Misfits]
Lowry, Lois. Son. Boston: Houghton Mifflin, 2012.
The last in The Giver series about a futuristic society. [Mothers and sons; Voyages and travels; Good and evil; Young adult fiction]
Marsh, Katherine. Nowhere Boy. New York: Roaring Brook Press, 2018.
Thirteen-year-old Max is not happy when his family moves to Brussels, Belgium for a year. He is even less pleased when he has to attend a local school – with instruction all in French – while his older sister is allowed to attend an international school. Worse yet, he has to repeat the sixth grade. But life changes when Max discovers a fourteen-year-old refugee, Ahmed, hiding in the basement. Told in alternating points-of-view, this 362-page suspenseful novel – set in the days following the 2016 Paris bombings – provides a heart-rending yet hopeful picture of life for survivors of war. Highly recommended for readers 11 years old and up. 
Mass, Wendy. Every Soul A Star. New York: Little, Brown and Co., 2008.
"Ally, Bree, and Jack meet at the one place the Great Eclipse can be seen in totality, each carrying the burden of different personal problems, which become dim when compared to the task they embark upon and the friendship they find." – CIP. Recommended for imaginative readers 11 to 14-years-old. [Coming of age; Friendship; Moving, Household; Solar eclipses]
Matas, Carol. Sworn Enemies. Toronto: HarperCollins, 1993.
Two Jewish Russian boys from different social classes are conscripted into the czar's army where they face unimagined horrors. Told from alternating points of view, this memorable novel by an accomplished author is recommended only for mature readers in grade 8 and up.

Moriarty, Jaclyn. A Corner of White. New York: Arthur A. Levine Books, 2013.
"Fourteen-year-old Madeleine of Cambridge, England, struggling to cope with poverty and her mother's illness, and fifteen-year-old Elliot of the Kingdom of Cello in a parallel world where colors are villainous and his father is missing, begin exchanging notes through a crack between their worlds…" CIP  "'We must think outside of ourselves, Madeleine,' he'd say,… 'Live for others, not just yourself.'….'If you do not learn this thing,' her father used to say, 'people will give up on you. You only get so many chances'" (245-246). The cover is unfortunate. This novel is far better than the cover. Recommended for readers who enjoyed Inkheart by Funke, First Light by Stead or Alexandria of Africa by Walters. [England; Color; Fantasy fiction; Fathers and daughters; Fathers and sons; Friendship; Grief; Magic;  Missing persons; Princesses; Runaways]
Mourvelat, Jean-Claude. The Pull of the Ocean. New York: Delacorte Press, 2006.
Translated from the French, this intriguing novel is a modern-day version of Tom Thumb, although most readers will not notice the connection because the story does not sound like a fairy tale, at all. Seven brothers flee their family farm and set out to reach the ocean, convinced that their lives are in danger from their abusive parents. Suspense rises right to the very end of this novel told from alternating points of view. Useful for teaching point of view, it is an ideal read-aloud for grades 5-6 and a thoughtful story for imaginative readers aged 10 and up. [France; Twins; Brothers; Courage; Trust; Runaways; Mutism, Elective; Poverty; Style, Literary; Twins; Brothers]
Park, Linda Sue. When My Name was Keoko. New York: Clarion Books, 2002.
[Korea WW 2; Courage; Brothers and sisters]
Perkins, Lynne Rae. Criss Cross. New York : Greenwillow Books, 2005.
[Friendship; Summer; Dating (Social customs); Love; Newbery Medal]
Perkins, Mitali. Bamboo People. Watertown, Mass.: Charlesbridge, 2010.
[Burma; Fathers and sons; War stories; Courage; Survival; Refugees] 
Raschka, Chris. The Doorman's Repose. New York: New York Review Books, 2017.
What goes on in a New York City apartment building? What secrets are hiding behind all the doors? What goes on in the lives of little creatures – such as mice? How do the machines that keep the building running feel? This collection of 10 interconnected short stories – by an astonishingly talented storyteller –  will amaze and amuse readers 10 years old and up. 
Spinelli, Eileen. Jonah's Whale. Grand Rapids, Mich.: Eerdmans Books for Young Readers, 2012.
A wonderfully creative picture book version told from the point of view of the whale. 
Spinelli, Jerry. Jake and Lily. New York : Balzer + Bray, 2012.
Jake and Lily have always done things together.  They're twins, born eleven minutes apart on July 29th, and they've always enjoyed doing things together. But now that they are eleven years old, Jake is making new friends and Lily feels left out, not that she is going to tell him. Oh no, she will argue and fight and chase after the gang, trying to belong. Told in alternating chapters, some very short chapters, this humorous novel is recommended for readers 9 to 13 years old. [Brothers and sisters; Bullying; Friendship; Grandfathers; Individuality; Summer; Twins]

Wolitzer, Meg. The Fingertips of Duncan Dorfman. New York: Dutton Childrens Books, 2011.
[Scrabble (Game); Florida; Contests; Individuality; Fathers and sons]
Woodson, Jacqueline. Behind You. New York: G.P. Putnam's Sons, 2004.
[Death; Friendship; Love; Dating (Social customs); New York City; Grief; Death]

Zusak, Marcus. The Book Thief. New York: Alfred A. Knopf, 2006.
[WW 2; Death; Holocaust, 1939-1945; Books and reading; Jews; Storytelling; Germany]
You might like to think about these questions:
Are there discrepancies between the different points of view?
Is there one character you trust more than another?
How does more than one point of view enhance the story?
Click here to learn more about the advantages and disadvantages of various points of view in stories.
Click here to learn even more about point of view in stories.