Looking for a story about summer adventures?
Try these!
Almond, David. Harry Miller's Run. Somerville, Mass.: Candlewick, 2017, c2008.
Eleven-year-old Liam wants to get outside and start training for the big race coming up. But his mother wants him to help an elderly neighbour move into a nursing home. What starts out as a frustrating day turns into an amazing adventure as Liam listens to Harry tell about the great race he ran from Newcastle to South Shields when he was a young lad himself.
This joyous novella – by a multiple award winning author – reads like a true story. I kept checking the flyleaf to find out the historical background. There was nothing.  But this heart-warming story by a masterful writer will live in readers' memories as if it really happened to someone we ourselves must have met somewhere. Whimsical illustrations by Salvatore Rubbino – creator of picture books about London and Paris – add to the charm of this unpaged book highly recommended for readers 9 years old and up.  [England; Historical fiction; Memories; Races; Running]
Almond, David. Raven Summer.
All of Almond's novels are for readers with speculative minds. "What if. . ." is always the question that changes the course of what might have been a straight-forward realistic novel.  And in this novel, the question is "What if an abandoned baby leads to children who have lived through horrific acts of war? What shall we do? Send them back to their nightmares?" Since Almond is a British writer, some of the references will not be familiar to Canadian students. Nevertheless, this story full of surprises will intrigue readers aged eleven and up.
Arsenault, Isabelle. Albert's Quiet Quest. Toronto: Tundra Books, 2019.
Albert wants a place where he can read in quiet. But no matter where he goes, his friends arrive and rambunctiously  interrupt him. Finally, he blows up. What will happen now? This mostly wordless summer story will be appreciated by young readers looking for some peace and quiet of their own. [Books and reading; Solitude; Summer]
Avi. A Place Called Ugly.
14-year-old Owen refuses to leave his family's beach house that's about to be destroyed at the end of the summer.
Baker, Deidre. Becca at Sea.
Becca is surprised by an eccentric aunt, bossy cousins and all sorts of adventures when she is sent to live with her grandmother on an island off the coast of B.C. You could compare this story to 'Arthur, for the Very First Time' by Patricia MacLachlan.
Banerjee, Anjali. Seaglass Summer.
While spending the summer with her uncle in the Pacific Northwest instead of visiting relatives in India, eleven-year-old Poppy Ray discovers the life of a veterinarian isn't as glamourous as she'd expected. Readers of Becca at Sea by Deirdre Baker might comparing these two cheerful novels about independent and adventurous heroines.
Birdsall, Jeanne. The Penderwicks.
Four sisters, aged four through twelve, have adventures one summer while vacationing with their widowed father.
Blume, Judy. Fudge-a-Mania.
Pete spends an antic-filled summer vacation in Maine with his younger brother, Fudge.
Buitrago, Jairo. Cave Paintings. Toronto: Groundwood Books, House of Anansi Press, 2020.
A young boy – on summer vacation – travels across the universe to visit his grandmother on Earth. Stunningly beautiful full-page coloured pencil illustrations by Rafael Yockteng help tell this brilliantly imaginative story highly recommended for readers 7 to 12 years old. Translated from the Spanish by Elisa Amado.
P.S. A great introduction to a unit on space travel or the history of technology.
P.P.S. A lovely addition to a unit on stories from countries around the world. The author lives in Mexico and the illustrator in Columbia.
Bulla, Clyde Robert. Shoeshine Girl.
Sarah Ida is not happy to be spending the summer with her aunt. And her aunt isn't happy when she discovers that Sarah has been 'borrowing' money from her new friend. She decides it is time for her niece to get a job!
Cali, Davide. The Truth About My Unbelievable Summer. San Francisco: Chronicle Books, 2016.
What did you do this summer? A boy energetically responds with a wild tale of world travels.
The author of numerous picture books, including The Enemy: A Book about Peace, Cali excels in creating alternate visions of reality. Highly recommended for readers 7 to 11 years old.
Cooper, Susan. Over Sea, Under Stone.
Simon, Jane and Barney, on holiday with their parents in Cornwall, England, are pulled into an ancient fight for an Arthurian treasure with the forces of darkness determined to defeat them.
Crum, Shutta. Spitting Image. Clarion Books, 2003.
Twelve-year-old Jessie starts to discover how complicated life can be when a government volunteer comes to help the people in her Kentucky town. All Jessie wants to do is earn some money to help her friend Robert get new glasses. Instead, she hurts the people she loves and learns how to think before she acts in this bittersweet story set in the 1960s. (Poverty; Friendship; Family life; Violence; Marriage; Summer; Self-acceptance; Grandmothers)
Curtis, Christopher Paul. The Watsons Go to Birmingham – 1963.
The Watsons, an African American family living in Flint, Michigan, go to visit Grandma in Alabama in the summer of 1963 where their life unexpectedly changes.
Dyer, Hadley. Johnny Kellock Died Today.
Twelve-year-old Rosalie's teenaged cousin vanishes in Halifax during the summer of 1959, and while she and a friend search for him, Rosalie discovers family secrets.
Eckert, Allan W. Incident at Hawk's Hill.
Based on a true story, the Newbery novel tells of a little boy who wanders away from his home one day in 1870 and disappears. How does he manage to survive most of a summer all by himself except for a badger for companionship?
Enright, Elizabeth. Gone-Away Lake.
Portia and her cousin Julian have adventures while exploring abandoned summer houses around a swampy lake.
Friesen, Gayle. The Isabel Factor.
Anna ends up going to summer camp in the Gulf Islands without her best friend. How will she survive the counsellor-in-training programme without Zoe? Or will making new friends be the best thing that could ever happen to her?
Hahn, Mary Downing. Time for Andrew: A Ghost Story.
Drew, spending the summer with his great-aunt in the family's old house, travels eighty years into the past to trade places with his great-great-uncle who is dying of diphtheria.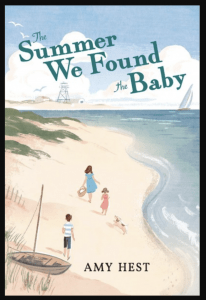 Hest, Amy. The Summer We Found the Baby. Somerville, Massachussets: Candlewick Press, 2020.
Eleven-year-old Julie and her six-year-old sister Martha find a baby on the steps of the local library. Twelve-year-old Bruno, running away from home, sees them take the baby and wonders: Are they kidnapping it? Where are they going? He follows and so starts this quiet heart-warming story set in a beachside community in New York State during WW2. Told in three voices, this poignant novel – in an easy-to-read font with widely spaced lines and short chapters – will appeal to reflective readers 9 to 12 years old. 
By the way, all stories by Amy Hest are worth reading, especially for readers up to 12 years of age. All books by Candlewick are worth picking up.
Hilmo, Tess. Skies Like These. New York: Farrar, Straus and Giroux, 2014.
"While visiting her eccentric aunt who lives in Wyoming, twelve-year-old Jade befriends a boy who believes his is a descendant of Butch Cassidy." – CIP. A lively story with the rhythm of a rollicking square dance, this 231-page novel is highly recommended for readers who love language and laughter. [Astronomy; Aunts; Dogs; Eccentrics and eccentricities; Friendship; Ranch life; Self-acceptance; Wyoming]
Hobbs, Valerie. Defiance. New York: Farrar Straus Giroux, 2005. 
Eleven-year-old Toby wants to have fun. His parents want to protect him from any possible danger. Toby has cancer. His mother wants him to stay close to their cabin in the country, out of the sun and away from anything that could cause him to get hurt or even tired. He wants to go exploring. So he does. He wakes up early in the morning, sneaks off on his bicycle, and meets an elderly neighbour, Pearl, and her old cow, Blossom. They become friends and life changes for Toby.This story is about growing up, about learning to think for yourself without thinking only about yourself. 
The reading level of this book is not difficult. There are only 117 pages and the lines on each page are spaced far enough apart to be easy on the eyes. But there is a lot to ponder in this story. So don't read it when you are in the mood for a quickly-paced humorous story. Read it when you have the time to slow down and consider this question: What is the meaning of life? [Cancer; Country life; Cows; Death; Friendship; Hope; Poets; Vacations]
Hobbs, Will. Leaving Protection.
Sixteen-year-old Robbie is proud to be old enough to work on a fishing boat off the coast of Alaska for the summer until the captain starts acting suspiciously. Maybe bad weather won't be the greatest danger on the ocean!
Horvath, Polly. The Canning Season.
Ratchet's mother doesn't want her around and so sends her to spend the summer with her eccentric great-aunts in Maine. But adventure, fun and and love surprise this unhappy thirteen-year-old.
Horvath, Polly. My One Hundred Adventures.
Twelve-year-old Jane lives at the beach in a run-down old house with her mother, two brothers, and sister. She spends the summer baby-sitting, meeting her mother's former boyfriends and making some astonishing discoveries about life.
Horvath, Polly. The Vacation.
Henry is left in the care of his aunts, Magnolia and Pigg, when his mother and father go to Africa.
Kent, Trilby. Medina Hill. Toronto : Tundra Books, 2009.
Eleven-year-old Dominic and his younger sister Marlo are sent from London to Cornwall to stay with their Uncle Roo and Aunt Sylv for the summer. Set in 1935, this detailed novel is filled with historical references which will appeal to readers ten-years-old and up who enjoy learning about the past by reading stories. [England; Family life; Friendship; Lawrence of Arabia; Mutism; Romanies; Summer; Vacations]
Korman, Gordon. The Discovery.
Four kids make a dangerous discovery during a summer deep sea diving trip in the Caribbean.
Laird, Elizabeth. Hiding Out.
Peter's parents have an argument while on holiday with friends in France. In the confusion and turmoil, Peter gets left behind when everyone heads for the ferry to go back to England.
Little, Jean. Somebody Else's Summer.
Two girls meet on a flight from Vancouver to Toronto and form a friendship despite their differences. Shy, book-loving Alexis is being sent to a farm to learn how to ride horses while her parents vacation in Australia, while athletic Samantha is being sent to stay with a family friend while her father travels to South America.
Lisle, Janet Taylor. Quicksand Pond. New York: Atheneum Books for Young Readers, 2017.
Twelve-year-old Jessie makes a new friend and discovers a decades-old mystery when she spends the summer with her family in a ramshackle Rhode Island saltbox. This 240-page novel by a skillful novelist is recommended for readers – 11 to 15 years old – who enjoy stories of friendship and secrets. [Family life; Individuality; Murder; Summer; Vacations]
Martin, Ann M. A Corner of the Universe.
Hattie spends the summer becoming friends with a girl who works at the carnival that has come town and getting to know her childlike uncle. And she begins to question the adults who think they know what is best for her.
McKinnon, Hannah Roberts. Franny Parker. New York: Farrar Straus Giroux, 2009. 
"Through a hot, dry Oklahoma summer, twelve-year-old Franny tends wild animals brought by her neighbors, hears gossip during a weekly quilting bee, befriends a new neighbor who has some big secrets, and learns to hope." – FVRL. A wonderful story of first love for readers 11 to 14 years old. [Artists; Coming of age; Droughts; Family life; Family violence; Farm life; Friendship; Neighbors; Wildlife rescue]
Mowat, Claire. The French Isles.
Andrea unexpectedly encounters mystery and romance and makes new friends during a summer on the islands of St. Pierre et Miquelon.
Naylor, Phyllis Reynolds. Alice In Rapture, Sort Of.
The summer before Alice enters the seventh grade, she discovers that love and boyfriends can be very confusing.
Naylor, Phyllis Reynolds. Shadows on the Wall.
Fifteen-year-old Dan, on a family holiday in York, England is overwhelmed by inexplicable feelings of dread whenever he visits some ancient landmarks.
Nickerson, Sara. The Secrets of Blueberries, Brothers, Moose & Me. New York: Dutton Children's Books, 2015.
Twelve-year-old Missy and her older brother Patrick convince their parents to let them get a job picking blueberries. But Missy acquires much more than money during the summer. She learns how people change. How life doesn't stay the same. And sometimes there is no one to blame. Sometimes things just happen.
This 323-page novel with a relatively large font and well-spaced lines of print is easy to read. It flows smoothly with lots of conversation and short paragraphs.
Some novels written from the first person point of view seem too self-centred. This story, though, suits this approach. The difficulties of adolescence, the frustrations of life, the slow change of perspective on life are all empathetically portrayed in this introspective story recommended for readers 11 to 14 years old.
O'Connor, Sheila. Sparrow Road. New York : G. P. Putnam's Sons, 2011.
Twelve-year-old Raine and her mother move to an artists' colony where Raine makes new friends, discovers her own creative talents and meets her father for the first time. (Fathers and daughters; Summer; Eccentrics and eccentricity; Mothers and daughters; Friendship; Creativity; Secrets)
Oppel, Kenneth. Starclimber.
Matt Cruse is looking forward to his summer in Paris, France with Kate de Vries, but life becomes even more exciting when the Canadian government offers to send the two of them on an expedition into space aboard the Starclimber.
Owen, John. One Summer Up North. Minneapolis: University of Minnesota Press, 2020.
A family of three journeys by canoe into the wilderness of northern Minnesota. The happy family enjoys camping by a lake, catching fish, and gathering berries, as they explore the beauty of nature in this wordless picture book for readers 6 to 10 years old.
Peck, Richard. Fair Weather.
In 1893, thirteen-year-old Rosie and members of her family travel from their Illinois farm to Chicago to visit Aunt Euterpe, and attend the World's Columbian Exposition.
Pendziwol, Jean E. Me and You and the Red Canoe. Toronto: Groundwood, 2017.
Early in the morning, two siblings make a fire and sit together, sipping hot chocolate. They gather their fishing gear, leave everyone else behind, and set off in a red canoe. Told in free verse and illustrated in acrylic on panel. Recommended for readers 7 to 14 years old. Useful, as well, for learning how to turn experiences into stories.  [Camping; Fishing; Summer; Canoes and canoeing] 
Perkins, Lynne. Criss Cross.
Debbie, Hector and Lenny discover that their friendships are changing during a hot summer when romances seem to be starting. 
Perkins, Lynne Rae. Pictures from Our Vacation. New York: Greenwillow Books, 2007.
What joy! A girl recounts a summer trip with her parents and brother to the family farm in Canada where she meets all sorts of relatives. How  intriguing! The words in the story never mention Canada, but the large map showing the journey marks the destination north of Lake Ontario. The words in the story also never name the main character or her brother, so readers can easily imagine themselves and remember their own family trips. How wise!  The girl reflects – at the end of the story – that the photographs she took with her new camera can't capture the most important parts of the journey: the stories she heard and the emotions she felt. Only her memories can really keep that vacation alive.
The design, the pen and ink and watercolour paint illustrations, and the text all work together to create a picture book for all ages.
Perkins, Mitali. Monsoon Summer.  New York: Delacorte Press, 2004.
Jasmine unwillingly leaves California when her mother decides the family should spend the summer helping at an orphanage in India. She misses her best friend Steve and has no interest in her mother's charitable projects. Of course, she changes her mind and all turns out well in this novel perfect for seventh to ninth grade students who want a story of adventure, mystery and romance. [California; India; Entrepreneurs; Mothers and daughters; Dating (Social customs); Friendship; Family life; Voyages and travels]
Riordan, Rick. The Lightning Thief.
Twelve-year-old Percy Jackson keeps getting in trouble at school. To complicate matters, he discovers he is a demigod, the son of a mortal woman and Poseidon, god of the sea. And when his mother sends him to a summer camp, he finds himself on a quest to save the world from the wrath of the gods.
Robertson, Keith. Henry Reed, Inc.
Henry and his friend Midge enthusiastically set up a research firm, start projects and make money during a summer vacation.
Sachar, Louis. The Cardturner.
It is Alton's summer before his senior year in high school. He has no job, no money and no girlfriend.  And his mother wants him to play bridge with a blind uncle in hopes that it will lead to an inheritance. Surprises are in store for mature readers who enjoy thoughtful and complex novels.
Scrimger, Richard. Into the Ravine.
Three boys build a raft and set off on adventures in a modern-day version of Tom Sawyer and Huckleberry Finn. [Ontario; Summer; Kidnapping; Friendship; Humorous stories]
Shreve, Susan. Under the Watsons' Porch. New York: Alfred A. Knopf : Distributed by Random House, 2004.
"Twelve-year-old Ellie's boring summer becomes exciting when she develops a crush on her new next-door neighbor, an older boy with a troubled past, whom her parents have forbidden her to see." – CIP. [Friendship; Summer]
Staples, Suzanne Fisher. The Green Dog.
Suzanne, a daydreamer who likes to fish and walk through the woods, enjoys spending time with her new dog during a summer vacation.
Taylor, Cora. Adventure in Istanbul.
Jennifer and Maggie, on a Mediterranean cruise with their grandmother and their friend Sam, race to save the life of their father who has disappeared somewhere in the Middle East.
Taylor, Cora. Murder in Mexico.
Maggie and Jennifer, on holiday in Mexico, are plunged into murder and intrigue and don't know if they'll ever get home again.
Tullson, Diane. Red Sea.
Fourteen-year-old Libby is unwilling dragged along on a sailing adventure with her mother and stepfather. Pirates attack, her stepfather is killed, and Libby has to find a way to save her mother.
Whelan, Gloria. Summer of the War.
Fourteen-year-old Belle spends her summers with her grandparents on Turtle Island, Michigan. But during the summer of 1942, her older cousin Caroline arrives and trouble starts. Caroline prefers cities and scorns rural life. She also prefers to spend her time with Ned, who no longer seems to notice Belle, at all. This quiet novel about the effects of the war will appeal to girls 12 to 15 years old.
Withers, Pam.  Camp Wild.
Wilf is resentful because his parents have sent him off to camp for another summer because they don't have time for him. So he steals a canoe and takes off down the river. But two other campers decide to come along and all three boys end up having a wilder ride than they'd expected. This short novel published by Orca is a quick read for sixth to ninth graders.
Wynne-Jones, Tim. Rex Zero and the End of the World.
Rex has just moved to Ottawa from Vancouver. It's the summer of 1962 and there are television reports about the possibility of nuclear war. How can he be expected to settle into a new home and make new friends when the world might end?
Your Responses and Reviews!
Leon and the Champion Chip by Allen Kurzwell is a wonderful novel to read. The main character, Leon, lives in a hotel with his mother who works there. Leon has been bullied by Henry for years, and Leon's about to put an end to that. While his two best friends are away at summer camps, Leon makes an animile that looks like Henry. Leon and his friends have tried numerous times to get it to work, but it has failed. They have noticed that they need another piece for it to work, but it costs a lot of money so they enter Leon in a contest with a prize of two hundred dollars. Leon does not win. However, an audience member wants to know his strategy and pays Leon money to know the secret. The friends use the money to buy the last piece for their animile, which should mean it will work perfectly. But will it work? Did they make the right choice on how to use the money? (Megan in grade eight)
Have you had a party where lots of people come over? Well, Abby Hayes has. Abby Hayes is a ten year old girl in fifth grade, a girl with bright red hair who wants a party for summer. She has to convince her parents, and she needs to make the invitations, but what about things to keep the guests occupied? She needs food, games, and more! Abby thinks that her room needs an upgrade, as well, so she goes and purchases some paint and paints everything purple! Her lamp, bookcase, chair, bureau, her desk and even her walls! But still, Abby worries that her party will be ruined by her sisters. Finally, Saturday comes and it's time for the party to begin. The Hayes family gets the last minute stuff ready. Abby's friends start to arrive. Abby's dad starts the hot dogs on the BBQ and they all eat. And then a disaster starts to happen! What will Abby do? Read The Amazing Days of Abby Hayes: The More The Merrier by Anne Mazer to find out. (Brittany in grade 7)
Camp Confidential Natalie's Secret by Melissa J. Morgan (Scholastic April 2005) is a very eventful and exciting story about Natalie Goode, an eleven-year-old city girl who has lived in the big city practically her entire life. Her mom has to travel to Italy to find new art pieces for her gallery, forcing Natalie to spend a whole eight weeks at a summer camp called Camp Lakeview. Most girls would love to have an experience like that: meeting new people, trying new things, exploring nature, having cook outs. A lot of girls would have a blast at camp, but Natalie has a whole different picture in her mind: these eight weeks are going to be pure misery. Much to her surprise, after a few weeks have gone by and she has gotten used to the routine, she starts to realize that the girls at Lakeview are not half bad, and since she is going to be here no matter what, she may as well make some new friends. Read this fun-filled novel packed with exciting adventures to find out all about Natalie's experiences at Camp Confidential. (Kylee in grade 7)
The Secret Identity of Devon Delaney by Lauren Barnholdt (Aladdin Mix, 2007) is the perfect story for girls in middle school. The main character is a girl named Devon who stays at her grandmother's house one summer while her parents are working out some problems at home. While at her grandmother's, Devon tells her new summer friend about an exciting fictional life, one that is not true at all but one that she hopes will impress her new friend. Devon and Lexi do become great friends. Devon is thrilled. However, summer ends and Devon has to go back to school where she is actually considered dull and unpopular. Therefore, you can imagine her shock when Lexi shows up in her classroom. Lexi's dad has been transferred! Oh no! How will Devon be able to untangle the web of lies she has created? Will Lexi embarrass Devon when she finds out the truth?  I enjoyed this book. I could picture the characters in my mind and see the story playing out like a movie. It reminded me to look inside people to see their true qualities and not judge them for what they wear or how popular they are. It showed me to never pretend to be someone I'm not but instead to be proud of who I am. And that's a truth we all need to remember. (Megan in grade 7)
One of my favorite books is The Secret Identity of Devon Delaney. One of these reasons are that this book is true to life so you know what the characters are talking about in the story. Secondly, the main character lies her way to a popular crowd and I find it interesting how many lies she comes up with and I admire that. The third reason is that the story has lots of packed drama.  The Secret Identity of Devon Delaney is one of my favorite books. (Emma)