Note that some young adult novels are suitable only for more mature readers.
Acheson, Alison. Mud Girl. Cotteau Books, 2006.
Sixteen-year-old Abi is lonely. Her mother left a year ago and her father rarely speaks. So when she finds a boyfriend, life seems so much happier. But Jude, in his twenties, already has a young son and he wants his relationship with Abi to go much further than she expected.
Avi. Nothing But the Truth. New York: Orchard Books, 1991.
An Newbery Honor Book about a ninth grader who likes to run. But when a failing grade takes him off the track team, he is sure his teacher is to blame. Parents, administrators, lawyers and the media all become involved.  But who is telling the truth? And who are the innocent people who are hurt?
Bauer, Joan.  Hope Was Here. Speak, 2000.
Hope moves to Wisconsin when her aunt takes a new job running a diner. Making new friends, learning more about her past, and learning how to fight for something all combine to create a new vision of the future for Hope.
Bauer, Joan. Best Foot Forward. New York : Putnam, 2005.
Jenna is busy running between school, Al-Anon meetings, and her job at a shoe store.  And life becomes more complicated when her boss, Mrs. Gladstone, hires another teenager: a boy on probation. Who can you trust in life? Can people really change? Readers in grades eight to ten will enjoy this humourous novel with a bit of romance and a lot of angst. [Stores; Old age; Shoplifting; Family problems; Work; Ethics]
Bloor, Edward. Crusader. New York: Harcourt, Inc., 1999.
"After a violent reality game arrives at the mall arcade where she works, fifteen-year-old Roberta finds the courage to search out the person who murdered her mother." – CIP  This award-winning novel is recommended for mature and competent readers in grade eight and up. [Courage; Cousins; Drug abuse; Fathers and daughters; Florida; Murder; Secrets; Shopping malls; Teenagers; Theft; Violence; Young adult fiction]
Bloor, Edward. A Plague Year. Knopf, 2011.
A ninth-grader who works with his father in the local supermarket describes the plague of meth addiction that consumes many people in his Pennsylvania coal mining town from 9/11 and the nearby crash of United Flight 93 in Shanksville to the Quecreek Mine disaster in Somerset the following summer. – CIP [Drug abuse; Young adult fiction; Schools; Pennyslvania; Coal mines and mining; Accidents; Secrets]
Bloor, Edward. Tangerine. Orlando, FL: Harcourt, Inc., 1997.
Paul wants to play soccer even though he is nearly blind, even though his father seems to have time only for his football-playing older brother, even though everything seems to be against him in his new school in Florida. He is tough, but is he strong enough to face the slowly-returning memories of what happened to damage his eyes?
Bodeen, S.A. The Gardener. New York: Square Fish, 2010.
"When high school sophomore Mason finds a beautiful but catatonic girl in the nursing home where his mother works, the discovery leads him to revelations about a series of disturbing human experiments that have a connection to his own life." – CIP.  Could be compared to Gem-X. [Fathers; Runaways; Science experiments; Secrets; Single-parent families]
Bronte, Charlotte. Jane Eyre.
Jane, an orphan in 19th-century England, grows up unwanted and unloved until she turns eighteen, takes a position as a governess and falls in love with the master of the house.
Brooks, Martha. Bone Dance. Orchard Books, 1997.
"After her father dies and she inherits a cabin in rural Manitoba, Alexandra meets a young man who shares her First Nations heritage and her ability to see into another world." – CIP. Highly recommended for mature readers 13-years-old and up. [Dreams; Manitoba; Parent-child relationship; Supernatural]
Brooks, Martha. Mistik Lake. Toronto: Groundwood Books, 2007.
"After Odella's mother runs off to Iceland with another man, Odella finally learns some of the many secrets that have haunted the family for two generations." Another recommended novel for mature readers 13-years-old and up. [Manitoba; Mothers and daughters; Sisters; Traffic accidents]
Budhos, Marina. Ask Me No Questions. Atheneum Books for Young Readers, 2006.
"Ask Me No Questions by Marina Budhos has taught me to look at things from a very different perspective. The novel talks about a teenage girl whose family has come to America from Bangladesh as illegal aliens. They struggle to keep their residency a secret but after 9/11, everybody who is Muslim seems dangerous, like possible terrorists. Nadira, a teenage girl feels, very out of place at school, at home, everywhere she goes. When her Abba – father – gets arrested and detained, everything gets even worse. Nadira and her sister Aisha are told to go home and continue on with their lives, but of course that is not possible. After all the lies and secrets, Nadira finally has the courage to get up and find a way to get her father free and her family back to normal. This is a story of hope, courage and perseverance." (Luisa in gr. 7)
Clements, Andrew. Things Not Seen. New York: Philomel Books, 2002.
When fifteen-year-old Bobby wakes up and finds himself invisible, he and his parents and his new blind friend Alicia try to find out what caused his condition and how to reverse it.
Cooney, Caroline B. They Never Came Back. New York : Delacorte Press, 2010.
"When fifteen-year-old Cathy decides to carpool from Norwalk to tony Greenwich, Connecticut, to study Latin in summer school, she does not expect the shocking events that occured five years earlier to suddenly come flooding back into her relatively settled life." – CIP [Abandoned children; Connecticut; Cousins; Foster children; Identity; Parent and child; Secrets; School; Summer; Theft]
Crockett, S.D. After the Snow. New York: Square Fish, 2013.
"Fifteen-year-old Willo Blake, born after the 2059 snows created a new ice age, searches for his family, who mysteriously disappeared from their frozen mountain home, and encounters outlaws, halfmen, and an abandoned girl along the way" – CIP. [Climatic changes; Survival]
Crockett, S.D. One Crow Alone. New York : Feiwel & Friends, 2013.
The long, bitter winters are getting worse, and a state of emergency has been declared across Europe. In Poland, the villagers are subject to frequent power cuts and fuel shortages. After the death of her grandmother and the evacuation of her village, 15-year-old Magda joins forces with the arrogant, handsome Ivan and smuggles her way onto a truck bound for London – where she hopes to find her mother. But London, when they reach it, is a nightmarish world, far from welcoming." – CIP  Highly recommended.  [Climatic changes; Survival]
Cumyn, Alan.  Tilt.  Toronto : Groundwood Books/House of Anansi Press, 2011.
Sixteen-year-old Stan likes basketball but he loves Janine. Does Janine care for him, too, or is she gay?  His younger sister lives in an imaginative world of her own, his mother has a new boyfriend who seems useless, and his father tries to move back home, sneaking in his young son from his second marriage.  All the problems of modern life show up in this new humorous, heart-warming novel by the talented author of the Sylvia series. Recommended for mature readers in grade nine and up due to the sexual references. [Family life; Single-parent families; Teenagers; Young adult fiction; Basketball]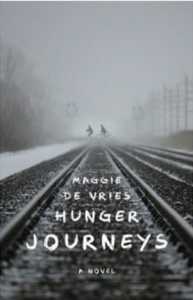 De Vries, Maggie. Hunger Journeys. Toronto: HarperTrophyCanada, 2010.
Lena and her friend Sofie use false identity cards and help from two German soldiers to escape from Nazi-occupied Amsterdam.  A suspense-filled award-winning novel for mature readers, due to the sexual references. [WW 2; Netherlands; Soldiers; Friendship; Survival; Family problems; Teenagers; Young adult fiction] Click HERE to read a reader's response to this novel.
Donaldson, Joan. On Viney's Mountain. New York: Holiday House, 2009.
"In the Cumberland Mountains during the fall of 1879, sixteen-year-old Viney is shocked to hear that Englishmen will arrive on her mountain and build a new community, massacring the beautiful area that inspires her weaving." – CIP.  A quietly romantic novel recommended for readers 13 to 16 years old. [Country life; Dating (Social customs); Family life; Historical fiction; Sisters; Tennessee; Weaving]
Dowd, Siobhan. Bog Child. New York: Random House, 2008.
"In 1981, the height of Ireland's 'Troubles,' eighteen-year-old Fergus is distracted from his upcoming A-level exams by his imprisoned brother's hunger strike, the stress of being a courier for Sinn Fein, and dreams of a murdered girl whose body he discovered in a bog." – CIP.  For mature readers only due to subject matter.
Dudley, David L. Caleb's Wars. New York: Clarion Books, 2011.
Caleb, a black fifteen-year-old in rural Georgia, has to step off  sidewalks and into the mud to get out of the way of white people. He can wash dishes in the kitchen of a restaurant but may not sit down at a table to eat. Those are the rules. But when German prisoners of war receive more respect than black people, Caleb decides to break the rules.  [Fathers and sons; Georgia; Racism; World War 2; Black Americans; Prisoners of war; Germans; Segregation; Faith]
Ellis, Deborah. The Heaven Shop. Fitzhenry & Whiteside, 2004.
After their father dies of AIDS, Binti and her siblings are sent to neglectful relatives all over Malawi until they re rescued by their grandmother.
Ellis, Deborah. Lunch with Lenin and Other Stories. Markham, ON: Fitzhenry & Whiteside, 2008.
"Just say no to drugs," is a common saying. But how do drugs affect families in Afghanistan and street children in Russia? These short stories offer various perspectives on the war on drugs. Highly recommended.
Ellis, Deborah. No Safe Place. Groundwood Books/House of Anansi Press, 2010.
Fifteen-year-old Abdul and two other young migrants, meet in a boat adrift in the English Channel. For mature readers due to sexual references and violence. [Refugees; France; England; Voyages and travels; Courage; Criminals; Runaways] 
Ellis, Deborah. True Blue. Toronto : Pajama Press, 2011.
"The darker side of a friendship is portrayed by Jess, a seventeen-year-old who struggles to find the moral courage to remain loyal to her best friend Casey who has been accused of murdering an eight-year-old girl at summer camp. The town becomes a media circus and the pressures far too great for Jess to cope." – CIP Recommended for readers in grade eight and up. [Camps; Faith; Friendship; Loyalty; Murder; Peer pressure; Young adult fiction]
Ely, Scott. The Elephant Mountains. Victoria, BC: Orca Book Publishers, 2011.
"Fifteen-year-old Stephen is suddenly left to fend for himself following a series of hurricanes that have put New Orleans and the low-lying areas of the South under water. In the chaos and anarchy that results, Stephen soon encounters Angela, a college student whose parents have been killed, and together the two set out to find Stephen's mother and higher ground." – CIP.  Recommended for mature readers 13 years old and up. [Divorce; Hurricanes; Mississippi; Survival] 
Farmer, Nancy. The House of the Scorpion. New York: Simon Pulse, 2004, c2002.
"The House of the Scorpion by Nancy Farmer (Atheneum Books, 2002) is an extraordinary book about Matt, the main character, who is a clone of El Patron, an incredibly powerful, 143-year old drug lord who intends to take Matt's organs when his own organs fail. Matt was grown from a cluster of cells taken from El Patron decades ago. He was taken care for inside of a test tube. After being fully developed, Matt was transferred into a surrogate mother when it became positive that he was going to survive. For the first six years of his life, he lives with a woman name Celia, a cook who works in El Patron's mansion. One day, he is discovered by two children named Emilia and Steven. The next day, they arrive, and bring Emilia's sister, Maria, who immediately captivates Matt. They observe him through the window for a while, but soon get bored and turn to leave. Matt is so lonely that he utterly destroys the window and leaps out to pursue them. Never having experienced true pain before, he was unaware of the danger in landing barefoot onto shattered glass. The children carry him to El Patron's mansion to be treated. The people there treat Matt kindly until Mr. Alacran, El patron's great-grandson, recognizes him as just another clod of El Patron.
"This book was an emotional book written by Nancy Farmer who is a very famous author and has won many awards. This book was a journey. It was long and treacherous, but it was all worth it in the end." Kelvin
Friesen, Gayle. Janey's Girl. Kids Can Press, 1998.
Fifteen-year-old Claire discovers more than she expected when her mother takes her to visit her maternal grandparents in a small rural town in B.C.'s Fraser Valley. A light read for readers who enjoy a bit of a mystery and romance.
Gantos, Jack. Hole in My Life. New York: Farrar, Straus and Giroux, 2002.
Unlike his humorous novels for middle school students,  Hole in My Life describes this Newbery winner's real life as a young adult in prison after getting a job on a boat smuggling drugs from the Virgin Islands to New York City. A Michael L. Printz Award for Excellence in Young Adult Literature Honor Book, this compelling autobiography is for more mature readers due to its realistic portrayal of prison life. [Prisons; Authors; Drug trade; Criminals; Violence; Determination]
Gavin, Jamila. See No Evil. Farrar, Straus and Giroux, 2008.
Twelve-year-old Nettie enjoys a wealthy life with her parents in London, England. There are servants, private ballet lessons and travels around the world. But when her favourite tutor mysteriously disappears and she meets the son of a household employee, Nettie starts to suspect that her father's wealth is coming from trafficking in illegal aliens. Full of suspense, this story may appeal to readers who appreciated The Boy in the Striped Pajamas.
Gibbons, Alan. Caught in the Crossfire. Orion Children's Books, 2003.
Set in England, this suspense-filled novel shows what happens when the brother of a member of The Patriotic League starts secretly seeing a British Muslim girl. Fear, prejudice, pride and violence all combine to create a compelling novel for young adults.
Giles, Gail. Shattering Glass. New York: Simon Pulse, 2002.
"When Rob, the charismatic leader of the senior class, turns the school nerd into Prince Charming, his actions lead to unexpected violence." – CIP  Told from alternating points of view. Recommended only for mature readers ready to see the insidious and tragic effects of a culture of entitlement. Could be compared to novels of racism and prejudice set in the 1950s. This is a good introduction to this writer's suspenseful contemporary novels for young adults.
Harmon, Michael. Brutal. New York : Alfred A. Knopf, 2009.
Sixteen-year-old Poe is sent to live with her father when her mother decides to work in South America for a year. Poe doesn't know her father. He left when she was only a baby.  And Poe doesn't know how she will survive in a town where cliques rule the high school and bullying is ignored.  But she is determined to fight back. Winner of numerous awards, this quick read will be appreciated by readers in grade 8 and up. [Dating (Social customs); California; Fathers and daughters; Schools; Mothers and daughters; Anger; Moving (Household)]
Hautman, Pete. Godless. Simon & Schuster Books for Young Readers, 2004.
Sixteen-year-old Jason, restless and rebellious, rejects his Catholic faith and creates a new religion with a new god: the local water tower. Friends follow along as he embarks on all sorts of pranks, but the fun starts to disappear when the new faith starts to take on a life of its own. A National Book Award winner, this young adult novel will be appreciated by readers who are able to read between the lines and ones who enjoyed The Bromeliad series by Terry Pratchett. (Religion; Summer; Teenagers; Peer pressure; Parent and teenager; Friendship; Courage)
Hesse, Monica. They Went Left. New York: Little, Brown and Company, 2020.
After surviving the horrors of being locked up in a concentration camp, eighteen-year-old Zofia travels back to her home in Poland in 1945 with the help of a Russian soldier. She hopes to be reunited with her younger brother, but he isn't there.  So leaving the enamoured soldier behind, she sets off in the middle of the night to search for him, determined not to give up until she finds him. It is in a displaced-persons camp in Germany where she finally discovers the truth.
A young adult novel about love and loss and learning to live with memories, this novel is most highly recommended for mature readers 13 years old and up. (Note: due the sexual references, some private schools and some parents may prefer to reserve this book for older readers.)
Hitchcock, Bonnie-Sue. The Smell of Other People's Houses. New York: Wendy Lamb Books, 2016.
Abandonment. Loneliness. Grief. Friendship. The lives of four Alaskan teenagers – Ruth, Dora, Alyce, and Hank – overlap in this coming-of-age novel set in 1970. A strong sense of place and a captivating sense of voice make this an outstanding story for thoughtful readers 13 years old and up. [Alaska; Friendship; Grief; Parent and child]
Holmes, Kathryn. The Distance Between Lost and Found. New York: HarperTeen, 2015. 
"Sophomore Hallie Calhoun, her former friend Jonah, and her new friend Rachel leave a church youth group hike in the Great Smoky Mountains and become lost for five days, struggling to survive as Hallie finally speaks about the incident that made her a social pariah and Jonah admits why it hurt him so much." – CIP.  Highly recommended for readers 12 years old and up. [Bullying; Camps; Conduct of life; Faith; Friendship; Teenagers; Wilderness Survival]
Holubitsky, Katherine. Tweaked. Victoria, BC: Orca Book Publishers, 2008.
"Have you ever felt frustrated? Have you ever felt like you were suffering when you didn't deserve it? Then you'll know exactly how the main character feels in the novel Tweaked by Katherine Holubitsky. Gordie Jessup is frustrated. His eighteen-year-old brother, Chase, has been a crystal meth addict for two years and his random disappearances and bipolar attitudes are just getting worse. He also feels that he is unfairly suffering because his spastic and jerky brother is robbing his family of their possessions for drug money and manipulating their trust. Throughout all this terror, what should he do? What will he do after he no longer feels love towards this ghostly mess that people call his brother? Read this enthralling novel to find out." – Saniya in grade eight 
Hrditschka, Shelley. Sister Wife. Orca, 2008.
Told from the points of view of three teenagers, this novel describes life in a polygamous cult where fifteen-year-old girls are assigned to be wives of older men.
Howard, Chris. Rootless. New York: Scholastic Press, 2012.
In a bleak future world, seventeen-year-old Banyan builds trees from salvaged scraps of metal. But then he meets a woman who sets him on a quest to find the last living trees. A convincing and compelling novel for readers 12-years-old and up. [Environmental degradation; Fathers and sons; Love stories; Science fiction; Trees; Voyages and travels]
Hughes, Dean. Missing in Action. New York : Simon Pulse, 2010.
Jay Thacker's mother takes him to live in her small home town during World War 2 where most people are hostile because he is part Navajo. They are even more hostile when he befriends a Japanese teenager at a nearby internment camp. And then his mother starts telling him the truth about his father, whose ship has gone down somewhere in the Pacific. What will happen when he can't run away, anymore?[Racism; Friendship; Grandparents; Faith; Family problems; Young adult fiction; Baseball, World War 2; Japanese Americans; Historical fiction]
Hyde, Catherine Ryan. Becoming Chloe. Alfred A. Knopf, 2006.
Two homeless teenagers, a fearful girl and a gay boy, become friends, leave New York City and take a road trip across America in search of beauty. This "is the story of Jordan who lives a lonely life in the streets. This all changes when he meets Chloe. Chloe, a small blonde girl who has also lived her life in the streets, thinks the world is ugly and full of misery. But when, Jordan takes Chloe on a road trip across the country to show her that the world is a wonderful place, they have lots of adventures, make many memories, and Chloe changes her mind. She realizes that the world really is a beautiful place. This book entertains, heals your heart, and feeds your soul. I really enjoyed reading it and I recommend this book to children ages twelve to fifteen." (Megan)
This "is a fantastic fiction book about two homeless teenagers with dark and disturbing pasts. Jordy, the main character, faces a dilemma: should he support the troubled and abused Chloe, or should he leave her and continue to suffer on his own? Either way, his life will be a struggle but as the novel continues, Jordy realizes that it is his job to show Chloe that the world really is a very beautiful place. So they leave New York City and take a road trip across the country. And they prove to each other how wonderful their lives really are. This is truly a phenomenal novel which I absolutely recommend!" (Anna in grade eight)
Jones, V. M. Out of Reach. Marshall Cavendish, 2003.
Pip McLeod's father keeps pushing him to be a more aggressive soccer player. He praises the toughness of Pip's older brother and adores Pip's baby sister, but has no good words for Pip. And Pip's friend Katie has no time for him anymore because she has a boyfriend. So Pip doesn't tell anyone when he finds a sport he truly enjoys: rock climbing. Set in New Zealand, this novel could be compared to Tangerine by Edward Bloor and will appeal to readers in grades eight to eleven. (New Zealand; Rock climbing; Family life; Fathers and sons; Teenagers; Young adult fiction; Competition (Psychology); Anger)
Jones, V.M. Shooting the Moon. London: Andersen Press, 2008.
Pip and his father head into the wilderness of New Zealand on a hiking trip with a group that threatens to disintegrate rather than pull together to survive.
Kass, Pnina Moed. Real Time. New York: Clarion Books, 2004.
"Sixteen-year-old Thomas Wanninger persuades his mother to let him leave Germany to volunteer at a kibbutz in Isarel, where he experiences a violent political attack and finds answers about his own past" – CIP  [Israel; Holocaust; Arab-Israeli conflict; Voyages and travels; Terrorism]
Kent, Trilby. Once in a Town Called Moth. Toronto: Tundra Books, 2016.
Why did Anneli's mother abandon her and her father? Why has her father – 10 years later – brought her to Canada? Fifteen-year-old Anneli struggles to fit in at her new high school after growing up in a remote Mennonite colony in Bolivia. But with the help of a few friends, she learns more about herself and finds her mother. While the plot is a bit too predictable and the Mennonite setting a bit too stereotypical, the novel is nevertheless a smoothly written mystery. It is recommended for readers – 13 years old and up – who enjoy quiet stories about outsiders. [Bolivia; High schools; Mennonites; Missing persons; Moving, Household; Secrets; Toronto (Ont.)] 
Kephart, Beth. Nothing But Ghosts. HarperTeen, 2009.
Sixteen-year-old Katie grieves the death of her mother, uncovers a mystery and acquires a boyfriend while working as a gardener on the estate of a recluse who has not been seen for decades. (Fathers and daughters; Grief; Gardening; Librarians; Mothers; Art; Summer; Secrets; Research; Painting)
Kidd, Sue Monk. The Secret Life of Bees. Penguin Books, 2003.
Fourteen-year-old Lily, living in South Carolina in the 1960's, learns more about racism and discovers the truth about the day her mother was killed ten years earlier. This "is the story of Lily Owens who lives with an abusive father and her nanny, Rosaleen. Lily, who wants nothing more than to learn more about her mother, faces a conflict: Run away from home with Rosaleen and go to Tiburon in South Carolina to learn more about her mother or stay and deal with her father and his lies. Because Lily decides to run away, she meets three beekeeper sisters who take her and Rosaleen in. They learn to keep bees and Lily learns more about her mother. This book was very moving and very well written." (Chelsea in grade eight)
Kiely, Brendan. The Gospel of Winter. New York: Margaret K. McElderry Books, 2014.
Sixteen-year-old Aidan turns to his priest for help when his family falls apart. But after gaining his trust, his priest turns to him for sex. Aidan suffers in silence until something happens that gives him the courage to speak up. A powerful novel for mature readers.[Faith; Friendship; Priests; Secrets; Sexual abuse; Teenagers] Click HERE for more books about abuse.
 Lynch, Chris. Kill Switch. New York: Simon & Schuster Books for Young Readers, 2012.
Daniel, finishing high school, wants to enjoy the summer with his grandfather before leaving for college. But something odd is happening. Strangers keep appearing, insinuating that his grandfather has a mysterious past that had better stay secret. But his grandfather's increasing dementia is causing him to talk about a hidden past in which he may have been involved in covert government operations, in overseas military operations, in assassinations and coups. Can it be true? And what will those strangers do if his grandfather keeps talking?  A powerful novel for thoughtful readers thirteen-years-old and up. [Grandfathers; Memory; Old age; Runaways; Secrets]
Maes, Nicholas. Crescent Star. Dundurn Press, 2011.
Matas, Carol. Past Crimes. Key Porter, 2006.
Nineteen-year-old Ros takes her baby and goes back to live with her parents in Palm Springs after her husband, a police officer, is killed.  Her hopes for a safe life are shattered when people around her are mysteriously attacked. Is there someone out to kill her?  A suspense novel about revenge and reincarnation, this novel by a well-known Canadian author will appeal to readers who enjoy a quick read.
Mazer, Harry and Peter Lerangis.  Somebody Please Tell Me Who I Am. New York: Simon & Schuster Books for Young Readers, 2012. 
"Wounded in Iraq while his Army unit is on convoy and treated for many months for traumatic brain injury, the first person Ben remembers from his earlier life is his autistic brother." – CIP. [Autism; Brain damage; Brothers; Iraq War, 2003] 
McCormick, Patricia. Never Fall Down. New York : Balzer + Bray, c2012.
Arn is forced to serve as a child soldier in this vivid novel, based on a real story, by an accomplished author. It will be appreciated by mature readers in grades eight and up. [War; Survival; Cambodia; Soldiers; Genocide; Young adult fiction; Kidnapping]
McCormick, Patricia. Sold. Hyperion, 2006.
Thirteen-year-old Lakshmi lives in poverty with her mother and stepfather on a Nepalese mountainside.  She hopes a better life awaits her when she is sent to work in the city. But instead, she discovers she has been sold into prostitution. A National Book Award finalist, this disturbingly realistic novel is for mature readers only.
McIntyre, R. P. Apart. Groundwood, 2007.
While looking for her father, sixteen-year-old Jessica finds a friendship becoming more than she expected when she meets a seventeen-year-old boy named Sween.
McMullan, Margaret. Sources of Light. Houghton Mifflin, 2010.
Love and sorrow, fear and courage all come together in this story set in 1962 about a 14-year-old girl and her mother who move to Jackson, Mississippi and encounter violence against African Americans and anger towards anyone who speaks up for equal rights. Readers of The Secret Life of Bees by Sue Monk Kidd will appreciate this coming-of-age novel about learning to see life through a different lens.
McKay, Sharon E. War Brothers. Toronto: Puffin Canada, 2008.
Jacob is the son of a wealthy landowner. Oteka has lost his parents to AIDS and is alone in the world. And Hannah, beaten but not defeated, holds the secrets of all the vanished children….[Their] destines become entwined as they find themselves in the clutches of the Lord's Resistance Army, forced to march endlessly….The boys plan a group escape, but will…[they] survive? –back cover
Myers, Walter Dean.  Lockdown. New York: HarperTeen/Amistad, 2010.
Reese is serving time in juvenile facility after stealing prescription pads from a doctor's office.  His only escape from violence comes from a work programme that lets him help in a seniors' home for several hours a week.  This gripping young adult novel, a National Book Award finalist, is suitable only for mature readers. [Family problems; Survival; War; African Americans; Old age; Friendship; Juvenile delinquents; Prisons; Violence; New York City; Young adult fiction] 
Myers, Walter Dean. Sunrise Over Fallujah. New York: Scholastic Press, 2008.
Eighteen-year-old Robin Perry is an American soldier in Iraq. Far from his home in Harlem, he discovers war isn't so much heroic as confusing: orders change inexplicably, people die unexpectedly and nothing seems to make any sense. All he feels is constant fear. Fighting a war isn't anything at all like playing video games. Set in 2003, this novel explains some of the politics of war while showing the grittiness of army life and is suitable only for mature students in grade eight and up.
Newbery, Linda. Set in Stone. David Fickling Books, 2006.
Set in 1898 England, this suspenseful novel tells the story of two sisters who live with their father in a grand house in the countryside. Told from the alternating points of view of the governess, Charlotte Agnew, and an art tutor, Samuel Godwin, the story slowly reveals the secrets lying behind the imposing walls of the mansion.  Recommended for mature readers.  (Historical; Architecture; Sisters; Secrets; Incest; England)
Noël, Michel. Good for Nothing. Berkeley, CA: Groundwood Books, 2004.
"Expelled from a residential school in 1959 Quebec, a fifteen-year-old Métis boy searches for happiness in the midst of hopelessness on his reservation and then in a new school in a strange city, living with a white family, and sets out to learn the truth behind the early death of his father, a native activist." – WAFMS. Translated from French. Highly recommended for competent mature readers 13-years-old and older. [Algonquin; Métis; Residential schools]
Nolan, Han. A Face in Every Window. Harcourt, Inc., 1999.
Fourteen-year-old JP finds his family falling apart after the death of his grandmother. His mother moves them to a neighbouring town in Pennsylvania and welcomes all sorts of strangers into their home. His mentally challenged father won't listen to anyone and takes to sitting on the roof.  Everything has changed and everyone makes fun of JP. There is nowhere he belongs. How will he find balance in his chaotic world? This novel is recommended for mature readers.
Paterson, Katherine. Jacob Have I Loved. HarperCollins, 1980.
Sara Louise has always lived in the shadow of her pretty, talented twin sister Caroline.  When will she ever get to be special?
Paterson, Katherine. The Master Puppeteer. New York: Harper Collins, 1975.
A thirteen-year-old boy, feeling unwanted and unappreciated, joins a band of professional puppeteers in eighteenth century Japan. 
Paulsen, Gary. The Car. San Diego : Harcourt Brace, c1994.
Fourteen-year-old Terry wakes up one morning to discover that his parents have disappeared, leaving Terry alone in a shabby rented house with only a little over a thousand dollars he has saved up from mowing lawns. Terry sets off, leaving Ohio behind and heading west to find his uncle in Oregon.  But on the way, he meets two Vietnam War veterans who change his view of life.  A young adult novel with some swearing and realistic references to the violence of war, this novel will be appreciated by readers of Sunrise over Fallujah by Walter Dean Myers, Shattered by Eric Walters and Purple Heart by Patricia McCormick. Readers might like to look at the picture book Patrol: An American Soldier in Vietnam by Walter Dean Myers before reading this novel. [Soldiers; Vietnam conflict; Automobiles; Voyages and travels; Young adult fiction]
Paulsen, Gary. Paintings from the Cave. Wendy Lamb Books, 2011.
Three novellas tell the stories of adolescents who survive despite neglect and abuse, survive with the help of art and dogs. Gary Paulsen writes at the beginning, "I was one of the kids who slipped through the cracks….We were broke, my parents were drunks, they had…an unhappy marriage. I was an outsider at school and I pretty much raised myself at home. I had nothing and I was going nowhere. But then art and dogs saved me" (ix). I especially recommend the first novella for mature readers. [Poverty; Homelessness; Art; Dogs; Violence; Short stories; City life; Courage; Hope]
Perkins, Mitali. Bamboo People. Watertown, Mass.: Charlesbridge, 2010.
Chiko has been forced to join the Burmese army.Tu Reh has run away from a refugee camp to join his father fighting with the Karen people against the Burmese government. The two boys unexpectedly meet in the jungle.  What will happen? This young adult novel of compassion and hope set in Myanmar is recommended for readers 12-years-old and up, especially ones who appreciated  War Brothers by Sharon McKay and Shattered by Eric Walters.  [Fathers and sons; Burma; Survival; Soldiers; Refugees; War stories; Courage] 
Philbrick, Rodman. The Last Book in the Universe. New York: Blue Sky Press, 2000.
Spaz has heard about a world with books, but he has never seen one.  In his world, people use mindprobes, needles which shoot pictures straight into your mind and let you escape the grey misery of life. But then he meets an old man, Ryter, and learns the power of stories.  For readers who liked The Hunger Games or Fahrenheit 451, this thoughtful but easy-to-read novel. [Science fiction; Fathers and sons; Adventure and adventurers; Epilepsy; Books and reading]
Preller, James. Bystander. Feiwel and Friends, 2009.
Thirteen-year-old Eric encounters a bully terrorizing students at his new school. It seems no one, not even adults, can stop the intimidation until Eric thinks of a solution. [Bullying; New York (State); Moving, Household; Divorce; Schools; Conduct of life; Young adult fiction]
Pyron, Bobbie. The Dogs of Winter. New York: Arthur A. Levine Books, 2012.
A five-year-old Russian boy survives with the help of feral dogs on the streets of Moscow. Based on a true story from the 1990s, this 306-page novel will interest competent readers 10 to 14 years of age who enjoy highly detailed plot-driven stories. Other readers will find the first few chapters quite compelling but may prefer to then skip to the last chapters to find out how the story ends. Even that abbreviated way of reading will create vivid memories of sad courage of homeless children in Russia. Includes historical information and a bibliography at the end. [Dogs; Gangs; Homelessness; Russia]
Ravel, Edeet. Held. Toronto: Annick Press, 2011.
Seventeen-year-old Chloe, vacationing in Greece, is kidnapped and held in exchange for the release of prisoners back in the United States. Is she the victim of terrorists or is her kidnapper a victim of political terror himself?  Is their growing relationship simply a symptom of Stockholm Syndrome? Despite some awkwardness in the writing, this dramatic novel will raise awareness of political injustice in the world. Recommended for teenagers.  [Greece; Kidnapping; Stockholm Syndrome; Vacations; Summer; Love; Young adult fiction]
Reiss, Kathryn. Blackthorn Winter. Harcourt, 2006.
Fifteen-year-old Juliana discovers mystery and romance in an artists' village in southwest England. A relatively easy read recommended for readers 12 years old and up. 
Ritter, John H. Choosing Up Sides. Puffin Books, 1998.
Baseball was as popular in 1921 as it is today. And 13-year-old Luke can pitch a ball better than anyone else around.  But he isn't allowed to because his father says that baseball is the Devil's playground and the left hand is the side of Satan. So should he try to please his father or should he sneak out to join his friends?  All sorts of unexpected consequences occur in this ALA Best Book for Young Adults. And all sorts of questions will remain in readers' minds afterward.
Robinson, Eden. Monkey Beach. Toronto : Vintage Canada, 2001, c2000.
"Infused by turns with darkness and humour, this is a spellbinding voyage into the long, cool shadows of BC's Coast Mountains, blending teen culture, Haisla lore, nature springs and human tenderness into a multilayered story of loss and redemption." – CIP. Highly recommended novel for mature readers 14-years-old and up due to the subject matter. [Brothers; Family life; First Nations; Kitimat Region (B.C.); Missing persons]
Rosoff, Meg. The Bride's Farewell. Doubleday Canada, 2009.
Pell Ridley runs away the morning she is to be married, taking only her white horse. But her little brother who never speaks is determined to come along and the two set off for Salisbury Fair, hoping to find work and a new life far away from the abuse and poverty of their childhood. However, life in 19th century England is full of suspicion and deviousness. Will Pell ever find someone who loves her? Will she ever find a place she belongs? (England; Historical fiction; Child abuse; Marriage; Runaways; Brothers and sisters)
Rosoff, Meg. Just in Case. New York : Plume, 2008.
"Convinced that fate is out to get him, fifteen-year-old David Case assumes a new identity in the hope of avoiding what he believes is certain doom." – CIP. Full of teenage angst, this sympathetic yet humorous novel by a master storyteller is sure to appeal to readers 14-years-old and up. [England]
Rosoff, Meg. What I Was.  Toronto: Doubleday Canada, 2007.
"In 1960s Britain, a young boarding school student breaks rules to maintain a friendship with a reclusive teen who lives in a hut by the sea, and after his friend falls ill, learns a dark secret that changes both of their lives." – ARBookfinder. Highly recommended for mature introspective readers in grade 8 and up. [Boarding schools; England; Friendship; Historical fiction; Homelessness; Secrets]
Schlitz, Laura Amy. The Hired Girl. Somerville, Mass.: Candlewick Press, 2015.
"Fourteen-year-old Joan Skraggs, just like the heroines in her beloved novels, yearns for real life and true love. But what hope is there for adventure, beauty, or art on a hardscrabble farm in Pennsylvania where the work never ends? Over the summer of 1911, Joan pours her heart out into her diary as she seeks a new, better life for herself – because maybe, just maybe, a hired girl cleaning and cooking for six dollars a week can become what a farm girl could only dream of – a woman with a future." – FVRL. A marvellous 387-page novel for romantic readers 12 years old and up. [Baltimore (Md.); Diaries; Historical fiction; Jewish families; Maryland; Runaways; Servants]
Schmidt, Gary D. Okay for Now. Clarion Books, 2011.
Fourteen-year-old Doug has just moved to a small town in New York State. He has a mean older brother and an abusive father. He can't read and he has no friends. But slowly he makes friends with a classmate, with his teachers and with a librarian who teaches him how to draw. And after his oldest brother comes back from Vietnam, life starts to change at home, too.   [Family life; Fathers and sons; New York (State); Schools; Friendship; Drawing; Violence; Child abuse; Audubon, John James; Theater; Brothers; Vietnam conflict, 1961-1975; Moving, Household; Dating (Social customs)]
Schmidt, Gary D. Orbiting Jupiter. New York: Clarion Books, Houghton Mifflin Harcourt, 2015.
"Jack, 12, tells the gripping story of Joseph, 14, who joins his family as a foster child. Damaged in prison, Joseph wants nothing more than to find his baby daughter,Jupiter, whom he has never seen. When Joseph has begun to believe he'll have a future, he is confronted by demons from his past that force a tragic sacrifice" FVRL.  This acclaimed author's novel, perhaps his most lyrical, is reminiscent of some of Patricia MacLachlan's novels: emotionally powerful with short sentences and long conversations.  It is highly recommended for readers 12-years-old and up. [Child abuse; Friendship; Foster children; Runaways; Teenage fathers; Winter]
Sepetys, Ruta.  Between Shades of Gray. New York: Philomel Books, 2011.
"In 1941, fifteen-year-old Lina, her mother, and brother are pulled from their Lithuanian home by Soviet guards and sent to Siberia, where her father is sentenced to death in a prison camp while she fights for her life, vowing to honor her family and the thousands like hers by burying her story in a jar on Lithuanian soil. Based on the author's family, includes a historical note." – CIP.  Due to the vivid description of some scenes, this novel, while highly recommended, is more suitable for mature readers in grade 8 and up. It may also be appreciated by readers of The Diary of Anne Frank and The Upstairs Room. [Historical fiction; Labor camps; Lithuania; Russia; Siberia; Survival; WW 2; Young adult fiction]  
Septetys, Ruta. The Fountains of Silence. New York: Philomel Books, 2019.
In 1957, wealthy eighteen-year-old Daniel Matheson, an aspiring photographer from Texas who is visiting Madrid with his parents, discovers the quietly dangerous world of Franco's Spain as he becomes friends with Ana, a hotel maid. Political intrigue, romance, and history all combine in this compelling story by an accomplished author. An extensive bibliography and black-and-white photographs supplement this 472-page novel highly recommended for readers 13 years old and up. [Dictatorships; Franco, Francisco; Photography; Secrets; Spain] 
Sepetys, Ruta. Salt to the Sea. New York: Philomel Books, 2016.
Fleeing the invading Russian army near the end of the war, refugees try to escape aboard a military transport ship transporting German evacuees. Told from alternating points of view and based on the true story of the Wilhelm Gustloff, this award-winning 389-page emotion-laden novel is highly recommended for mature readers 13 years old and up. Includes a map. [Germany; Historical fiction; Poland; Refugees; Survival; WW 2; Young adult fiction] 
Sheppard, Mary C. One For Sorrow. Puffin Canada, 2008.
Issy is determined to leave her unhappy life in a small Newfoundland outport as soon as she is sixteen years old. Her mother and older sister are unkind, her father is hardly ever home and she has no friends. But how will she succeed in escaping her lonely existence if she can't even read? 
Sheppard, Mary C. Three for a Wedding. Toronto: Puffin Canada, 2009.
"There's something mysterious about Grace-Mae's arrival in Cook's Cove but Violet, her cousin, doesn't have time to unravel it as she has final exams, her sisters wedding, a garden party, and her first boyfriend to think about." – WAFMS. Part of a trilogy highly recommended for competent readers 12-years-old and up. [Cousins; Family life; Summer]
Sheth, Kashimra. Keeping Corner. Hyperion Books, 2007.
Thirteen-year-old Leela's happy life in 1940's India is over when her husband of four years – someone whom she hardly knows – dies and she becomes an unwanted widow.
Smith, Andrew. Stick. New York: Feiwel and Friends, 2011.
"Thirteen-year-old Stark "Stick" McClellan's brother has always defended him against those who tease him for his thinness and facial deformity, so when Bosten, having admitted he is gay, must leave home and their abusive parents, Stick sets out to find him.." – FVRL. This memorable novel is highly recommended for mature readers 14-years-old and up.  [Aunts; Brothers; California; Child abuse; Gays; Runaways; Secrets; Voyages and travels]
Smith, Dan. My Brother's Secret. New York: Chicken House, 2015.
Set in 1941 Germany, this story depicts the changes that happen when twelve-year-old Karl realizes that life is not so simple. After his father is killed on the Eastern Front and his family goes to live with his grandparents, he starts to see life differently. Is Hitler really a hero? Are the Nazis noble soldiers? Is his older brother Stefan's decision to join an underground movement courageous? Does he himself have the courage to stand up against everything he has been taught at school? This novel by an award-winning British writer is recommended for readers 12 years old and up. P.S. Every novel published by Chicken House is worth checking out. Every story is well-written and memorable for its hope in the face of hardships. 
Singer, Nicky. Gem X. New York: Holiday House, 2006.
Imagine a world in the future where everything is perfect. There is no disease, no hunger, no ugliness. People have been genetically modified to be physically perfect. Life in this community is controlled by secret scientific research, technological advances and a corrupt supreme leader. But things are starting to go wrong. An entire generation of children is beginning to self-destruct. Hundred of outcast people, those who have not been gene-altered, have gone missing. And for these people living in the slums, life is a matter of daily survival — scavenging for food and running from the enforcers.
This is the world in Gem X by Nicky Singer (Oxford University Press, 2006). The first of two main characters is 16-year-old Maxo Strang, on of the biologically-enhanced humans. He has no worries at all until his perfect body begins to fall apart. His search for help brings him to 15-year-old Gala Lorrell and her family who are lower-class normal humans. Gala is a compassionate daughter trying to take care of her dying mother and a protective sister worrying about her two younger brothers on the streets. Maxo and Galo run into each other and realize that they need each other to survive.
There are a lot of issues in this story: Is it right to clone people? Is it right to use human DNA to make people physically perfect? How much power should a government have? How do we overcome the differences that keep us from understanding each other?
The author made it easy to understand her futuristic world. She renamed things from our time with words that sound more technologic. Parents are GenSire and GenDames. Phones are communicators or 'cators. Clothese are called ambisuits and are temperature-regulated. People don't eat food; they eat pills.
I don't read a lot of science fiction, so this book was was different than the ones I normally read. But I enjoyed it. In fact, I'm going to read another book by this author: The Innocent's Story. I would recommend this book if you are interested in cloning and DNA stuff and if you enjoy stories where dark secrets and corruption are brought to life and exposed. (Ms. Schmidt) 
Smith-Ready, Jeff. This Side of Salvation. New York: Simon Pulse, 2014.
"After his older brother is killed, David turns to anger and his parents to religion, but just as David's life is beginning to make sense again his parents press him and his sister to join them in cutting worldly ties to prepare for the Rush, when the faithful will be whisked off to heaven." – FVRL. This 368-page novel is highly recommended for competent readers 13-years-old and up. [Cults; Faith; Families; Grief; Pennsylvania; Schools]
Spinelli, Jerry. Smiles to Go. Harper Collins, 2008.
"I recently read a great book…. The main character, ninth grader Will, lives in normal household with a pesky sister, a caring dad and a loving mom. But his carefully planned out life comes to a halt when he finds out that a proton died. There are all sorts of complications. Everything is made out of protons. What do you think will happen if protons die? Everything will vanish. At the end, Will becomes closer than ever to his sister, finds a girl that he likes and learns to enjoy life while he can. I can tell you that this novel was one of the most interesting and humorous novels I've read in a long time." (Carter in grade eight) (Brothers and sisters; Family life; Schools; Friendship)
Strasser,  Todd. If I Grow Up. New York: Simon & Schuster Books for Young Readers, 2009. 
"Growing up in the inner-city projects, DeShawn is reluctantly forced into the gang world by circumstances beyond his control." – CIP. [African Americans; Gangs; Inner cities; Poverty; Violence]
 Strasser, Todd. No Place. New York: Simon & Schuster Books for Young Readers, 2014.
Dan, a high school baseball star, is dating Talia, a beautiful wealthy girl. But then Dan's parents lose their jobs and their home and the family ends up in a shelter. What does life look like when you cannot afford to be part of the "cool" crowd? Can you hold onto your social life when you live in a tent city? Can you hold onto your hopes for a college scholarship? How does it feel to be one of the people to whom you once offered charity?
Strasser excels at writing young adult novels about modern social problems. This story is no exception. The main character's best friend, Noah, is part of an educated well-to-do African-American family in the town of Median, and the story's focus is on poverty among white middle class Americans.  The novel flows quickly and is told from the point of view of the main character whose voice is strong enough to sustain the interest of readers even during philosophical paragraphs about unemployment and homelessness in America today and repeated comparisons to life during the Great Depression as portrayed in The Grapes of Wrath by Steinbeck.
Readers who enjoyed Alexandria of Africa by Eric Walters – a story of wealthy high school girl who learns about life for the less fortunate – will appreciate this young adult novel by Strasser. [Dating (Social customs); Homeless persons; Poverty]
Stratton, Allan. Chanda's Wars. HarperCollins, 2008.
An African teenager tries to save her younger siblings after they are kidnapped to serve as child soldiers in an African rebel army. Chanda's Secrets is the previous novel in this two-book series highly recommended for mature readers.
Terlouw, Jan. Winter in Wartime. New York: New York Review Books, 2020.
Fifteen-year-old Michiel has lived through four years of war. He spends his days running secret errands on his bicycle and avoiding the Allied bombers flying overhead and the Nazi soldiers occupying his town. When he learns that a wounded British pilot is hiding in the woods, he starts secretly bringing him food and supplies. When the villagers are blamed for the death of a German and his father is shot in revenge, he starts to distrust everyone. Who murdered that German soldier? Who is watching him? When will soldiers come for him?
This 220-page novel based on the author's own childhood has been in print in the Netherlands for almost fifty years. Translated from the Dutch by Laura Watkinson, it is highly recommended for mature readers 11 to 17 years old who enjoy action-oriented, fast-paced stories.  
Turnbull, Ann. No Shame, No Fear. Candlewick Press, 2003.
Fifteen-year-old Susanna, a poor country girl from a Quaker family, falls in love with seventeen-year-old William, the son of a rich Anglican man in 17th-century England.
Trueman, Terry. Stuck in Neutral. Scholastic, 2002.
This "is the story the story of Shawn McDaniel who is a normal 14-year-old boy with dreams and hopes, a positive young boy despite being born with cerebral palsy and unable to move any of his muscles, not even his hands, feet or legs. Because of the cerebral palsy, his father thinks he must be in terrible pain and decides the best thing he can do for his son is to stop his suffering. And the best way to stop him from suffering is to put him out of his misery. The thing is, Shawn isn't in pain. He actually has a good attitude about life. But since he can't control his speech, he can't communicate with his dad. Will Shawn's dad misguidedly kill his own son? Read to find out." (Carter in grade eight)
Shawn, the 14-year-old main character in Stuck In Neutral by Terry Trueman (Scholastic, 2002), is physically handicapped. He can't move his arms and legs, control what his eyes are looking at, or even speak. He is able to talk to himself, but only in his head. Shawn's father left the family when he was 5 years old, because there was too much stress. Shawn's dad goes on a talk show to tell what it's like to be a parent of a handicapped child. Shawn's dad thinks Shawn is suffering through all of this stuff and so decides to end Shawn's misery by smothering his face in a pillow until he dies.
I found the end of this book very disturbing. I learned that handicapped people may not be able to express themselves or appear restful but we don't really know how much they understand or feel. In this story, Shawn understood a lot even though the people around him thought he didn't. I will look at people with disabilities differently now. (Jake in grade eight)
Voigt, Cynthia. Building Blocks. New York: Atheneum, 1984.
In a trip back in time, Brann meets his father as a ten-year-old and learns for the first time to love and understand him.
Voight, Cynthia. The Runner. New York: Simon Pulse, 1985.
As a dedicated runner, a teenage boy has always managed to distance himself from other people until the experience of coaching one of his teammates on the track team gradually helps him see the value of giving and receiving. — CIP
Walters, Eric. Alexandria of Africa. Doubleday Canada, 2008.
"…rich, spoiled, almost sixteen-year-old Alexandria Hyatt … is caught for shoplifting and goes to court for a second time, and this time, she can't … get out of the consequences; soon enough, Alexandria is in Africa working for an international charity where she has many exciting and memorable adventures. "(Megan in grade eight) (Africa; Juvenile delinquents; Voyages and travels; Coming of age)
Walters, Eric. Shattered. Toronto: Puffin Canada, 2008.
A teenage boy from a wealthy home, volunteering in a poor area of Vancouver, B.C. in order to meet high school graduation requirements, meets a homeless soldier and learns about the plight of victims of war. Includes a forward by Lieutenant General Romeo Dallaire. Highly recommended as one of the best-written novels by this prolific Canadian author. (Rwanda; Soldiers; Homelessness; Vancouver (B.C.); War;  Post-traumatic stress disorder; Teenagers; Young adult fiction) 
Walters, Eric. We All Fall Down. Toronto: Seal Books, 2006.
Will, a ninth-grader, reluctantly spends the day at his father's workplace. He thinks his father won't have much time for him, but everything changes when a plane flies into the building and the two of them have to escape. A popular easy read for readers wanting to learn more about 9-11.
Walton, K.M. Cracked. Simon Pulse, 2012.
When Bull Mastrick and Victor Konig wind up in the same psychiatric ward at age sixteen, each recalls and related in group therapy the bullying relationship they have had since kindergarten, but also facts about themselves and their families that reveal they have much in common. [Bullying; Young adult fiction; Schools; Emotional problems; Hospitals; Family life] 
Wiesel, Elie. Night. New York: Bantam, 2006.
This "is the story of Elie, a Jewish teenager, who was taken with his family from his hometown and forced to live in the Auschwitz concentration camp and later at Buchenwald. Conditions at the concentration camp were horrific. On the first night, he watched in horror as his mother, sister and other woman and children were thrown into a fire to burn to death. The men were kept alive to work, living on only a small ration of bread and water once a day. As I read Elie's story, I could feel the pain and sadness of the people in the concentration camp. The men turned into objects with no feeling or hope. They were prisoners, just waiting to die. Then on April 10, "at six o'clock that afternoon, the first American tank stood at the gates of Buchenwald." Freedom at last! I learned that there is always hope, to not to give up when times are tough, to fight to live at all costs. The difficult living conditions that Elias and so many others had to endure, makes me appreciate how fortunate we are. The chances of the Jews surviving were like finding a needle in a haystack, yet some lived to tell their story!" (Natalie in grade eight) 
Williams, Michael. Diamond Boy. New York: Little, Brown and Co., 2014.
"When Patson's family moved to the Marange region of Zimbabwe he begins working in the mines, searching for blood diamonds, until government soldiers arrive and Patson is forced to journey to South Africa in search of his missing sister and a better life." – CIP. [Brothers and sisters; Child labor; Diamonds; Mines and mining; Runaways; Shona (African people); Zimbabwe]  
Williams, Michael. Now Is the Time for Running. New York : Little, Brown, 2013, c2009.
"When soldiers attack a small village in Zimbabwe, Deo goes on the run with Innocent, his older, mentally disabled brother, carrying little but a leather soccer ball filled with money, and after facing prejudice, poverty, and tragedy, it is in soccer that Deo finds renewed hope." – CIP. Recommended for more mature readers 12 years old and up.  [Brothers; Homelessness; People with mental disabilities; Refugees; Soccer; Zimbabwe]
Woodson, Jacqueline. From the Notebooks of Melanin Sun. New York: Puffin Books, 2010, c1995.
"Almost-fourteen-year-old Melanin Sun's comfortable, quiet life is shattered when his mother reveals she has fallen in love with a woman." – WAFMS. Another outstanding novel by an award-winning writer. Recommended for readers 12-years-old and up. [African Americans; Lesbians; Mothers and sons; Brooklyn (New York, N.Y.)]
Wynne-Jones. Tim. The Starlight Claim. Somerville, Massachusetts: Candlewick Press, 2019.
Sixteen-year-old Nate sets out during the March spring break to spend a few days alone at his family's remote cabin on Ghost Lake. His parents think he's off to prove his survival skills, but he's really going to look for his friend Dodge who disappeared the previous November. A surprise awaits: two escaped inmates are hiding out in his family's cabin and a snowstorm is imminent. Will Nate be able to survive the storm? Will he be hide from the criminals? And why is his estranged grandfather involved? This long-awaited sequel to The Maestro is recommended for readers 12 years old and up.
NOVELS ORGANIZED BY COUNTRY
When looking through the list, don't be fooled by the AR levels. Some of the novels written at easier reading levels are actually only suitable for more mature students, ones who can understand the complex situations and relationships depicted in them. Therefore, even if you have good reading skills, don't ignore the novels with low AR levels or you'll miss out on some extraordinary stories.
Canadian
Acheson, Alison. Mud Girl. (AR 4.3)
Bedard, Michael. Redwork. (AR 6.4) CLA Young Adult Book winner
Bell, William. Alma. (AR 5.6)
Bell, William, The Blue Helmet.
Bell, William. Just Some Stuff I Wrote. (a collection of short stories: 813 Bel)
Brooks, Martha. Bone Dance. (AR 4.7)
Brooks, Martha. True Confessions of a Heartless Girl. (AR 5.0)
Butcher, Kristin. The Hemingway Tradition. (AR 4.3)
Doyle, Brian. Angel Square. (AR 4.9)
Ellis, Deborah and Eric Walters. Bifocal.
Ellis, Deborah. Lunch with Lenin. (AR 4.8) [813 Ell]
Friesen, Gayle. Men of Stone (AR 4.4) Janey's Girl (AR 4.0) and others.
Holubitsky, Katherine. Tweaked. (AR 4.9)
Horvath, Polly. The Vacation. (AR 5.6)
Horvath, Polly. The Corps of the Bare-boned Plane. (AR 5.8)
Hughes, Monica. Blaine's Way.
Juby, Susan. Alice, I Think. (AR 6.3)
Kilbourne, Christina. Dear Jo: the story of losing Leah…
Kropp, Paul. Student Narc. (AR 4.5)
Little, Jean. Willow and Twig. (AR 5.0)
Matas, Carol. The Burning Time (AR 5.1) and others.
Stratton, Allan. Chanda's Wars. (AR 3.5)
Trembeth, Don. The Tuesday Cafe. (AR 4.7)
Tullson, Diane. Red Sea. (AR 5.1)
Tullson, Diane. Zero.
Walters, Eric. House Party. (AR 3.9)
Walters, Eric. Shattered . (AR 4.4)
Wynne-Jones, Tim. The Maestro. (AR 5.0) Governor General's award winner
American
Card, Orson Scott. Ender's Game. (AR 5.5)
Carter, Forrest. The Education of Little Tree. (AR 5.5)
Chandler, Elizabeth. Don't Tell. (AR 5.0)
Christopher, Lucy. The Killing Woods.
Clements, Andrew. Things Hoped For. (AR 4.7)
Clements, Andrew. Things Not Seen. (AR 4.5)
Cullen, Lynn. I Am Rembrandt's Daughter. (AR 4.4)
Cushman, Karen. Catherine, Called Birdy. (AR 6.4) ALA YA Book winner
Cushman, Karen. The Midwife's Apprentice. (AR 6.0)
Fox, Paula. One-Foxed Cat. (AR 5.4) and The Moonlight Man. (AR 5.1)
Hale, Shannon. Book of a Thousand Days. (AR 5.3)
Hesse, Karen. Out of the Dust. (AR 5.3) winner of multiple awards
Hinton, S.E. The Outsiders (AR 4.7) and others.
Holt, Kimberly Willis. When Zachary Beaver Came to Town. (AR 4.5)
Kessler, Cristina. Our Secret, Siri Aang. (AR 6.2)
Kidd, Sue Monk. The Secret Life of Bees. (AR 5.7)
Kiely, Brendan. The Gospel of Winter.
Konigsburg, E.L. Silent to the Bone. (AR 5.4) ALA Best Book for YA
Langan, Paul. Blood is Thicker. (AR 4.8)
Langan, Paul. Payback. (AR 4.7)
Lee, Harper. To Kill a Mockingbird. (AR 5.6)
McClintock, Norah. Dooley Takes the Fall.
McCormick, Patricia. Cut. (AR 4.6)
Meyer, Carolyn. Duchessina. (AR 6.6)
Meyer, Carolyn. Marie Dancing. (AR 6.1)
Meyer, Carolyn. Patience, Princess Catherine. (AR 7.3)
Murdock, Catherine. Dairy Queen. (AR 5.3)
Nelson, O.T. The Girl Who Owned a City. (AR 4.7)
Paterson, Katherine. Jacob Have I Loved. (AR 5.7)
Paterson, Katherine. The Same Stuff as Stars. (AR 4.3)
Paulsen, Gary. The Crossing. (AR 5.8) Canyons. (AR 5.5)
Peck, Richard. Are You In the House Alone? (AR 4.9)
Peck, Robert Newton. A Day No Pigs Would Die. (AR 4.4) ALA Best Book for YA
Pfeffer, Susan Beth. Life As We Knew It. (AR 4.7)
Reiss, Kathryn. Blackthorn Winter. (AR 5.1)
Rylant, Cynthia. Fine, White Dust. (AR 4.2)
Schraff, Anne. Lost and Found. (AR 4.7)
Schraff, Anne. A Matter of Trust. (AR 4.6)
Schraff, Anne. Secrets in the Shadows. (AR 4.7)
Schraff, Anne. Until We Meet Again. (AR 4.8)
Smelcer, John. The Trap. (AR 6.2)
Spinelli, Jerry. Crash. (AR 3.6), Stargirl (AR 4.2) and others.
Staples, Suzanne Fisher. Shabanu. (AR 5.9)
Voigt, Cynthia. Dicey's Song (AR 5.0) and many others.
Werlin, Nancy. The Rules of Survival. AR (4.3)
Whelan, Gloria. Homeless Bird. (AR 5.3)
Woodson, Jacqueline. Hush. (AR 4.2)
Zindel, Paul. The Pigman (AR 5.5) and others.
British
Aiken, Joan. several novels, esp. Black Hearts in Battersea. (AR 6.1)
Austen, Jane. Persuasian. (AR 12.0)
Austen, Jane. Pride and Prejudice. (AR 12.0)
Bronte, Charlotte. Jane Eyre. (AR 7.9)
Cassidy, Anne. Looking for JJ. (AR 4.9)
Garfield, Leon. Black Jack (AR 6.5), Smith, and others.
Golding, William. Lord of the Flies.
Hoffman, Mary. The Falconer's Knot. (AR 6.3)
Pratchett, Terry. Only You Can Save the Mankind. (AR 3.9)
Pratchett, Terry. Truckers (AR 4.4), Diggers (AR 4.4) and Wings (AR 4.2).
Rose, Malcolm. Framed! (AR 5.0)
Rosoff, Meg. Shining On. (a collection of short stories: 813 Ros)
Smith, Dodie. I Capture the Castle. (AR 5.9)
Turnbull, Ann. Forged in the Fire. (AR 5.8)
Turnbull, Ann. No Shame, No Fear. (AR 5.1)
Australian
Clarke, Judith. One Whole and Perfect Day. (AR 5.4)
Marsdon, John. Winter. (AR 4.8)