"As long as poverty, injustice and gross inequality persist in our world, none of us can truly rest." – Nelson Mandela
NONFICTION
Hood, Susan. Ada's Violin: The Story of the Recycled Orchestra of Paraguay. New York: Simon & Schuster Books for Young Readers, 2016. 
Ada lives in a poverty-stricken town that serves as the main garbage dump for the capital city of Paraguay. She – along with thousands of other residents – spend their days picking through the trash to find things to recycle and sell. This poignant and inspiring story tells how a man sent to teach safety practices decided to teach the children how to make musical instruments. The orchestra he formed has now performed around the world!  Dramatically illustrated by Sally Wern Comport, this true story is recommended for readers 7 years old and up. 
FICTION
Antle, Nancy. Playing Solitaire. Dial Books, 2000.
Fourteen-year-old Ellie lives in fear that her father will show up again. She remembers the anger that caused him to mutilate her hand. Will he come back to hurt her again now that she is living in Oklahoma with her grandfather?  A new school, a new friend and a new life are not enough to take away her fear that her father will come looking for her.  And what will happen if he does?
Armstrong, William H. Sounder. Scholastic, 1969.
An African-American boy learns how to survive after his father is given an unjust jail sentence for stealing a ham from a white man.  The 1970 Newbery Medal winner.
Bauer, Joan. Almost Home. New York : Viking, 2012.
After twelve-year-old Sugar Mae and her mother are evicted from their home, they leave Missouri, hoping for a new start in Chicago. Despite living in a shelter, Sugar does not lose hope. She stays in contact with her former English teacher, writes poetry, rescues a lost dog, and accepts help from a foster family. A cheerful story for middle school readers.  [Dogs; Foster families; Homelessness; Hope; Mothers and daughters; Poetry; Poverty]
Boelts, Maribeth. Those Shoes. Candlewick Press, 2007. 
Jeremy, who longs to have the black high tops that everyone at school seems to have but his grandmother cannot afford, is excited when he sees them for sale in a thrift shop and decides to buy them even though they are the wrong size." – CIP. [Generosity; Grandmothers; Poverty;  Shoes]
Balliett, Blue. Hold Fast. Scholastic Press, 2013.
On a cold winter day in Chicago, Early's father disappeared, and now she, her mother and her brother have been forced to flee their apartment and join the ranks of the homeless – and it is up to Early to hold her family together and solve the mystery surrounding her father. – CIP  While the plot line is similar to some of Joan Bauer's novels, the writing is more sophisticated. Highly recommended. [Homelessness; Poverty; Missing persons; Kidnapping; Fathers and daughters; Family life; Chicago (Ill.); Smuggling; Mystery and detective stories]

Cleaver, Vera and Bill. Where the Lilies Bloom. J. B. Lippincott, 1969.
A poor Appalachian girl tries to help her family survive with sometimes humorous results. A heartwarming story written in the Cleavers' typically understated sophisticated style. Recommended for readers 11 to 15 years old.

Cullen, Lynn. I am Rembrandt's Daughter. Bloomsbury Children's Books, 2007.
Cornelia, living in poverty as the illegitimate child of renowned painter Rembrandt in 17th century Amsterdam, finds hope when she meets a wealthy suitor. [Fathers and daughters; Historical fiction; Plague; Poverty; Rembrandt Harmenszoon Van Rijn; Renaissance]
Dowell, Frances O'Roark. Chicken Boy. Atheneum Books for Young Readers, 2005.
Tobin's life has not been going well. His mother has died, his granny drinks too much and his father isn't doing a very good job of taking care of him. But then Tobin meets Henry, a classmate in the seventh grade, and life starts to look a bit more hopeful. Full of humour, this unique novel about raising chickens is recommended for readers ten to fourteen years old. [Grandmothers; Chickens; Schools; Fathers and sons; Grief; Friendship; Self-acceptance]
Ellis, Deborah. I Am a Taxi. Groundwood Books, 2006.
In the first novel in a series, twelve-year-old Diego tries to earn money while living with his parents in a Bolivian prison. Highly recommended for readers 11 years old and up.  [Boliva; Child labor; Drug traffic; Prisons; Runaways; South America]

Ellis, Deborah. No Ordinary Day. Groundwood Books, 2011.
Valli doesn't know her age. She doesn't know where to live. She runs away from the coalfields of Jharia in India  and sleeps on the streets of Calcutta until a doctor discovers her hobbling along and takes her to a hospital where Valli starts a new life. [India; Homelessness; Orphans; Runaways; Hansen's Disease; Poverty; Courage]
Ellis, Deborah. No Safe Place.  Groundwood Books / House of Anansi Press, 2010.
Fifteen-year-old Abdul and two other young migrants, meet in a boat adrift in the English Channel. For mature readers due to sexual references and violence. [Courage; Criminals; England; France; Refugees; Runaways; Survival; Voyages and travels]

Ellis, Deborah. Sacred Leaf. Groundwood Books / House of Anansi Press, 2007.
In the second novel in a series, twelve-year-old Diego escapes from slavery at an illegal cocaine operation and is taken in by a family of coca farmers in Bolivia. Highly recommended for readers 11 years old and up. [Bolivia; Cocaine industry; Drug traffic; Farm life; Poverty; Slavery]

Ellis, Deborah. Looking for X. Douglas & McIntyre, 2002, c1999.
After her autistic twin brothers are placed in a group home outside of the city because her mother, a former stripper, can no longer cope with them, eleven-year-old Khyber befriends a homeless woman in Toronto.
Fox, Paula. Monkey Island. Yearling, 1993.
Eleven-year-old Clay meets two men who help him survive on the streets of New York City after his mother abandons him. Highly recommended for ages 12 and up. [Homelessness; New York City; Survival]

Giff, Patricia Reilly. R My Name is Rachel. Wendy Lamb Books, 2011.
Three city siblings, now living on a farm during the Great Depression, must survive on their own when their father takes a construction job miles away." – CIP  A wistful story about a girl who enjoys reading and writing and daydreaming but is determined to keep her family together. Recommended for readers 10 to 14 years old. [Brothers and sisters; Farm life; Moving, Household; Poverty; Self-reliance]
Hartnett, Sonya. Thursday's Child. Penguin, 2003.
Harper Flute and her family struggle to survive on their farm during a drought in Australia at the beginning of the 20th century. [Australia; Brothers and sisters; Family life; Farm life; Historical fiction; Poverty; Underground areas]

Hermes, Patricia. Mama, Let's Dance. Scholastic, 1991.
Three children try to stay together after their father dies and their mother abandons them. This novel could be compared to 'The Secret School' by Avi, 'Dicey's Song' by Cynthia Voigt and 'Where the Lilies Bloom' by Vera Cleaver.


Hesse, Karen. Just Juice. Scholastic, 1998.
Nine-year-old Juice decides that she must return to school and learn to read in order to help her family survive when her father no longer has a job. [Books and readings; Family life; Fathers and daughters; Poverty]

Hesse, Karen. Out of the Dust. Scholastic, 1997.
Fifteen-year-old Billie Jo lives with her family on a wheat farm in Oklahoma during the the Depression. Written as a series of poems. A Newbery Medal winner. [Farm life; Historical fiction; Oklahoma; Poverty; Stories in verse]

Hill, Kirkpatrick. Toughboy and Sister. Aladdin Paperbacks, 2000, c1990.
Ten-year-old Toughboy and his younger sister are stranded at a remote fishing cabin in the Yukon after their father dies. Highly recommended for readers nine years old and up. [Brothers and sisters; Orphans; Wilderness survival; Yukon]

Holm, Jennifer L. Turtle in Paradise. Random House, 2010.
In 1935, eleven-year-old Turtle's is sent to live with relatives in Florida when her mother gets a job with an employer who dislikes children." – CIP. A Newbery Honor Book. [Adventure and adventurers; Cousins; Depressions – 1929; Family life; Florida; Historical fiction]

Horvath, Polly. Northward to the Moon. Schwartz & Wade, 2010.
Jane's story, started in My One Hundred Adventures, continues when her stepfather loses his job in Saskatchewan and the family is back on the road, heading first towards British Columbia and then to Nevada. The plot moves quickly but many novels have fast-moving plots. What makes this story amusing are Jane's wry observations: "The fence with its leaning old wood posts serves only to accentuate the vast emptiness of the land. The fence slants in disarray and there is a rightness to this too. This is not a country that values uprightness" (p. 101). And what makes this story intriguing are Jane's quiet reflections: "We construct all these little ideas of how things are but they're like stage sets, they don't really mean anything at all. There are plans in motion that have nothing to do with your tidy little ideas" (p. 214).  Polly Horvath's novels all combine humour, eccentricity and wisdom but this one is the best yet. Highly recommended for quietly imaginative readers 11 to 15 years old.  [Automobile travel; Country life; Family life; Poverty; Ranch life]

Hyde, Catherine Ryan. Becoming Chloe. Alfred A. Knopf, 2006.
[This] is the story of Jordan, [a gay teenager] who lives a lonely life in the streets of New York City. This all changes when he meets Chloe. Chloe, a small blonde girl who has also lived her life in the streets, thinks the world is ugly and full of misery. But when Jordan takes Chloe on a road trip across the country to show her that the world is a wonderful place, they have lots of adventures, make many memories, and Chloe changes her mind. She realizes that the world really is beautiful.  This book entertains, heals your heart, and feeds your soul. I really enjoy reading it and I recommend this book to children ages twelve to fifteen. (Megan in grade eight) [Automobile travel; Friendship; Gays; Homelessness; Hope; New York City; Poverty; Survival; Young adult fiction]
Klise, Kate. Deliver Us From Normal. Scholastic, 2005.
"A poor family flees their home in Illinois and travels to the southern U.S. to live on a houseboat." – CIP. Recommended for readers 11 to 15 years old.[Family life; Fear; Poverty; Runaways; Voyages and travels]

Little, Jean. Willow and Twig. Puffin Books, 2001.
Willow and Twig – left on the streets of Vancouver, B.C. by their mother –  are sent to live with their grandmother in Ontario. Recommended for readers twelve to 15 years old. [Abandoned children; Grandmothers; Ontario; Poverty; Vancouver (B.C.)] 
Liu, Na and Andrés Vera Martínez. Little White Duck: a Childhood in China. Minneapolis: Graphic Universe, 2012.
Da Qin and her younger sister live with their parents in the city of Wuhan, China. This thought-provoking graphic novel – composed of 8 short stories – describes the author's childhood in the 1970s. Emotive illustrations by the author's husband – Andrés Vera Martínez – help to create a powerful portrait of life for two little girls in a changing world. Recommended for competent readers 9 years old and up.
Mathis, Sharon Bell. Sidewalk Story. Penguin, 1986, 1971.
What do you do when your best friend's family is being evicted from their home because there is no money to pay the rent? You help them. Even if you have sneak out at night to rescue their belongings. Even if you have to contact a newspaper to find them a place to live. Recommended for readers 8 to 11 years old. [African-Americans; City life; Friendship; Loyalty; Moving, Household; Poverty]
Paterson, Katherine. The Day of the Pelican. Clarion Books, 2009.
Thirteen-year-old Meli's family, ethnic Albanians, flee the fighting in 1998, travelling from one refugee camp to another until they reach America.  [Courage; Fear; Faith; Historical fiction; Homelessness; Immigrants; Kosovo (Republic; Muslims; Refugees; War]
"Think of that one day where you did something wrong, the day you are pretty sure affected your whole future and those around you. Imagine your feelings: desperation, guilt, shame and a longing to go back and change that day. This is how Meli Lleshi from The Day of the Pelican by Katherine Paterson (Clarion Books, 2009) feels all the time after her family is forced to flee their city. She thinks that just because she drew a rude picture of her teacher, which led to her brother being beaten and jailed, the Serbians are going to attack her home and family. Even after, when they are in a refugee camp, safe and protected, her mind takes her back to that dreadful day where everything changed. Now they are in America and there is "a new beginning" as her father says, a new beginning of hope, peace and freedom. But even this does not last long. Soon after the 9/11 attack, everyone is paranoid and wicked glances are thrown in her direction and she is treated as if she is a terrorist, as if this is all her fault. Will her family ever fit in and go back to living a life of happiness?" (Ilar in grade eight)
Paterson, Katherine. Lyddie. Dutton, 1991.
In hopes of leaving her life of poverty on the farm, Lyddie Worthen becomes a factory worker in Massachusetts during the 1840s. [Factories; Historical fictiion; Industrial revolution; Poverty; Massachusetts]
Paterson, Katherine. The Master Puppeteer. Harper Collins, 1975.
A thirteen-year-old boy lives in lonely poverty, learning how to take pride in his own skills, in eighteenth century Japan. [Historical fiction; Japan; Poverty]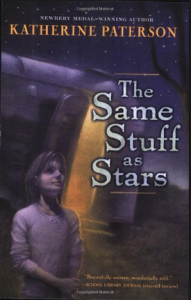 Paterson, Katherine. The Same Stuff as Stars. HarperCollins Publishers, c2002, 2004.
Eleven-year-old Angel's mother leaves her and her younger brother with their poor great-grandmother. This powerful novel could be compared to the Tillerman novels by Cynthia Voigt. Highly recommended for readers 12 to 15 years old. [Abandoned children; Brothers and sisters; Courage; Family life; Grandmothers; Hope; Poverty]
Paulsen, Gary. The Crossing. Dell, 1990, c1987.
Thirteen-year-old Manny, living in poverty on the streets of a Mexican town, meets an emotionally disturbed American soldier who helps him cross the border into the U.S.A. [Homelessness; Immigrants; Mexico; Poverty; Soldiers; Texas]
 Paulsen, Gary. Paintings From The Cave. New York: Wendy Lamb Books, 2011.
Three novellas tell the stories of adolescents who survive despite neglect and abuse, survive with the help of art and dogs. Gary Paulsen writes at the beginning, "I was one of the kids who slipped through the cracks….We were broke, my parents were drunks, they had…an unhappy marriage. I was an outsider at school and I pretty much raised myself at home. I had nothing and I was going nowhere. But then art and dogs saved me" (ix). Highly recommended for readers 12 years old and up. May especially appeal to readers who appreciated The Outsiders by S.E. Hinton. [Poverty; Homelessness; Art; Dogs; Violence; Short stories; City life; Courage; Hope; Young adult fiction]
"Before the dogs, she didn't have any friends" (68).
Have you ever met somebody without any friends besides their pets, or maybe none at all?
 "She didn't look in the windows as she walked by or even glance at the yards because maybe everything in those homes were perfect, like on T.V, and she tried not to look at things that made her feel even more ugly and broken" (76).
Have you ever felt like other people are worth so much more then you are and that you are just worthless next to them?
 "Rose Rose Rose, no no no, she felt like hitting something, like breaking something."
Have you ever felt so sad that you wanted to completely obliterate something?
"All they want to do is help us and not be alone" (103).
Have you ever had someone in your life that just wanted to be around you and help you with every single thing? Or maybe you are the one wanting to be around them?
The novel Paintings from The Cave by Gary Paulsen changed my view of life by sharing with me the knowledge that there are people here in North America – Canada and the United States of America – that need help just like the people in the third world countries in Africa, South America or Asia. Another thing that this book did to change my view of life is show me how you do not have to be related to anybody in your family for them to be your family. There are no papers or blood relationship needed to make someone a part of your family and that what really matters is whether you think of them that way or not. Family does not even need to be human. For example, it shows in this book that dogs and cats or any other pet are just as good of a family as humans.  It might still be good to have someone who speaks your own language to talk to, but it is not necessary. For example, when a pet owner returns home from a hard day's work, their pet is always excited to greet them and spend time with them. The book also reminded me that everybody has feelings. I used to think that people that do not have anything only think about alcohol, drugs, and cheap food but I realize that they actually have dreams to be people that are normal and have real jobs to make real money instead of pan-handling for the rest of their lives. After reading this book I have a better understanding of how other people in the world live, people who are not as fortunate as I am. I also now have a better understanding of how people with little still have the same feelings, hopes, and dreams as I do.  [A reflection by Jalem in grade eight.]
Pearson, Kit. Awake and Dreaming.  Penguin, 1996.
Nine-year-old Theo lives in poverty with her mother while dreaming of a better life. Set in Vancouver and Victoria, B.C. [Ghosts; Loneliness; Mothers and daughters; Poverty; Vancouver (B.C.); Victoria (B.C.)]
Pyron, Bobbie. The Dogs of Winter. New York: Arthur A. Levine Books, 2012.
A five-year-old Russian boy survives with the help of feral dogs on the streets of Moscow. Based on a true story, this 306-page novel will interest competent readers 10 to 14 years of age who enjoy highly detailed plot-driven stories. Other readers will find the first few chapters quite compelling but may prefer to then skip to the last chapters to find out how the story ends. Even that abbreviated way of reading will create vivid memories of sad courage of homeless children in Russia. [Dogs; Gangs; Homelessness; Russia]

Ryan, Pam Munoz. Becoming Naomi Leon. Scholastic, 2004.
Naomi, her younger brother and her great-grandmother, living in California, flee to Mexico to find Naomi's father when her mother tries to reclaim her. [California; Courage; Grandmothers; Loyalty Mexico; Poverty; Runaways; Voyages and travels]

Ryan, Pam Munoz. Esperanza Rising. Scholastic, 2000.
Twelve-year-old Esperanza's life goes from wealth to poverty when her father dies, her uncles take over the family's ranch in Mexico, and she and her mother are forced to become farm labourers in California during the 1930s.  This novel is based on the life of the author's grandmother. [California; Child labor; Depressions – 1929; Farm life; Historical fiction; Immigrants; Mexico; Poverty]
Schmidt, Gary D. Martin de Porres: The Rose in the Desert. Boston: Clarion Books, 2012.
His father was a Spanish nobleman. His mother was a slave. Born into poverty and sent to work as a servant, there was no bright future for Martin. But miracles happen. And miracles followed this boy from Peru. The lemon trees he planted bore fruit all year long. The bread he gave to the poor never ran out until everyone was fed. The people he treated were healed.  He quietly died in a monastery in 1639, but miracles continued and he was named as the first black saint in the Americas in 1962. Born to be forgotten, Martin de Porres is now known as the patron saint of social justice. This beautiful picture book biography – illustrated by David Diaz – is highly recommended for people of faith and for all those who carry within themselves a reverence for mystery.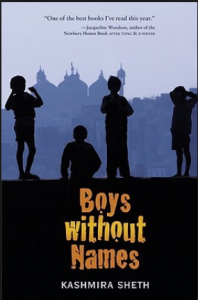 Sheth, Kashmira. Boys Without Names. Balzer + Bray (HarperCollins), 2010.
"Eleven-year-old Gopal and his family leave their rural Indian village for life with his uncle in Mumbai, but when they arrive, his father goes missing and Gopal ends up locked in a sweatshop from which there is no escape." – CIP. [Child labor; Courage; Factories; India; Missing persons; Poverty; Sweatshops]

 Shulevitz, Uri. How I Learned Geography. Farrar Straus Giroux, 2008.
A young boy escapes the misery of life as a refugee Kazakhstan during World War 2 by using his imagination in this picture book based on the author's childhood. A Caldecott Honor book. Highly recommended for all readers 7 years old and up. [Imagination; Maps; Poverty; Refugees; War]
Strasser, Todd. No Place. New York: Simon & Schuster Books for Young Readers, 2014.
Dan, a high school baseball star, is dating Talia, a beautiful wealthy girl. But then Dan's parents lose their jobs and their home and the family ends up in a shelter. What does life look like when you cannot afford to be part of the "cool" crowd? Can you hold onto your social life when you live in a tent city? Can you hold onto your hopes for a college scholarship? How does it feel to be one of the people to whom you once offered charity?
Strasser excels at writing young adult novels about modern social problems. This story is no exception. The main character's best friend, Noah, is part of an educated well-to-do African-American family in the town of Median, and the story's focus is on poverty among white middle class Americans.  The novel flows quickly and is told from the point of view of the main character whose voice is strong enough to sustain the interest of readers even during philosophical paragraphs about unemployment and homelessness in America today and repeated comparisons to life during the Great Depression as portrayed in The Grapes of Wrath by Steinbeck.
Readers who enjoyed Alexandria of Africa by Eric Walters – a story of wealthy high school girl who learns about life for the less fortunate – will appreciate this young adult novel by Strasser. [Dating (Social customs); Homeless persons; Poverty]

V., Sarah. The Old Man. Wellington, New Zealand: Gecko Press, 2018.
An old man, hungry and homeless, wanders the streets. The weather is cold and dark. Windy and wet. But a little girl offers him her sandwich and smiles. His heart is warmed as he trudges to the safety of a shelter. Poignantly illustrated by Claude K. Dubois and translated from the French by Daniel Hahn, this picture book is most highly recommended for readers 7 years old and up.
Voigt, Cynthia. Homecoming. Simon Pulse, 1981.
Dicey takes her three younger siblings on a journey to find her grandmother after they are abandoned by their parents. The first in a series of seven novels. Highly recommended for readers 11 to 16 years old. [Abandoned children; Brothers and sisters; Courage; Grandmothers; Homelessness; Poverty; Voyages and travels]

White, Ruth. Tadpole. Farrar, Straus and Giroux, 2003.
During the summer of 1955,  four Collins sisters – Kentucky, Virginia, Georgia and Carolina – discover their thirteen-year-old orphaned cousin is being brutally mistreated by the guardian who is supposed to be taking care of him.  So, along with their single mother, they decide to rescue him. [Poverty; Historical fiction; Orphans; Humorous stories; Summer; Cousins; Family life; Child abuse; Runaways]
Winthrop, Elizabeth. Counting on Grace. Random House (A Yearling Book), 2006.
Twelve-year-old Grace and her friend Arthur go to work with their mothers in a mill in Vermont in 1910. After they write a letter to the Child Labor Board, a famous reformer comes to gather evidence and Grace's life is forever changed. [Child labor; Factories; Friendship; Historical fiction; Vermont] 
Wung-Sung, Jesper. The Last Execution. New York: Atheneum Books for Young Readers, 2016. Translated by Lindy Falk van Rooyen.
Chapter by chapter, the final hours count down to the last execution in Danish history. Chapter by chapter, eleven bystanders reveal their thoughts about the 15-year-old boy accused of arson and murder.  And in each chapter, we also hear the voice of that forlorn and forsaken boy. Based on a true story from 1853, this heart-wrenching novel of poverty and prejudice is highly recommended for thoughtful readers 14 years old and up. [Death; Denmark; Historical fiction]