Looking for a story about moving to a new home?
Try one of these!
Bauer, Joan. Close to Famous. New York: Viking, 2011.
Twelve-year-old Foster and her mother run away from her mother's abusive boyfriend who pretends to be Elvis. Late at night, the two of them get in their car and start driving, not stopping until they arrive in a small West Virginia town where Foster makes new friends and starts her own business: baking cupcakes.  A heart-warming and courageous novel for readers 11 years old and up.  [Baking; Courage; West Virginia; Single-parent families; Mothers and daughters; Perseverance (Ethics); Violence; Television; Moving (Household)]
Bauer, Joan. Hope was Here. New York : Putnam, 2000.
Hope is not happy when her aunt moves the two of them from New York City to a small town in Wisconsin. But slowly, as her aunt runs the local restaurant and Hope works as a server, they develop a new life that offers the possibility of happiness.  For 12 – 16 year-olds. [Aunts; Cancer; Dating (Social customs); Friendship; Newbery Medal; Waiters and waitresses; Wisconsin; Young adult fiction]
Burak, Kathryn. Emily's Dress and Other Missing Things. New York : Roaring Brook Press, 2012.
"A new girl in Amherst, Massachusetts, comes to terms with her mother's suicide and her best friend's disappearance with the help of Emily Dickinson's poetry–and her dress." – CIP  Recommended for readers, 13-years-old and up, who enjoy romantic mysteries. [Dickinson, Emily; Grief; Fathers and daughters; Historical fiction; Massachusetts; Missing children; Moving (Household); Poetry] 
Boyne, John. The Boy at the Top of the Mountain. Toronto: Doubleday Canada, 2015.
When Pierrot is four years old, his father – a German soldier in the Great War – disappears. When Pierrot is seven years old, his French mother dies in a Parisian hospital. What will happen to Pierrot? He is sent to live with his Aunt Beatrix, a housekeeper for Adolf Hitler. It is 1935 and life is changing in Europe.
What happens when people flatter us and make us feel important? What happens when lies start to sound like truth? What happens when we realize we've betrayed the people who love us?
Spanning the course of World War II and its aftermath, this 215-page novel by a breathtakingly powerful writer is highly recommended for mature readers 11-years-old and up. [France; Germany; Historical fiction; Hitler, Adolf; Orphans; Self-awareness]
Byun, You. Dream Friends. New York : Nancy Paulsen Books, 2013.
A shy young girl has wonderful adventures in her dreams. And then she learns how to have wonderful adventures in real life, too, when she makes new friends. A tender picture book for children 4 to 7 years old. [Dreams; Friendship; Imaginary playmates; Imagination; Moving, Household]
Cline-Ransome, Lesa. Finding Langston. New York: Holiday House, 2018.
After the death of his mother in 1946, eleven-year-old Langston moves with his father from Alabama to Chicago. Living in a lonely apartment building and bullied at school, Langston finds refuge in the school library where he discovers the magical poetry of Langston Hughes.Have you ever felt alone? Have you ever felt misunderstood by those who love you? Have you ever found hope in unexpected places? Then you know how the main character feels in this outstanding novel for readers 9 years old and up. Told in present tense from the first person point of view, the sentences come alive with the cadence of the main character's Southern speech. If you like stories by Patricia MacLachlan, you will love this 104-page novel. [African Americans; Books and reading; Bullying; Chicago, (Ill.); Grief; Historical fiction; Moving, Household; Poetry]
Cumyn, Alan. North to Benjamin. New York: Atheneum Books For Young Readers, 2018.
Edgar is eleven years old. Not only enough to live on his own. But his mother has problems, which don't disappear even once they move to Dawson, Yukon to start again. Only a dog named Benjamin is able to help rescue Edgar from certain disaster. This heart-breaking yet hope-filled novel by an award-winning Canadian writer is recommended for readers 11 to 16 years old. [Alcoholism; Dogs; Yukon]
DiCamillo, Kate. Because of Winn-Dixie. New York : Scholastic, 2000.
Dowell, Frances O'Roark. Ten Miles Past Normal. New York: Atheneum, 2011.
Fourteen-year-old Janie struggles to adjust to a new high school when she and her parents move to a farm. [North Carolina; Farm life; Schools; Music; Civil rights movements]
Evans, Rebecca. Alone Like Me. New York: Anne Schwartz Books, 2022.
Life is lonely for Liling when she moves to the city. Her parents have to take her along to their places of work, and she has to spend her days quietly not being noticed. When her father takes her to a park, she has to endure taunts from other children. But then she meets another lonely little girl and a gentle friendship begins. Set in China, this picture book shows what life is like for children who are not entitled to an education when they move from the place where they were born. A glossary and pronunciation guide are included, as well as an afterward telling more about life for children who move from rural to urban settings. Recommended for readers 6 to 11 years old. 
Ferruolo, Jeanne Zulick. Ruby in the Sky. New York: Farrar Straus Giroux, 2019.
Twelve-year-old Ruby has secrets to keep. No one is supposed to ask any questions about her mother and father. But when she meets a recluse who lives near her new home in Vermont, life starts to change. And when she meets Ahmed – a Syrian refugee – at her new school, friendship develops despite her reluctance. Maybe it is possible to find a new home, after all.  A wonderful story for readers 11 to 14 years old. 
French, Simon. My Brother's Keeper. Somerville, Mass.: Candlewick Press, 2014, c2012.
Eleven-year-old Kieran tries to be one of the popular kids at school, one of the powerful kids.  But what will he do when his cousin arrives in town? His cousin Bon isn't athletic. He definitely isn't outgoing or confident. Instead, his cousin is soon the target of those powerful boys who like to bully everyone else. Life becomes even more confusing for Kieran when the girl he admires becomes friends with Bon. It becomes more complicated when he discovers the reason Bon has come to live in his home. This well-written memorable novel from Australia is recommended for readers 10 to 14 years old.  [Australia; Bullying; Conduct of life; Cousins; Imagination; Individuality; Jealousy; Moving (Household); Parent and child; Schools]
Giff, Patricia Reilly. Picture of Hollis Woods. New York : Dell Yearling, 2004, c2002.
Twelve-year-old Hollis goes to live with Josie, a retired art teacher, after years spent in various foster homes. It seems she at last found a home, but all that is threatened when Josie becomes more and more forgetful. For 11 – 14 year-olds. [Artists; Foster children; Orphans; New York (State); Newbery Medal]
Guest, Jacqueline. Rink Rivals. James Lorimer & Co., 2001.
Life changes for twin brothers when they move with their family from a remote Cree community to the city of Calgary, Alberta. For 10 – 13 year olds. [Alberta; Courage; First Nations; Hockey; Juvenile delinquents; Moving, Household]
Gay, Marie-Louise. On the Road Again!: More Travels with My Family. Toronto : Groundwood Books/House of Anansi Press, 2008.
Charlie, his younger brother Max and their parents are off to live in the south of France for a year. Life in the village brings new adventures. Life on a road trip through Spain brings more adventures. Hilarious and full of joy, this short novel will appeal to readers aged 7 through 11. [Adventure and adventurers; Brothers; Family life; France; Moving (Household); Spain; Vacations; Voyages and travels] 
Giff, Patricia Reilly. R My Name is Rachel. New York : Wendy Lamb Books, 2011.
Three city siblings, now living on a farm during the Great Depression, must survive on their own when their father takes a construction job miles away." – CIP  A wistful story about a girl who enjoys reading and writing and daydreaming but is determined to keep her family together. Recommended for readers 10 to 14 years old. [Brothers and sisters; Farm life; Moving, Household; Poverty; Self-reliance]
Hale, Marian. The Truth About Sparrows. New York : H. Holt, 2004.
Twelve-year-old Sadie is heart-broken when she and her family have to leave Missouri and move to Texas. But poverty, due to the drought of 1933, has destroyed their old way of life and now they are desperate to survive. Heartwarming and encouraging, this novel will be enjoyed by ten to thirteen year old girls who enjoy Kit Pearson novels. (Friendship; Moving, Household; Texas; Missouri; Poverty; Historical fiction; Physically handicapped)
Hill, Kirkpatrick. Bo at Ballard Creek. New York: Henry Holt and Company, 2013.
What a cheerful story! Set in Alaska in the late 1920s, this inspiring novel of a much-loved little girl will appeal to fans of 'Little House on the Prairie' and 'Sarah, Plain and Tall' and 'Anne of Green Gables'. Bo – abandoned by her mother, a good-time girl who is leaving town – is taken in by Jack and Arvid, two unmarried gold miners moving to another village who can't bear to see her sent to an orphanage. So now she has two papas. No mama, but as Jack tells her, "sometimes mamas don't stick around, you know. Just walk off. Lot of animals like that" (2). But he adds, "…lucky for us, someone giving away babies. Just what me and Arvid needed" (2).  And just what all the other villagers in Ballard enjoy: a little girl who sees life as an adventure. She learns both Eskimo and English. She encounters a bear. She joins in the festivities when an airplane arrives, and lovingly welcomes a little motherless boy whose father has died.  This novel by an accomplished Alaskan author – and former teacher – is highly recommended for readers – and listeners – 7 years old and up.
Harmon, Michael. Brutal. New York : Alfred A. Knopf, 2009.
Sixteen-year-old Poe is sent to live with her father when her mother decides to work in South America for a year. Poe doesn't know her father. He left when she was only a baby.  And Poe doesn't know how she will survive in a town where cliques rule the high school and bullying is ignored.  But she is determined to fight back. Winner of numerous awards, this quick read will be appreciated by readers in grade 8 and up. [Dating (Social customs); California; Fathers and daughters; Schools; Mothers and daughters; Anger]
Haworth, Danette. Me & Jack. New York: Walker & Co., 2011.
"During the Vietnam War, when twelve-year-old Josh and his Air Force recruiter father move to a small town in the mountains of Pennsylvania and get a dog from the local shelter, Josh is forced to stop hanging back and takes on the unfriendly town residents, a mountain, and the meanest boy in school." – CIP  This fast-paced novel is recommended for readers eleven to fourteen years old, especially ones who enjoyed Wild Life by Cynthia deFelice and Heart of a Shepherd by Rosanne Parry. [Bullies; Country life; Dogs; Fathers and sons; Friendship; Grief; Moving (Household); Pennsylvania; Post-tramautic stress disorder; Schools; Soldiers; Vietnam Conflict, 1961-1975]
Hilmo, Tess. Skies Like These. New York: Farrar, Straus and Giroux, 2014.
"While visiting her eccentric aunt who lives in Wyoming, twelve-year-old Jade befriends a boy who believes his is a descendant of Butch Cassidy." – CIP. This lively story, with the rhythm of a rollicking square dance, is highly recommended for readers who love language and laughter.  [Astronomy; Aunts; Dogs; Eccentrics and eccentricities; Friendship; Ranch life; Self-acceptance; Wyoming]  
Ibbotson, Eva. Journey to the River Sea. New York: Macmillan Children's Books, 2001.
Sent with her governess to live with the dreadful Carter family in exotic Brazil in 1910, Maia endures many hardships before fulfilling her dream of exploring the Amazon River. — OhioLINK For 11 – 14 year-olds. [Adventure and adventurers; Amazon River; Brazil; Friendship; Historical fiction; Orphans]
Kerz, Anna. The Mealworm Diaries. Victoria, BC : Orca Book Publishers, 2009.
Jeremy has nightmares after he and his mother move from rural Nova Scotia to urban Toronto until he unwillingly starts working on a science project with a classmate. For 9 – 12 year-olds. [Friendship; Grief; Guilt; Moving, Household; Schools]
Kadohata, Cynthia. Half a World Away. New York: Atheneum Books for Young Readers, 2014.
"Twelve-year-old Jaden, an emotionally damaged adopted boy fascinated by electricity, feels a connection to a small, weak toddler with special needs in Kazakhstan, where Jaden's family is trying to adopt a "normal" baby." – CIP. Highly recommended for readers 10-years-old and up. 
Kent, Trilby. Once in a Town Called Moth. Toronto: Tundra Books, 2016.
Why did Anneli's mother abandon her and her father? Why has her father – 10 years later – brought her to Canada? Fifteen-year-old Anneli struggles to fit in at her new high school after growing up in a remote Mennonite colony in Bolivia. But with the help of a few friends, she learns more about herself and finds her mother. While the plot is a bit too predictable and the Mennonite setting a bit too stereotypical, the novel is nevertheless a smoothly written mystery. It is recommended for readers – 13 years old and up – who enjoy quiet stories about outsiders. [Bolivia; High schools; Mennonites; Missing persons; Moving, Household; Secrets; Toronto (Ont.)] 
Lai, Thankha. Inside Out and Back Again. HarperCollins, 2011.
In a series of free verse poems, a ten-year-old girl tells of the journey she, her three brothers and her mother make from Vietnam to their new home in Alabama in 1975.
Lappano, Jon-Erik. Martin and the River. Toronto: Groundwood Books/House of Anansi Press, 2022.
Lying in the tall grass, watching herons and ospreys. Building forts in the fields by the river. Country life is the only life for Martin. Until his mother gets a new job in the city. How will he survive among so many people? While there are many enjoyable activities – riding on the subway, watching street performers, visiting museums – the city doesn't feel like home. At least, not until his parents take him to a park and show him a stream where frogs jump and dragonflies hover. Maybe, Martin's heart will feel at home after all? A wonderful picture book – delicately illustrated by Josée Bisaillon – recommended for anyone who loves nature and longs for a rural life.
Lawson, Robert. Rabbit Hill. New York : Puffin, 1944, 1972.
The animals are full of suspense: Who is this family who is moving into the Big House? How will life change for all of them?  For 8 – 12 year-olds. [Animals; Country life; Friendship; Moving, Household; Newbery Medal]
Lawrence, Iain. Deadman's Castle. New York: Margaret Ferguson Books, Holiday House, 2121.
Ever since his father witnessed a crime seven years ago, Igor and his family have been on the run. They've moved all over the U.S.A., constantly hiding from a man who has threatened to harm them. Igor has never been allowed to attend school, own electronic devices, or have any friends. He has changed identities so many times, he can no longer remember where he was born or what he was first named.
On his twelfth birthday, Igor decides he is tired of living in fear. What if what his father has told him isn't even true? What if no one is hunting them down? What if his father is actually crazy?
A quickly-paced, 243-paged novel highly recommended for readers 11 to 14 years of age. [Fathers and sons; Friendship; Schools; Witness protection programs]
Leal, Ann Haywood. Also Known as Harper. New York : Henry Holt, 2009.
"Writing poetry helps fifth-grader Harper Lee Morgan cope with her father's absence, being evicted, and having to skip school to care for her brother while their mother works, and things look even brighter after she befriends a mute girl and a kindly disabled woman." – CIP. Recommended for readers aged ten to thirteen years old or any who have enjoyed Close to Famous by Joan Bauer or Hold Fast by Blue Balliot.  [Brothers and sisters; Friendship; Moving (Household); People with disabilities; Poets; Poverty; Selective mutism; Single-parent families]
Mason, Simon. Moon Pie. New York: David Fickling Books, 2011.
Eleven-year-old Martha takes care of her younger brother, Tug, and copes with her father who has stopped working and become an alcoholic since his wife's death. But it all becomes too much and she and Tug finally have to go live with their grandparents despite their love for their father. [Moving, Household; Alcoholism; England; Brothers and sisters; Grandparents; Family life; Courage; Determination; Theater; Actors and actresses; Grief] 
McCarney, Rosemary. Where Will I Live? Toronto: Second Story Press, 2017.
Large poignant photographs – in full colour – from the library of the UN High Commission for Refugees – highlight the plight of people forced from their homes by conflict. The text – written from the point of view of a child – starts with this sentence: "Sometimes scary things happen to good people." Twenty-four pages later, the book ends simply: "I hope someone smiles and say 'Welcome home.' I hope that someone is you." The tender faces of the children and the quiet hopes expressed in this picture book will touch the hearts of readers of all ages. 
(The author is Canada's Ambassador and Permanent Representative to the UN and the Conference on Disarmament. She has written numerous other children's books including Every Day is Malala Day.) 
McMullan, James. Leaving China: An Artist Paints His World War II Childhood. Chapel Hill, North Carolina: Algonquin, 2014.
Do you ever feel like you're not quite good enough? That you can't ever please your parents? That you don't belong anywhere? Read this memoir about an artist who grew up moving from China to Canada to India to the U.S.A. and is now a highly acclaimed designer and illustrator. A 113-page autobiography with full-page illustrations recommended for readers 10 years old and up.
Nesbit, E. The Railway Children. Chronicle Books, 2005, c1906.
When their father is sent to prison, accused of spying, three children and their mother move away from London. In the countryside, they make new friends and find someone who can help them prove their father is innocent.  Highly recommended for readers 9 to 12 years old. [Country life; England; Fathers; Historical fiction]
Newbery, Linda. Lost Boy. David Fickling Books, 2007.
Part ghost story, part mystery, part realistic fiction about standing up to bullies, this novel about a boy who moves to a small town in Wales will appeal to readers in middle schools. (Wales; Bullying; Moving, Household; Ghosts; Accidents; Friendship; Mystery and detective stories; Friendship)
Nolan, Han. A Face in Every Window. New York : Harcourt, Inc., 1999.
Fourteen-year-old JP finds his family falling apart after the death of his grandmother. His mother moves them to a neighbouring town in Pennsylvania and welcomes all sorts of strangers into their home. His mentally challenged father won't listen to anyone and takes to sitting on the roof.  Everything has changed and everyone makes fun of JP. There is nowhere he belongs. How will he find balance in his chaotic world? For 12 – 16 year-olds. [Family life; Mentally handicapped]
Orlev, Uri. The Song of the Whales. Boston: Houghton Mifflin Books for Children, 2010.
At age eight, Mikha'el knows he is different from other boys, but over the course of three years as he helps his parents care for his elderly grandfather in Jerusalem, Grandpa teaches Mikhe'el to use the gift they share of making other people's dreams sweeter. – CIP  [Moving, Household; Israel; Family life; Grandfathers; Dreams]
Pearson, Kit. The Whole Truth. Toronto : HarperCollins, 2011.
Nine-year-old Polly and her older sister Maud travel from Winnipeg to a small island off the coast of British Columbia to live with their grandmother. Their mother has died, but will they ever see their father again? Set in 1932, this story will be enjoyed by girls nine to thirteen years old.  (Historical fiction; Moving, Household; Sisters; Boarding schools; Grandmothers; Secrets; Poverty; Family life; Islands; Mystery and detective stories)
Peck, Richard. A Season of Gifts. Dial Books for Young Readers, 2009.
Twelve-year-old Bob Barnhart and his family move to move to a small Illinois town in 1958 when Bob's father becomes the minister of a derelict church. But his loneliness is eased and life becomes adventurous when he meets their new neighbor, Mrs. Dowdel. (Moving, Household; Historical fiction; Family life; Faith; Illinois; Humorous stories]
Pitcher, Annabel. My Sister Lives on the Mantelpiece. Boston: Little, Brown & Co., 2011.
"With his family still grieving over his sister's death in a terrorist bombing five years earlier, ten-year-old Jamie is far more interested in his cat, Roger, and his birthday Spider-Man T-shirt, an din keeping his new friend, Sunya, a secret from his father." – CIP Jamie's mother has left the family. Jamie's dad is almost always drunk. How will Jamie and his remaining sister cope? Recommended for readers 10-years-old and up. [Alcoholism; Brothers and sisters; England; Family problems; Grief; Moving (Household); Hope; Racism]
Riess, Kathryn. Blackthorn Winter. Orlando : Harcourt, 2006.
Fifteen-year-old Juliana discovers mystery and romance after she moves from California to a small English village. For 12 – 16 year-olds. [Artists; Dating (Social customs); England; Family life; Moving, Household; Mystery and detective stories; Teenagers; Young adult fiction]
 Sand-Eveland, Cyndi. Tinfoil Sky. Toronto: Tundra Books, 2012. 
Twelve-year-old Mel and her mother are moving for the eleventh time in four years. But when Mel's grandmother won't take them in and her mother goes back to her boyfriend, Mel is left behind to live by herself in their old broken-down station wagon. A novel of courage and hope that will appeal to readers who enjoyed Hold Fast by Blue Balliet or Close to Famous by Joan Bauer. [Courage; Homelessness; Grandmothers; Moving (Household); Mothers and daughters; Runaways]
Schmatz, Pat. Bluefish. Candlewick Press, 2011.
Thirteen-year-old Travis moves to a new town with his grandfather. He doesn't like his new home and he doesn't like school. He especially doesn't like reading. But then he meets Velveeta, a vivacious girl, and Mr McQueen, a teacher with a secret for teaching him how to read. [Moving, Household; Grandfathers; Schools; Books and reading; Secrets; Friendship; Teachers; Poverty; Orphans; Wisconsin]
Schmidt, Gary D. Lizzie Bright and the Buckminster Boy. Clarion Books, 2004.
Turner is not pleased when his father moves the family to Phippsburg, Maine. He is even less pleased when his father, a church minister, expects him to always behave with dignity and diplomacy. But when he is also expected to go along with the growing racism that is forcing African Americans from their homes, he takes a stand which brings about surprising changes.  Set in 1911, this novel for sixth to ninth graders is a Newbery Honor Book. (Maine; Newbery Medal; Faith; Moving, Household; Fathers and sons; African Americans; Racism; Historical fiction; Coming of age)
Schmidt, Gary D. Okay for Now. Clarion Books, 2011.
Fourteen-year-old Doug has just moved to a small town in New York State. He has a mean older brother and an abusive father. He can't read and he has no friends. But slowly he makes friends with a classmate, with his teachers and with a librarian who teaches him how to draw. And after his oldest brother comes back from Vietnam, life starts to change at home, too.   [Family life; Fathers and sons; New York (State); Schools; Friendship; Drawing; Violence; Child abuse; Audubon, John James; Theater; Brothers; Vietnam conflict, 1961-1975; Moving, Household; Dating (Social customs)]
Shea, Pegi Deitz. Tangled Threads. New York, NY : Clarion Books, 2003.
Thirteen-year-old Mai Yang spent ten years in a Thai refugee camp before moving to Providence, Rhode Island where her grandmother tries to maintain their Hmong heritage while her cousins show her new American customs. For 11 – 15 year-olds.  [Cousins; Friendship; Grandmothers; Immigrants; Laos; Loyalty; Moving, Household; Refugees; Rhode Island; Thailand; Sewing; War]
Shelby, Anne and Cor Hazelaar. The Man Who Lived in a Hollow Tree. New York: Atheneum Books for Young Readers, 2009.
" Carpenter Harlan Burch, who builds everything from cradle to casket, plants two trees for every one he cuts down, and when he is very old his sap begins to rise, he grows young again, and starts a family that still lives all over the mountains." A humorous tall tale to read aloud. Recommended for ages 6 and up. [Carpenters; Humorous stories; Moving (Household); Trees]
Smith, Roland. Zach's Lie. Toronto : Scholastic, 2001.
Jack, along with with his sister and mother, moves to Nevada to start a new life after his his father, arrested for drug trafficking, becomes a witness in a court case against a drug cartel.  For 11 – 14 year-olds. [Basques; Drug traffic; Moving, Household; Nevada; Prisons; Schools; Secrets]
Stead, Philip C. Lenny & Lucy. New York: Roaring Brook Press, 2015.
Peter and his dog Harold move to a new house. How will they feel safe in a new place? How will they find friends? Another wonderful collaboration between Philip and Erin Stead, author and illustrator of A Sick Day for Amos McGee. Highly recommended for imaginative readers of all ages. [Dogs; Friendship; Imagination; Moving, Household]
Stewart, Sarah. The Quiet Place. New York: Margaret Ferguson Books, 2012.
In 1957, young Isabel writes letters to her Aunt Lupita back in Mexico after she and  her family move to the U.S.A. The softly coloured illustrations by the author's husband, David Small, help create a touching picture book recommended for readers – and listeners – 7 to 14 years old. [Aunts; Homesickness; Immigrants; Letters; Mexican Americans]
Strasser, Todd. No Place. New York: Simon & Schuster Books for Young Readers, 2014.
Dan, a high school baseball star, is dating Talia, a beautiful wealthy girl. But then Dan's parents lose their jobs and their home and the family ends up in a shelter. What does life look like when you cannot afford to be part of the "cool" crowd? Can you hold onto your social life when you live in a tent city? Can you hold onto your hopes for a college scholarship? How does it feel to be one of the people to whom you once offered charity?
Strasser excels at writing young adult novels about modern social problems. This story is no exception. The main character's best friend, Noah, is part of an educated well-to-do African-American family in the town of Median, and the story's focus is on poverty among white middle class Americans.  The novel flows quickly and is told from the point of view of the main character whose voice is strong enough to sustain the interest of readers even during philosophical paragraphs about unemployment and homelessness in America today and repeated comparisons to life during the Great Depression as portrayed in The Grapes of Wrath by Steinbeck.
Readers who enjoyed Alexandria of Africa by Eric Walters – a story of wealthy high school girl who learns about life for the less fortunate – will appreciate this young adult novel by Strasser. [Dating (Social customs); Homeless persons; Poverty]
Taylor, Theodore. The Maldonado Miracle.  Orlando, Fla. : Harcourt, 2003.
Twelve-year-old Jose illegally crosses the border from Mexico to join his father in California, but life becomes far more difficult than expected. For 11 – 14 year-olds. [California; Child labor; Faith; Historical fiction; Illegal aliens; Immigrants; Mexico; Migrant labor; Runaways]
Todd, Pamela. The Blind Faith Hotel. New York: Margaret K. McElderry Books, 2008.
"When her parents separate and she and her siblings move with their mother from the northwest coast to a midwest prairie farmhouse, fourteen-year-old Zoe, miserably unhappy to be away from the ocean and her father, begins to develop a deep attachment to her new surroundings, when, after a shoplifting episode, she is assigned to work at a nature preserve." – CIP   Recommended for readers 12 to 15 years old.
Venkatraman, Padma. Climbing the Stairs. G.P. Putnam's Sons, 2008.
Fifteen-year-old Vidya, her older brother and her parents move to the home of her paternal grandfather after her father is severely beaten during a non-violent demonstration in 1941 India.  Instead of looking forward to someday attending college, she now has to face a life of servitude. This compelling young adult novel sensitively portrays different intepretations of the Hindu caste system, India's struggle for independence and the complications of World War II. For 12 – 16 year olds. (India; WW 2; Historical fiction; Sex role; Hinduism; Family life; Brain damage; Prejudice; Love; Marriage; Jews; Courage; Guilt; Young adult fiction)
Walters, Eric. Catboy. Victoria: Orca, 2011.
Sixth-grader Taylor and his mother move from a small town to the big city of Toronto where Taylor makes new friends who help him rescue a colony of feral cats in a junkyard destined for redevelopment.  Fans of Eric Walters may enjoy this novel for younger readers. But reluctant readers will probably find the 229-page book too long, and avid readers are likely to find the writing too stilted. Even though the book contains all the popular ingredients – multiculturalism, single parents, bullying, friendship – the writing lacks rhythm and so the story never comes to life. [Toronto (Ont.); Cats; Moving (Household); Schools; Animal rescue]
Whelan, Gloria. Chu Ju's House. New York : HarperCollins, 2004.
Fourteen-year-old Chu Ju leaves home in order to save her baby sister. She gets a job taking care of silk worms and planting rice seedlings, but will she ever be able to see her family in the countryside again? For 11 – 14 year-olds. [Child labor; China; Courage; Loneliness; Runaways; Sex role]
Wilson, John. Where Soldiers Lie. Key Porter Books, 2006.
After his parents die, sixteen-year-old Jack is sent from Canada to live with relatives in Cawnpore, India. Filled with historical details about the 1857 war. For 12 – 16 year-olds. (Adventure and adventurers; Courage; Historical fiction; India; Romance; Soldiers; War)
Woodson, Jacqueline. Feathers. New York : Puffin Books, 2007.
Sixth-grade Frannie is reading a poem about hope in class. But there's not much hope in her life. Her friend Samantha is becoming peculiar. The class bully is becoming more trouble. And the new boy, nicknamed 'Jesus Boy', says he's not white but he sure looks white. What's going to happen next? For 11 – 14 year-olds. [African Americans; Bullying; Deaf; Faith; Family; Friendship; Hope; Moving, Newbery Medal; Household; Racism; Schools; Vietnam Conflict; Winter]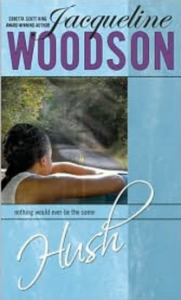 Woodson, Jacqueline. Hush. New York : Putnam's, 2002.
Toswiah Green's family is forced to move to another city where they are part of the witness protection programme after her father, a police officer, testifies against another officer in a murder trial. For 11 – 15 year-olds. [Courage; Faith; Family life; Honesty; Moving, Household; Mystery and detective stories; Police; Secrets; young adult fiction] 
Click HERE for books about immigrants and refugees.