Did you enjoy Hatchet by Gary Paulsen?
Are you interested in World War II?
Try these novels of outdoor survival!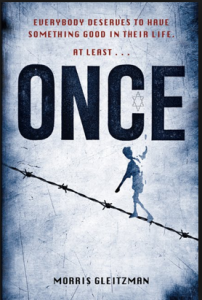 Gleitzman, Morris. Once. New York : Henry Holt, 2010, c2005.
"After living in an Catholic orphanage for nearly four years, a naive Jewish boy runs away and embarks on a journey across Nazi-occupied Poland to find his parents." – CIP.  A startling story for mature readers 12-years-old and up.
Gleitzman, Morris. Then. New York : Henry Holt, 2008.
In this sequel to Once, ten-year-old Felix and six-year-old find shelter with a woman who tries to hide from the Nazis in the Polish countryside. Highly recommended for mature readers 12-years-old and up. 
Heuck, Sigrid. The Hideout. Saskatoon : Western Producer Prairie Books, 1988.
"Rebecca, living in an orphanage in Germany during World War II, finds her only refuge with a boy hiding out in a nearby cornfield, where their imagination lets them retreat into a fantasy world of their own making." – CIP.
Holm, Anne. I Am David. London: Egmont, 1992, c1963.
Twelve-year-old David escapes from a concentration camp in eastern Europe and sets out to find his mother. This powerful novel, translated from the Danish and winner of multiple awards, is highly recommended for readers 12-years-old and up.

Morpurgo, Michael. Kensuke's Kingdom. New York : Scholastic Press, [2003], c1999.
Eleven-year-old Michael, his parents and his dog, Stella, are off on an adventure. They are going to sail around the world.  Around Africa, around Australia, all is going well until a storm strikes. Michael and Stella are washed overboard. And then the Robinson Crusoe adventure starts: survival on a tropical island, alone apart from an old Japanese man, a survivor of World War II.  Will Michael ever be reuinited with his family?  Will Kensuke ever go home to Japan?  If you enjoyed Hatchet by Gary Paulsen, try this survival novel by a well-known British writer.
Orlev, Uri. Run, Boy, Run. Boston: Houghton Mifflin, 2003.
"Based on the true story of a nine-year-old boy who escapes the Warsaw Ghetto and must survive throughout the war in the Nazi-occupied Polish countryside." – CIP. Written by a highly acclaimed Israeli writer, this astonishing novel is recommended for readers 12-years-old and up.
Pausewang, Gudrun. Traitor. Andersen Press, 2004.
Living in the German countryside with her grandmother, Anna finds an escaped Russian prisoner of war hiding in the barn. Instead of turning him over to the police, she helps him. She secretly takes him to an abandoned bunker in the woods and brings him food and supplies. Meanwhile, her younger brother Felix proudly proclaims that he wants to find the missing prisoner.  Will the prisoner escape over the border into Czechoslovakia or will he be caught?  This novel is for mature readers eleven-years-old and up.
Taylor, Theodore. The Cay. New York : Dell Yearling, 2002, c1969.
"When the freighter on which they are traveling is torpedoed by a German submarine during World War II, an adolescent white boy, blinded by a blow on the head, and an old black man are stranded on a tiny Caribbean island where the boy acquires a new kind of vision, courage, and love from his old companion." – CIP. A classic adventure story for readers 11-years-old and up.

More novels of World War II: HERE